I can hardly believe it is August.  While I love the warm weather and want it to stay around for a while, I thought it would be fun to look ahead to some Fall fashion trends.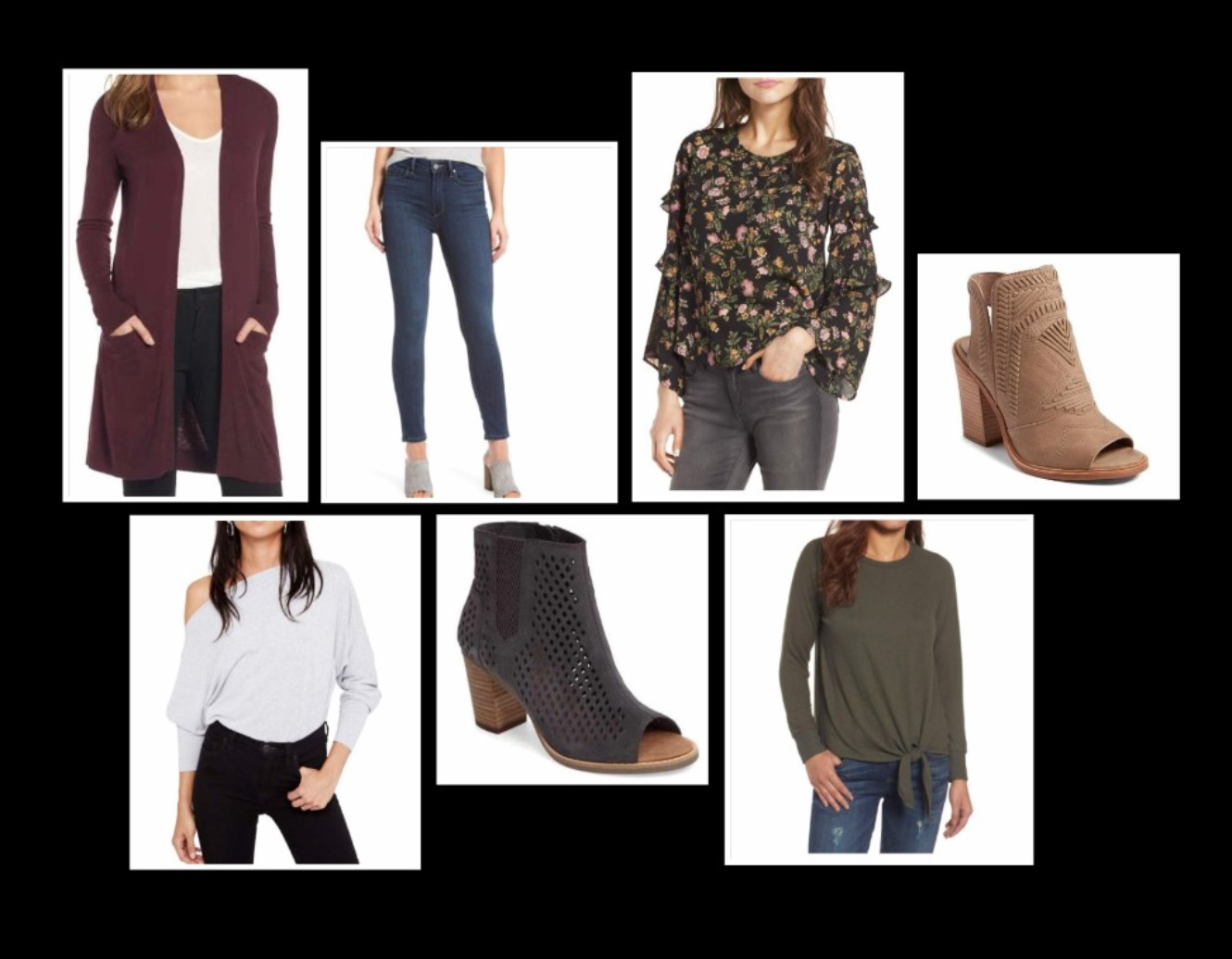 The Nordstrom Anniversary Sale is going on until August 6th, and I thought I would share with you some early Fall trends if you like to shop ahead for the season.
Ruffles And Bell Sleeves
Ruffles and bell sleeves seem to be popular for Fall.  You can find them on dressier tops, sweatshirts and dresses.  Here are a few pieces showcasing this trend.
Knots And Ties
I really like how casual tee shirts and sweatshirts are being given a fun dressier feel this year with bottom ties and knots.
Bare Shoulders
The bare shoulder trend is still going strong into early Fall.  As you can see here, it is on everything from blouses and sweaters to sweatshirts and dresses.
Cardigans
This is more of a Fall closet staple rather than trend.  Cardigans are my best friends during cooler weather, because I don't like having to wear or lug around a heavy coat or jacket.  I like that they are softer and cozier.  They are just so easy to layer with a short sleeve shirt underneath.  Then, I can slip them on and off when I get chilled or have a hot flash! LOL
Skinny Ankle Jeans And Raw Hems
Skinny jeans are still the mainstream.  Many are ankle length with raw edge hems.  Nordstrom also has many good deals on designer jeans.
Booties
Booties with open heels, open toes, cutouts are trending for early Fall.  There are also many perforated styles.  I really like that they provide warmth when it gets chilly, yet keep your feet cool during the warmer days of early Fall.
Here are a few more items on sale that I thought would were cute.  There are also some handbags on sale at great prices, especially if you are looking to invest in a nice one for the upcoming season.
I have had an unusual Summer this year!  My youngest son had to have surgery on his arm.  He injured it the very first day of his wrestling camp back in late June!  He will make a full recovery and is doing very well.  Needless to say, this event greatly impacted his Summer activities.
I was inspired to write today's devotional when thinking about my son's situation this Summer.  Thanks for reading.  I hope each one of you is having a wonderful day!
Being Still
Be still, and know that I am God; I will be exalted among the nations, I will be exalted in the earth.  Psalms 46:10
As I think about how my son's injury has brought him to a somewhat abrupt stillness, this verse seems to be a reoccurring theme in my head this Summer.  While in this Psalm there seems to be war and chaos upon the Earth, I started thinking about the chaos that often surrounds our everyday lives.  I thought about the interruptions we all go through that put a stop to our best laid out plans or put our plans into a tailspin.  While we may not like the interruptions, maybe they are not always a bad thing.  Maybe, a temporary obstacle stopping us from busily moving forward is a good thing.  In the middle of what feels like chaos to us, God commands us to be still.  I started asking myself what does God want us to do during these times when he says "be still."
First, I think we sometimes just need to be still, because we need physical rest.  I know there are times I am so busy or preoccupied with what I am doing that I don't even realize my body needs rest or sleep.  I tend to get very focused when I am working on something new or exciting.  I will work for hours sometimes neglecting to eat or sleep when I should.
We also need mental rest.  Our brains don't function well without it.
Being still can force us to focus on God.  We may find that we hit a wall or are stopped from moving forward, because we have left God out of our plans.  We are not spending time with him or putting him first.  Therefore, we are not committing our plans to him or not letting him have control of our lives.
Last, the direction we want to go may not be the direction God wants us to go.  He may want us to do something completely different with our lives.  Perhaps, he just wants to expand our horizons or enrich our lives with other opportunities we may not realize exist.  With this interruption to his Summer and Fall activities, my son has been forced to reevaluate what he does with his time until he completely heals.  In spite of us certainly not wanting him to be hurt, this accident has caused him to consider activities he never would have considered doing in the past.
Whether you are stuck in a place where you can't move ahead with your plans or are having to literally sit still for a while, know God is in control.  He loves you and wants what is best for you in whatever you do!