Happy Friday everyone!  I'm sharing a holiday gift guide for all the beauty/makeup lovers on your gift list this year.  Christmas is an excellent time to stock up on makeup.  There are many good deals where you can get a lot of bang for your buck!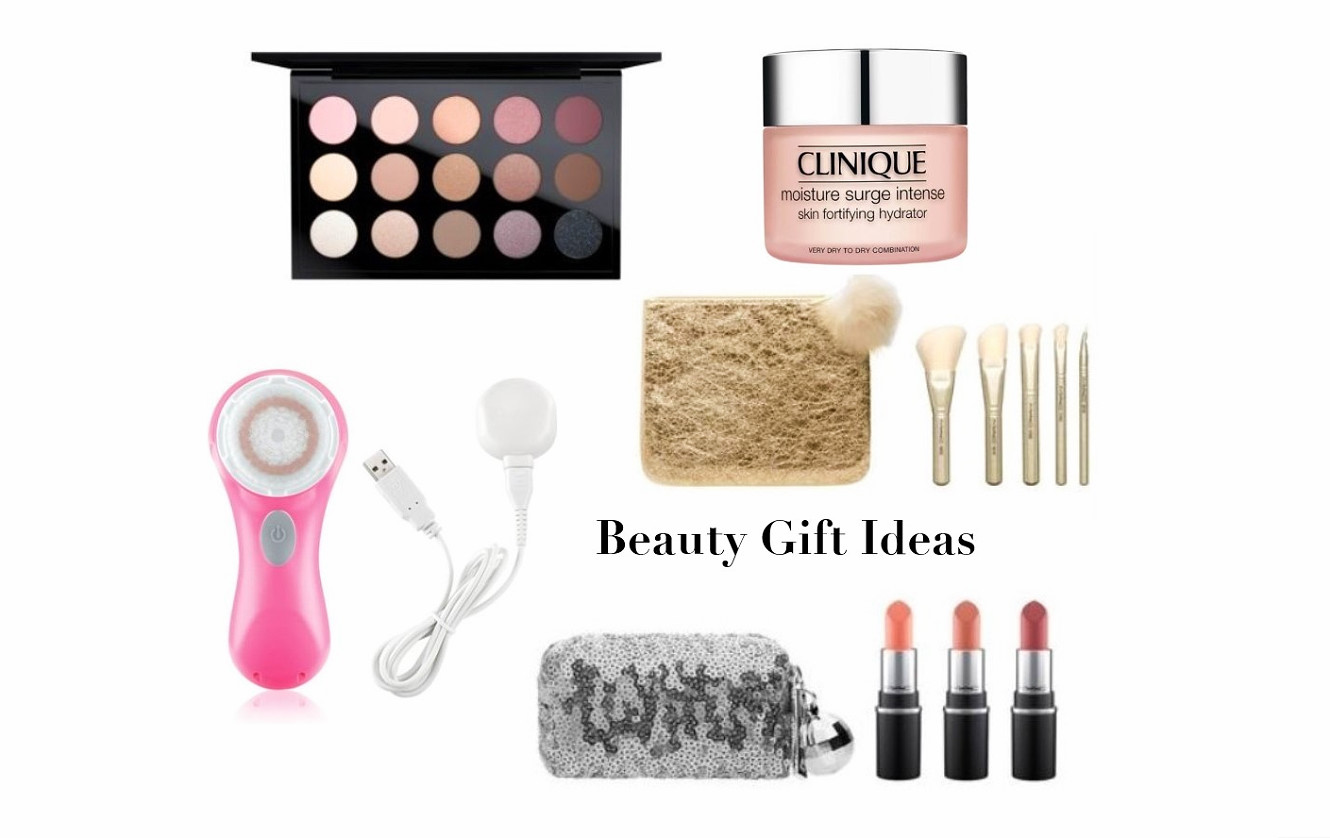 Beauty Details

I can remember when I was a preteen, we would travel to my grandparents' house on Christmas evening.  My grandmother always had a Christmas stocking for us when we arrived.  She would fill it with lip gloss, nail polish, small manicure sets, and all kinds of other makeup goodies.  I always looked forward to that stocking and still enjoy getting makeup for Christmas.  If you are undecided on what to give to a female friend or loved one, makeup always makes a great gift.  There are many inexpensive options for those of us on a budget.  There are also many great options for when we can spend a little more and get a lot of makeup products that would normally cost hundreds of dollars.  So, let's get started!
Makeup brushes and applicators make a great gift!  I haven't tried this one yet but might have to put it on my Christmas List!  I've seen a lot of makeup bloggers use the Beauty Blender.  It is a sponge that helps you apply your foundation without wasting a lot of your product.  This sponge when wet doesn't absorb the makeup so most of it goes on your face and not into the sponge.  You can buy this makeup applicator alone or in a Set.  I love this One that comes with two blenders and a cleaner for the sponge.
This adorable rose gold MAC Snow Ball Mini Brush Kit is just under $30.  It comes with a little pouch that you can slip into your purse.  It is great for travel or makeup touch-ups on the go.  For just under $50, this gold MAC Brush Kit would also make a wonderful gift.  It comes in a silver color too.  I just love their colors and packaging!
MAC has other affordable gift options as well.  Many of their lipsticks are under $20.  This Mini Neutral Palette Lipstick Kit comes with three mini lipsticks for under $30.  If you make a $65 MAC makeup purchase, you get a free Solar Glow Times Nine eyeshadow palette.  This Neutral Eyeshadow Palette is $65 and would get you the free eyeshadow gift.  You can check out all their products Here on Nordstrom's website.
You all know I am a Clinique fan.  You can check my post Here for the foundation I use.  If you have really dry skin or just get really dry in the harsh winter months, Clinique Moisture Surge Intense Skin Hydrator would be a great product for you or as a gift.  I've used their moisture surge products on my dry cheeks before and really like them.  Clinique also has a free seven piece bonus with just a $28 purchase.  For more details, go Here.
This last bonus gift buy is probably my favorite.  I've received the huge $65 Estee Lauder Blockbuster Makeup Set with a $35 Estee Lauder purchase many times.  While $100 is a lot to spend on makeup, you would spend so much more if you bought all the products that comes in this kit separately.  Plus, it will last forever!  I would often get the gift of a fragrance I liked along with the makeup set.  If you or someone you know likes Estee Lauder foundation, you could purchase that along with the Blockbuster makeup set.  You can go Here for more details and to shop for Estee Lauder products.
The last gift idea I want to mention is the Clarisonic Mia.  I also received this as a Christmas present one year.  I have to admit I was a little skeptical about using it on my skin.  My skin is very sensitive and breaks out in pimples when I use something too harsh on it due to rosacea. I thought this brush might be too harsh.  I decided to try it out and am glad I did!  You can get gentle brushes for it if you have sensitive skin. Even though I press it very lightly against my skin, I feel like it does such a good job of getting my skin clean!
This week has been a little busy for me, so I will leave you with another brief devotional.  This verse popped up on my Bible app today and spoke to me.  I hope it will encourage each of you today!  There are so many different ways of doing your devotional or quiet time with God each day.  I might have to write a post on it!  You all have encouraged me so much with the fact that you read and enjoy my writing.  I am so humbled any time what I have to say is helpful or encouraging to each one of you.  It is all inspired by what God is showing me when I read the Bible.  I want to always encourage each of you to be sure to open up your Bible to read the verse I have written here.  Read the verses around my verse for the day or read the whole chapter.  It is so much more important to read the word of God!
You Are A Winner
"But thanks be to God!  He gives us the victory through our Lord Jesus Christ."  1 Corinthians 15:57
We are all winners today!  We are winners even if we feel like we are losing.  We are winners when we feel like we have nothing.  If you have given your life to Christ, you have victory because he has won your battles.  Thank God for victory in your life!