My outfit today is all about combining brown and black, and a leopard print scarf is a perfect way to tie it all together.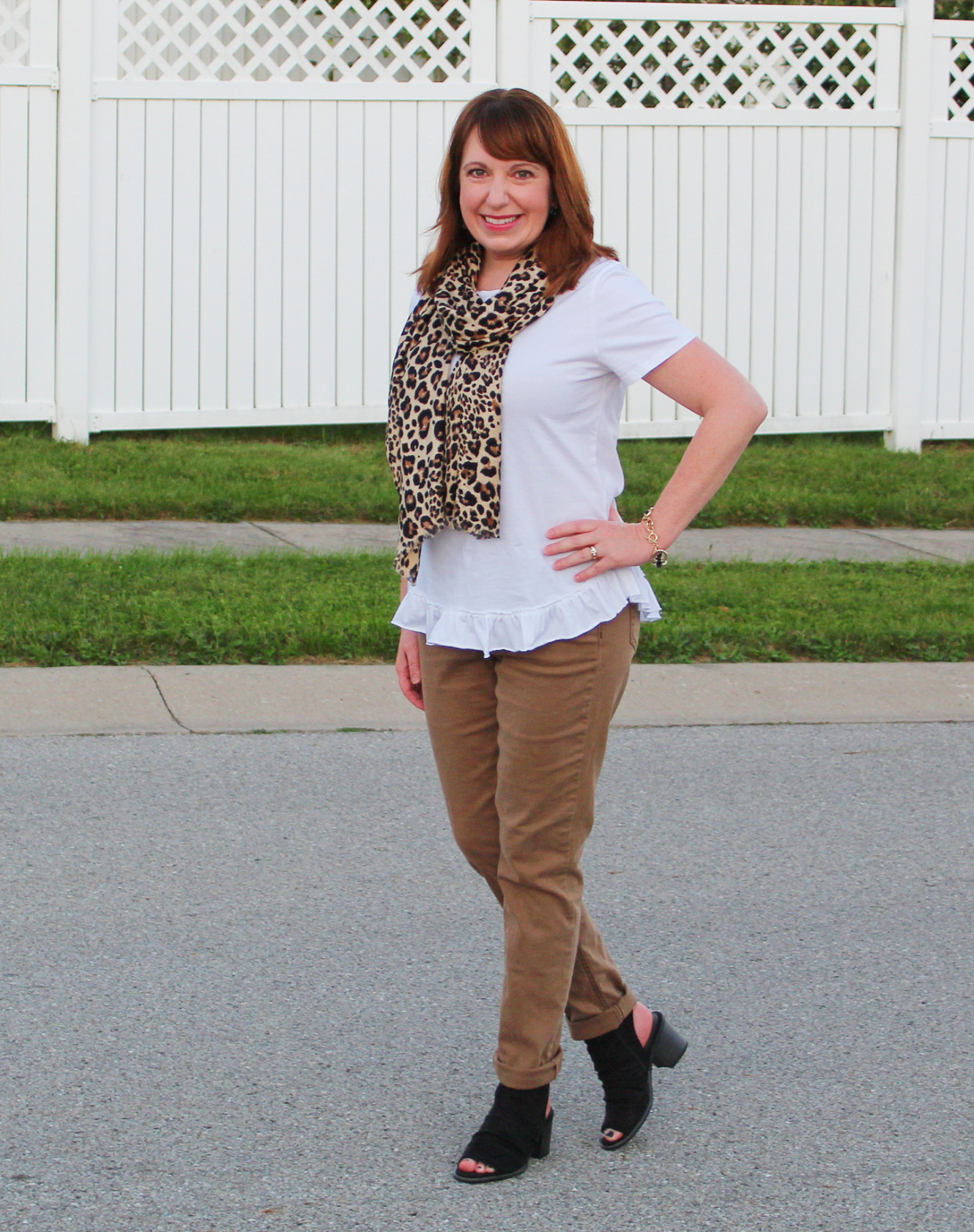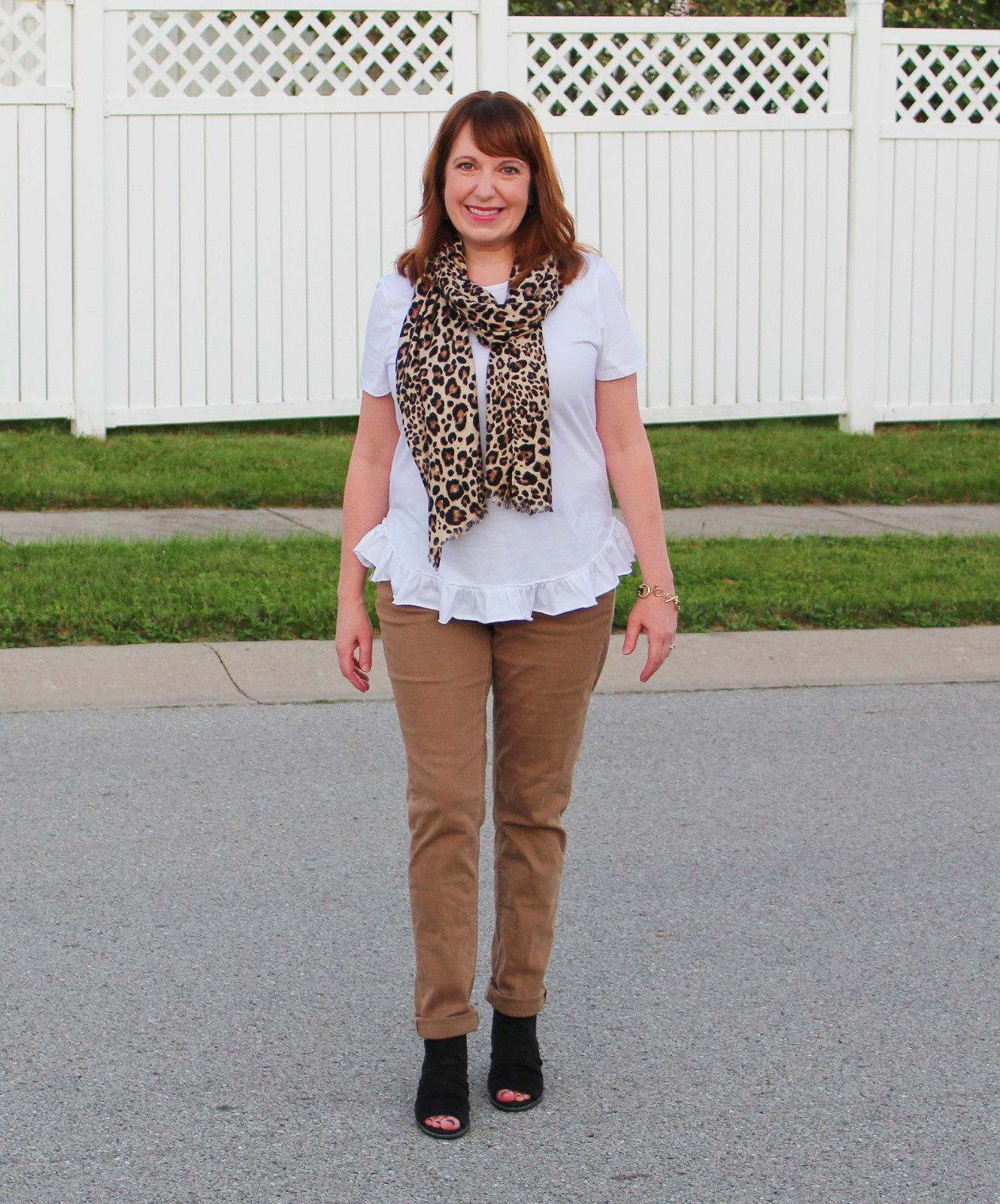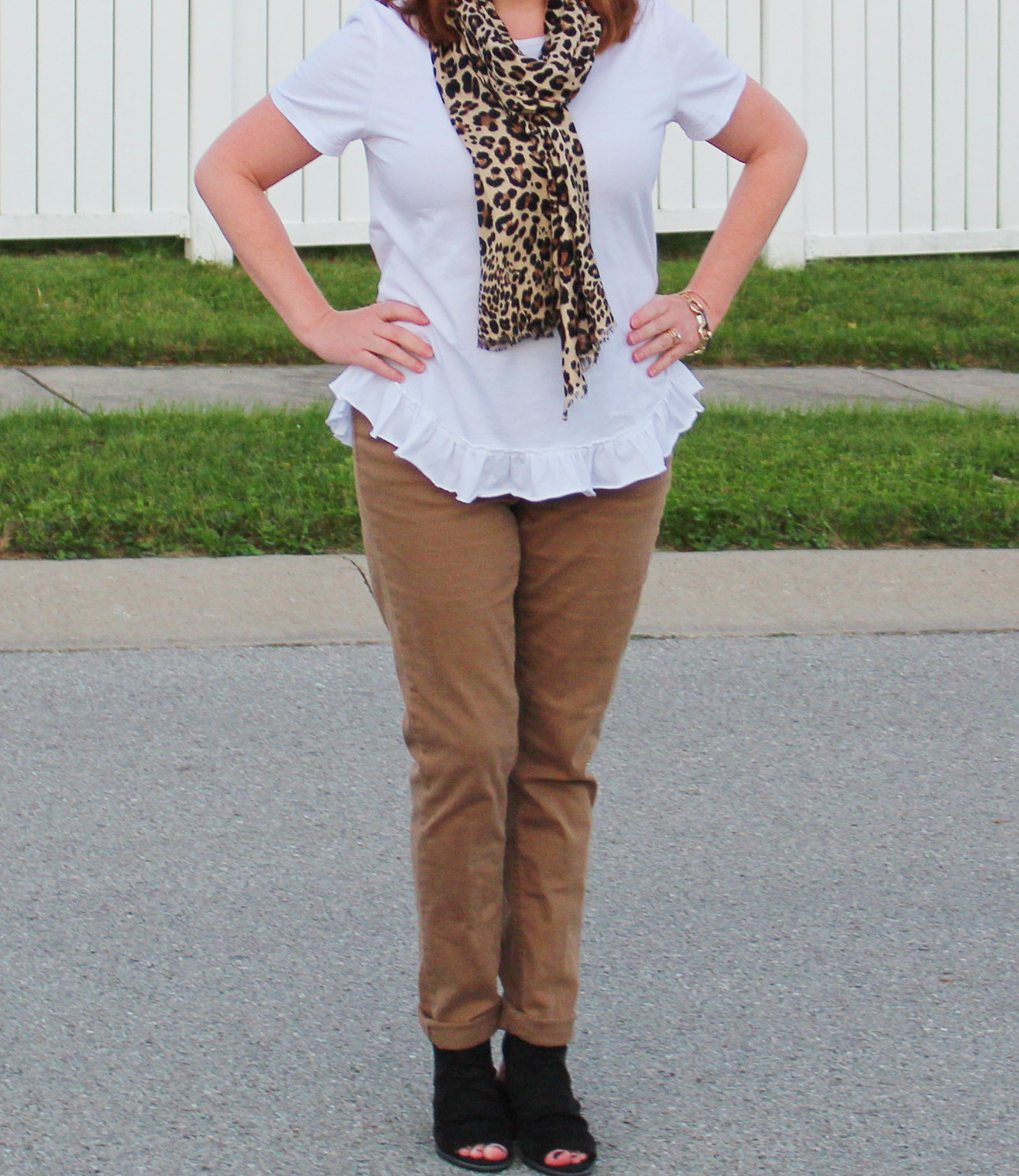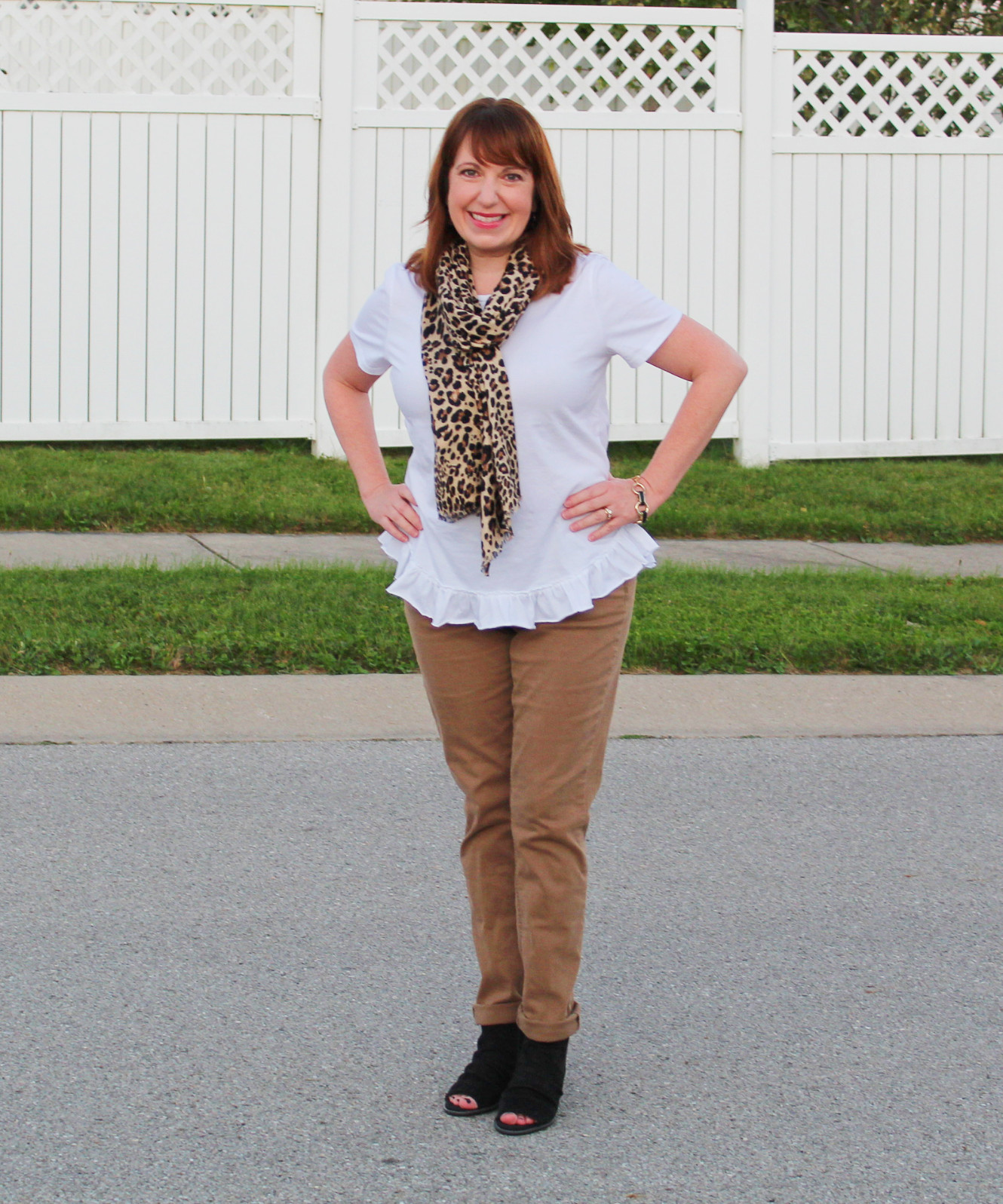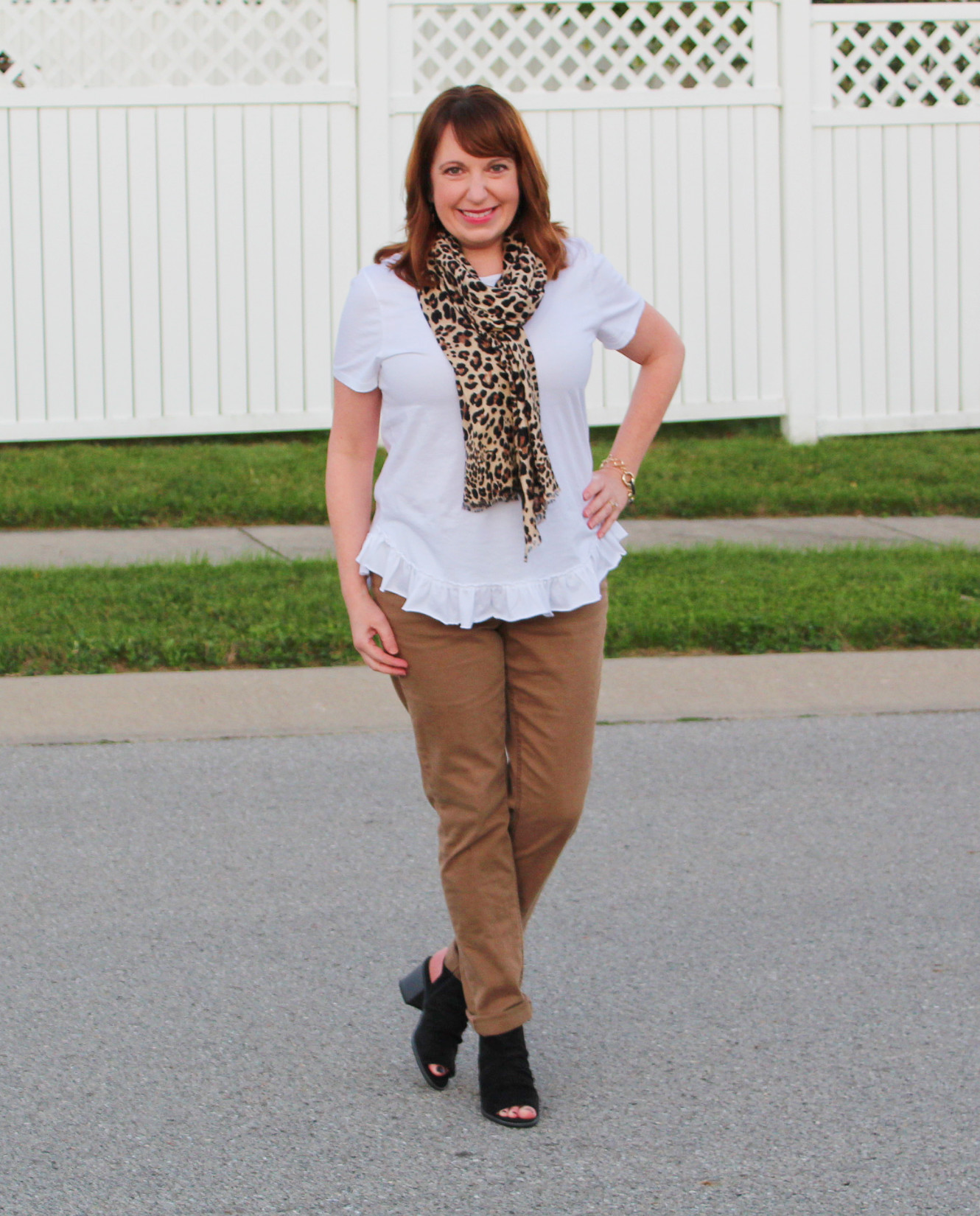 Fashion Details
I just love leopard print for fall and winter.  It is such a classic look, and you can add it as an accent to many different outfits.  I even dedicated a whole post to it Here.  This Leopard Print Scarf is so soft, And I got it for under $12!  I love the weight of it.  It is not too big or hot which is good for me.  I have a lot of hot flashes even when the weather turns cool!
This White Ruffle Tee is just the cutest.  It makes such a good layering piece under cardigans and jackets.  I also love these Shoes!  They are so comfortable and are on sale for just under $35!  My feet are very finicky, so to find such cute, comfortable shoes at that price is unusual.  They also come in a pretty taupe color.
My brown jeans are Ruff Hewn.  I have linked a Similar pairs.  You could easily wear this outfit in a casual work setting with a jacket and Brown Pants.
My youngest son is on Fall Break this week and took my photos.  He did such a great job!  I also decided to make my own logo for my website.  I have wanted to for a long time.  I am not a graphic artist, so it is nothing too fancy!  I think it does "dress" it up a bit.  Let me know what you all think.
Believing In Yourself
"I praise you because I am fearfully and wonderfully made; your works are wonderful, I know that full well."  Psalm 139:14
My husband will sometimes compliment me by saying if you want to see something beautiful, look in the mirror (Isn't he sweet!).  So today, I want to say to all of you reading if you want to see something beautiful, look in the mirror.  I want to encourage any of you who may be having doubts about who you are, what you do, or how you look.  You were wonderfully made on the inside and the outside.  God loves you and believes in you.  Believe in yourself too and praise him who wonderfully made you!