We are certainly in the middle of sweater weather here in Indiana with very cold temperatures and snow on the ground!  So today, I though I would showcase some cute sweaters to stay warm and cozy.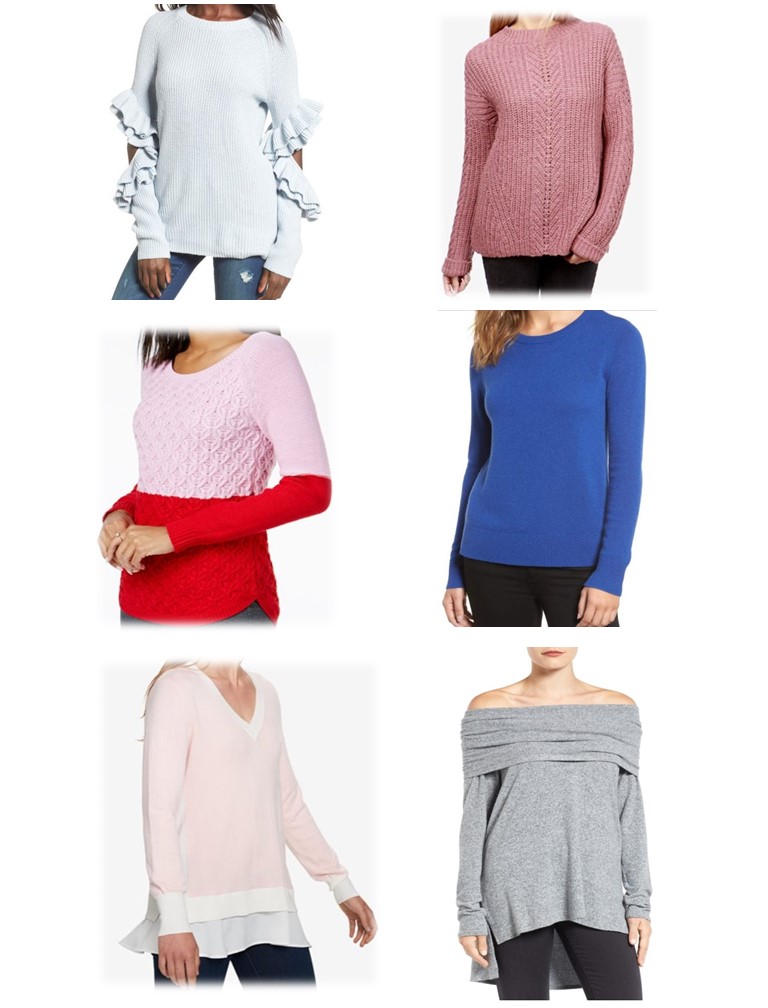 Fashion Details

There are a lot of good sales on sweaters right now as stores are already clearing out inventory for Spring clothes!  It is certainly not too late to be taking advantage of the good deals.  Our Springs tend to be really cold, so I will probably be wearing items that reflect the season and provide warmth.  This Ruffle Sleeved Sweater can be worn now and in the Spring with white jeans.  In fact many of these sweaters could transition into Spring by changing out boots for Mules or sandals.  I think this Sweater is just adorable!  It would be so cute for Valentine's Day and transition well into the next season too.
It has been a crazy couple of weeks around my house since the holidays!  I just can't seem to get back into a normal routine.  My youngest son is still in high school, and they have hardly gone to school on time in the mornings due to the weather.
He also recently dislocated his knee during a wrestling tournament. If you have read my blog for a while, you may remember he dislocated his elbow and broke a bone during a Summer wrestling camp.  He was all healed from that injury, and now this happened!  Thankfully, this injury hasn't been as bad, but wrestling season has ended for him.  He will be going to physical therapy and resting that knee.
I was at the tournament when it happened, but somehow I missed seeing it.  It all happened so fast!  I was sitting directly in front of the mat, but I think I was focused on my son's face at the time.  It may have been the angle from which I was watching too.  I also wonder if God was just covering this Mom's eyes!  Some people sitting down from me were pretty grossed out by the whole thing (I feel bad they had to see that!).  This kind of stuff usually doesn't bother me except when it comes to my own kids.  My husband even has a recording of what happened, but I just can't bring myself to watch it yet!
As I was planning to write this post, I came across this verse I want to share with you.  It is all about where we should focus our eyes.  You all have a wonderful day!
Focusing On The Eternal
"So we fix our eyes not on what is seen, but on what is unseen, since what is seen is temporary, but what is unseen is eternal."  2 Corinthians 4:18
Know that any disappointments, hurts, or struggles we see in this life are only temporary!  They are only brief moments compared to the unseen eternal and joy-filled life we have with Christ.