Happy New Year everyone!  Today, I am discussing three styles of Winter boots that look good and are practical for wearing in cold weather.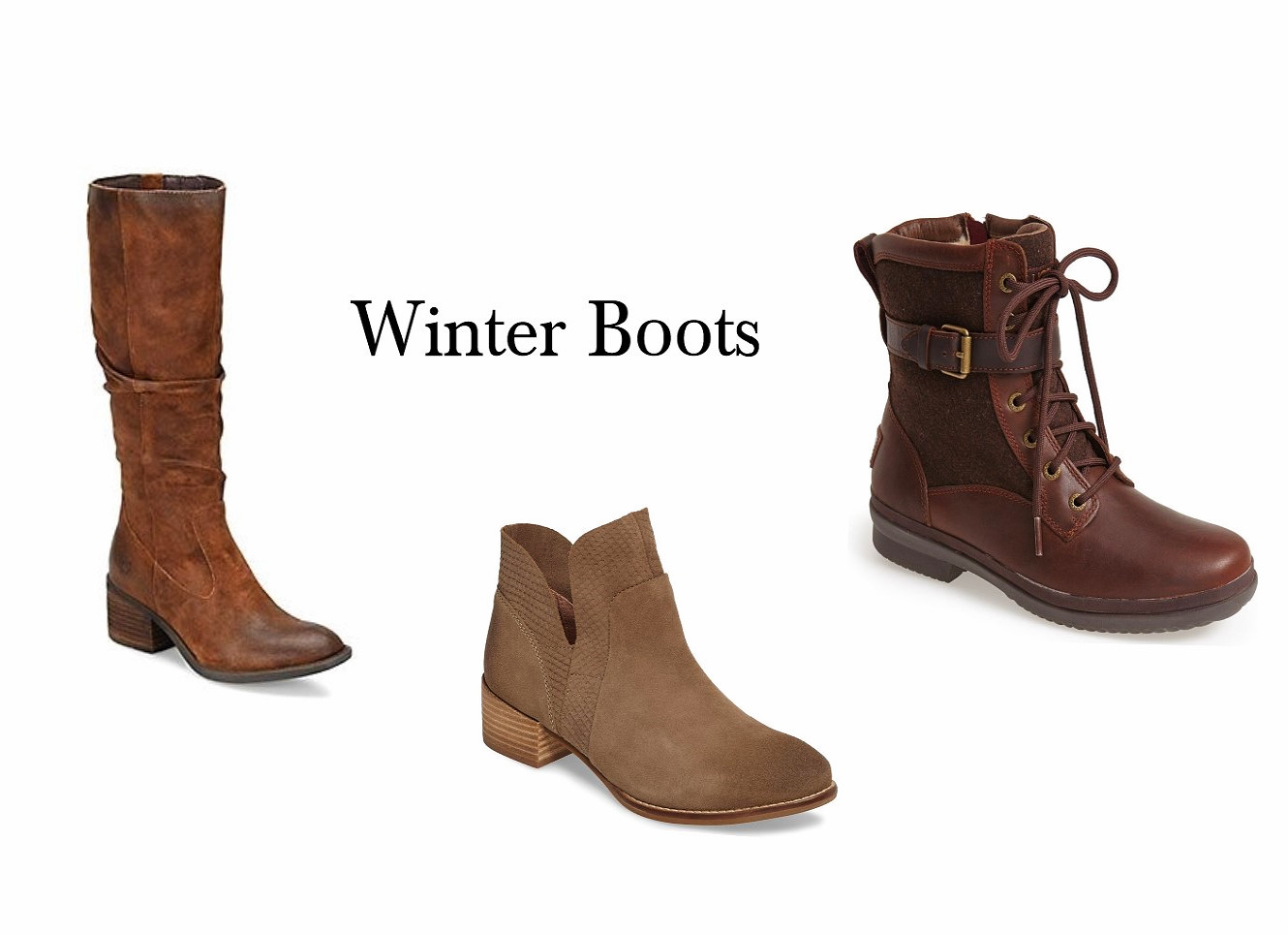 Fashion Details
Tall Born Boots/Seychelles Dwelling Booties/UUG Waterproof Boots
I was in need of some new Winter boots.  These beautiful Born Boots and the UUG Boots were Christmas gifts this year!  I can't wait to get some outfit pictures with these boots – if the weather will ever cooperate.
I like to have tall black and brown boots in my Winter wardrobe.  These leather Born boots come in this rust color, dark gray, and black. They are so comfortable and keep you warm.
It is also good to have a pair of boots that stand up to the snow, slush, and Winter elements.  My UUG boots do exactly that and are cute too!
I also have several pairs of booties in my closet that I like to wear on warmer days.  In fact, when I was shopping for boots during the holiday, I had a hard time finding many tall boots I liked.  Maybe I was just too picky about what I wanted.  It seemed short boots were not in short supply though.  The sales lady that helped me thought most people liked something that was easy to pull on and off over extra warmth.  What do you all think?
Even though I didn't need another pair of booties, I was really tempted to get these Seychelles Dwelling Boots.  They are so cute and were really comfortable.  They were a little loose on my foot at my normal size, but I would not have sized down.  I don't like really tight shoes, and these didn't rub my foot anywhere.  So if you live in a warmer climate or just like how easy a bootie is to slip on and off, this is a good one.  I'm also thinking this boot would look great with early Spring outfits too.
This last Born Boot was another great find!  I had such a hard time deciding what to purchase.  If budget was no concern, I would have bought all of these!  Can't you tell I love shoes!  The website says they are burgundy, but I think they look purple in person.  They were just adorable.  Plus, they are a nice ankle boot if you don't want something too short or too tall.
I had a wonderful holiday with family and am now trying to get back into a normal routine.  My youngest son, though, had another major wrestling incident!  He is thankfully doing fine, but we will know more after a pending follow-up doctor appointment.  I will save the details on that for another post.  In the meantime, I will leave you with this verse that I shared on Instagram recently.
Our Best New Year's Resolution
You are my refuge and my shield; I have put my hope in your word.  Psalm 119:114
Lets' resolve to put our hope in God and our relationship with him first this year.  Let's dress in our faith each and every day!