The sun is shining today, and it looks like it is warming up a bit here where I live.  Even though we are still in January, I can't help but look ahead to the spring fashion trends (and warmer weather).  There are not a whole lot of surprises on the fashion horizon for spring when it comes to colors and prints, so let's dig into some upcoming trends.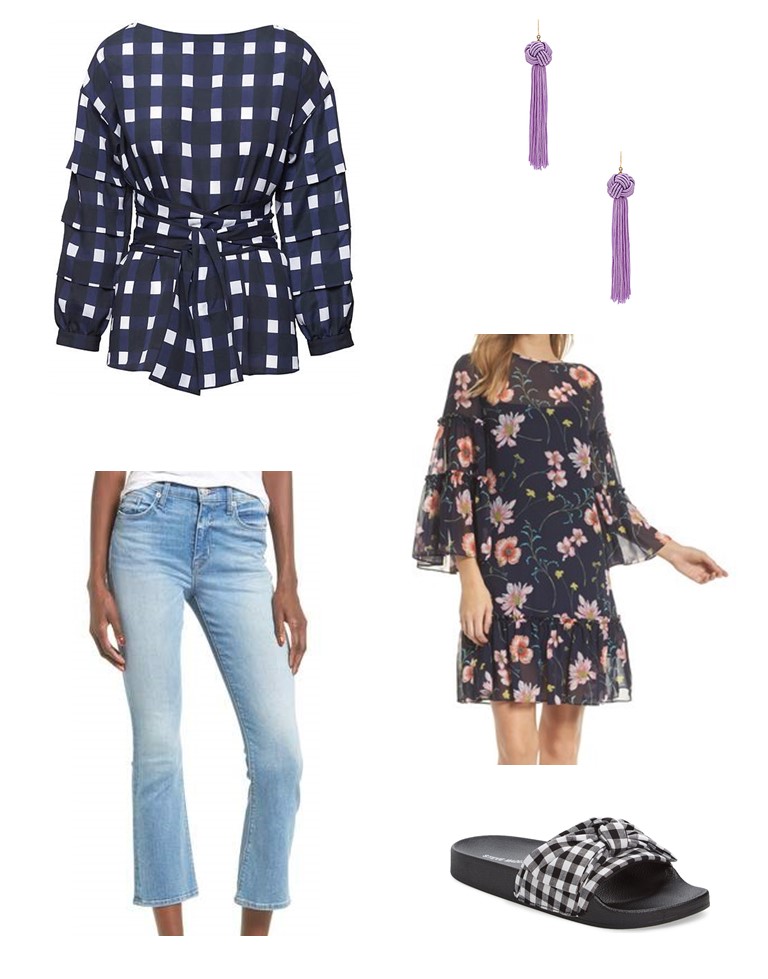 Fashion Details

1. Checks/Stripes – As stores are starting to clear out winter merchandise, I noticed a lot of their new arrivals consisted of stripes and checks.  Stripes have been pretty popular for a while, and it looks like they will be sticking around a little longer.
2. Floral – Floral has been trending all through the winter and will still be around for spring.  I'm seeing on everything from dresses to shoes.
3. Lavender/Lilac – This is supposed to be the big color for spring.  Surprisingly where I shopped, I did not see much of it!  We will have to see if these holds true.  In the meantime, I did spot these cute Earrings.
4. Cropped Straight Jeans – There are still plenty of skinny style jeans out there.  Cropped jeans are still very trendy.  The new trend on the block seems to be a looser fitting straight or boyfriend cropped jeans.  These and These Jeans are some examples.  I have even seen some wide leg cropped jeans.  The straighter styles are okay, but I'm not a fan of a wide leg cropped jean!  It will be interesting to see how all of this plays out, because skinny jeans have been around for a long time.
5. Mules/Slides – I have not jumped on the bandwagon and bought a pair of mules yet.  I may consider some for spring as they are starting to grow on me.  I've seen some cute leopard print ones and, I like These with the bows.  I've also seen a lot of slides for warmer weather.  There are a lot of Rubber Athletic Type Slides popping up in women's shoes.  Some are dressed up like These and These.  My youngest son has worn the men's athletic slides with socks for years!  I will have to tell him they are really trending this year! LOL
What do you all think about some of these trends?
I will see you back next week with more posts.  I'm trying to do a better job at planning and writing posts ahead of time with an editorial calendar.  That is one of my goals this year!  This month has not gone as planned, but I'm not giving up on it!
Have a great weekend!
Verse For Today
"Every good and perfect gift is from above, coming down from the Father of heavenly lights, who does not change like the shifting shadows."  James 1:17