This time of year everyone is talking about starting an exercise program.  So, I decided to share some of my favorite workout clothes today.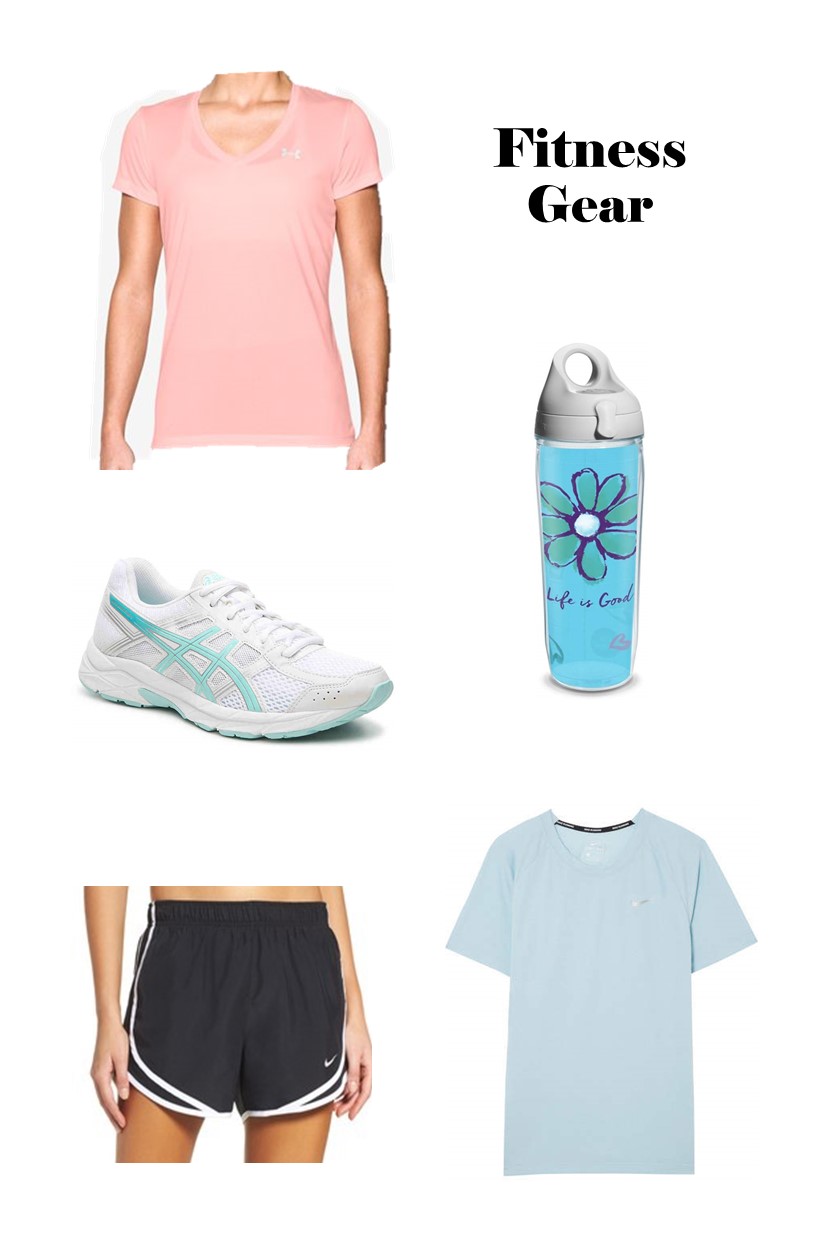 Shop
My favorite shoes for working out are Asics.  This is the Pair I wear right now.  I love the comfort of the gel cushioning you get with Asics.  Last year, I tried a different and highly rated brand for the first time in years.  I just did not like them!  While I wore them for a while, they just never felt as good on my feet as Asics!
Even in the winter, I still wear short sleeve tops and shorts when exercising inside.  Hey, I'm working out hard, so I get really hot!  Nike is a good brand and holds up very well.  I also like Under Armour too.  Since some of these brands can be a little pricey, I always watch for sales.  This Tee comes in a variety of colors for $20.
It is very important to have good sports bra.  I have several of this One.  It is a high impact bra that provides very good support.  I love that it has an adjustable band and straps!
Drinking plenty of water when exercising is essential.  I absolutely love using Tervis Tumblers.  They are insulated and BPA free.  They also come in a lot of pretty designs and colors.  Isn't this a cute Water Bottle?  I always keep a Tervis tumbler full of water by my side throughout the day.
I started to share some of my exercise routine today but thought I would put it in another post to send later.
I hope all of you are staying well with no colds and flu.  It seems there is a lot of stuff going around here where I live.  In fact, my husband has been home from work sick.  I am trying to take care of him while keeping my distance.  We are not sure what he has, but he feels pretty miserable.  We all had flu shots, but unfortunately it is not supposed to be as effective this year.  Even so, I think it's better to get one than not.  The shot is supposed to help keep your symptoms from being as severe should you get the flu anyway.  Well, that is my PSA for today. Lol  Thanks for reading and have a wonderful day.
Subscribe Here to receive new post notifications.  Follow me on Instagram and Pinterest.
God Prepares Us
"For we are God's workmanship, created in Christ Jesus to do good works, which God prepared in advance for us to do."  Ephesians 2:10
Many times we may feel so unprepared to carry out what God wants us to do.  We may feel unable to take the road he is asking us to travel.  We may feel ill-equipped or inadequate to do the work he wants us to do.  Know that God has prepared you for whatever comes your way.  He intricately made you with abilities when he formed you before your birth.  He has given you learning experiences – some good and some painful – to handle the tasks he gives you.  He has taught you with each Sunday school lesson and Bible study.  When you lean into him, he will prepare you ahead of time for every good work.  You are his work of art with a great purpose to live out today!