I have one more summer look for you with this pink neck-tie top and white jeans.  In fact, I will probably wear this cute top for a little while longer if the weather cooperates!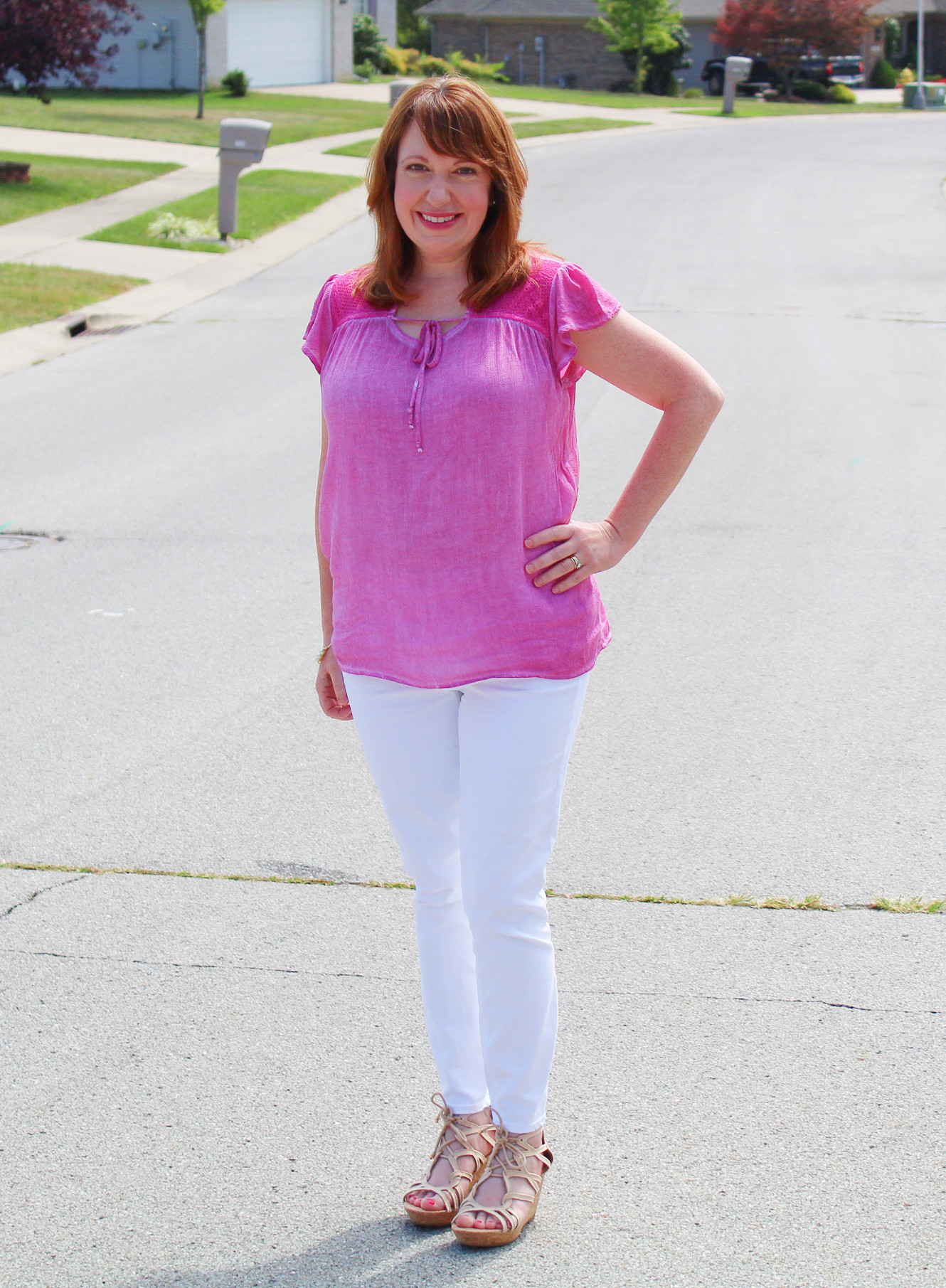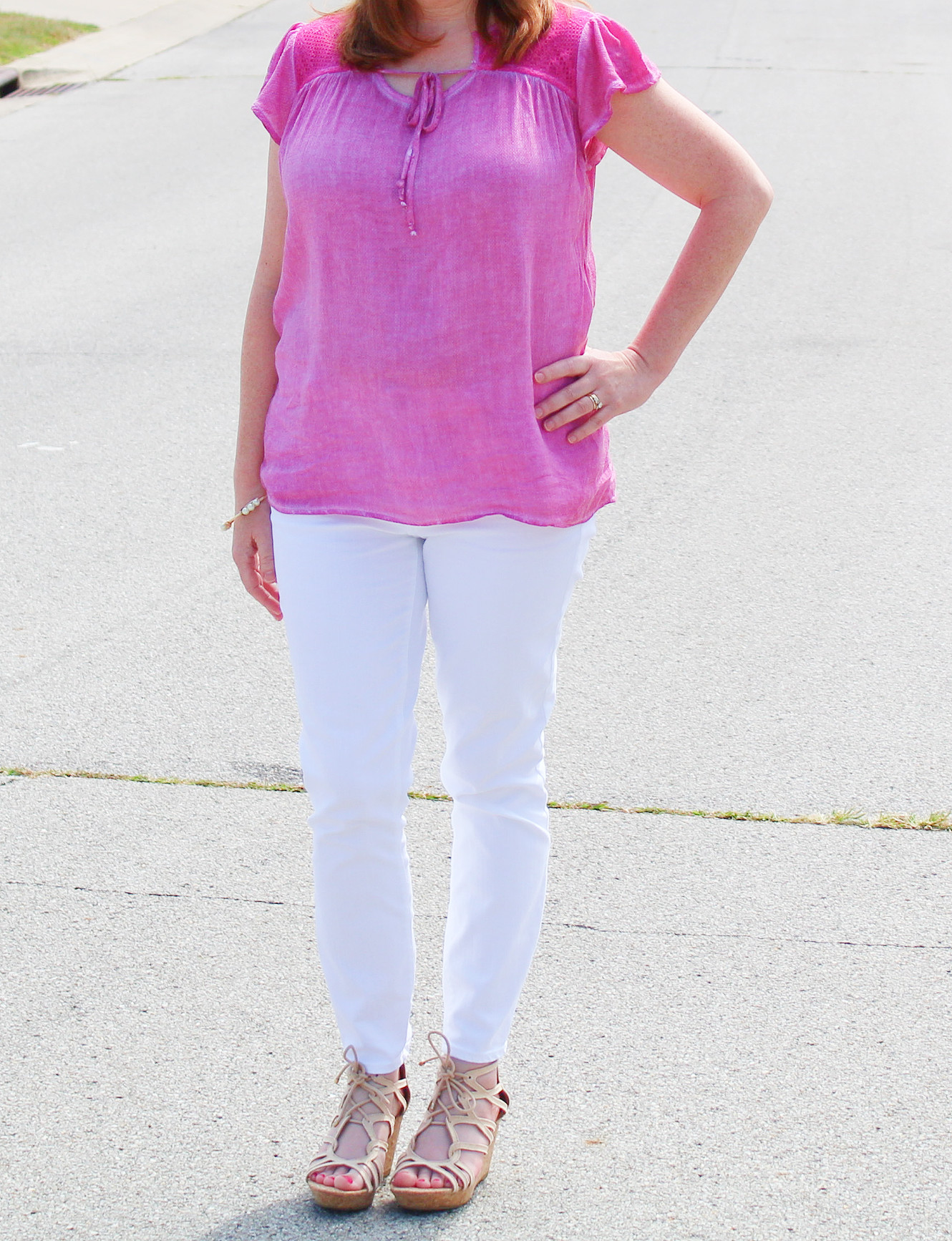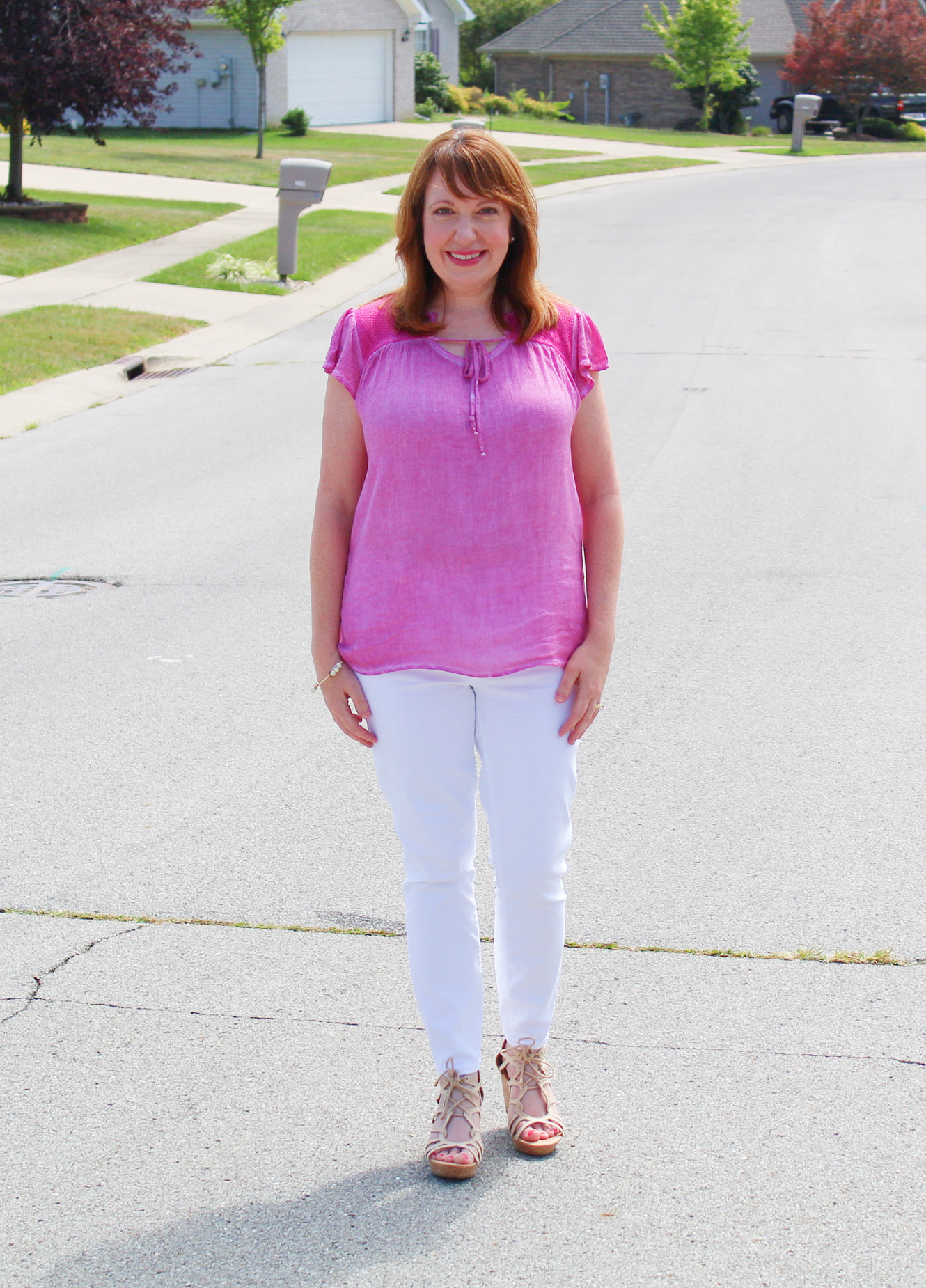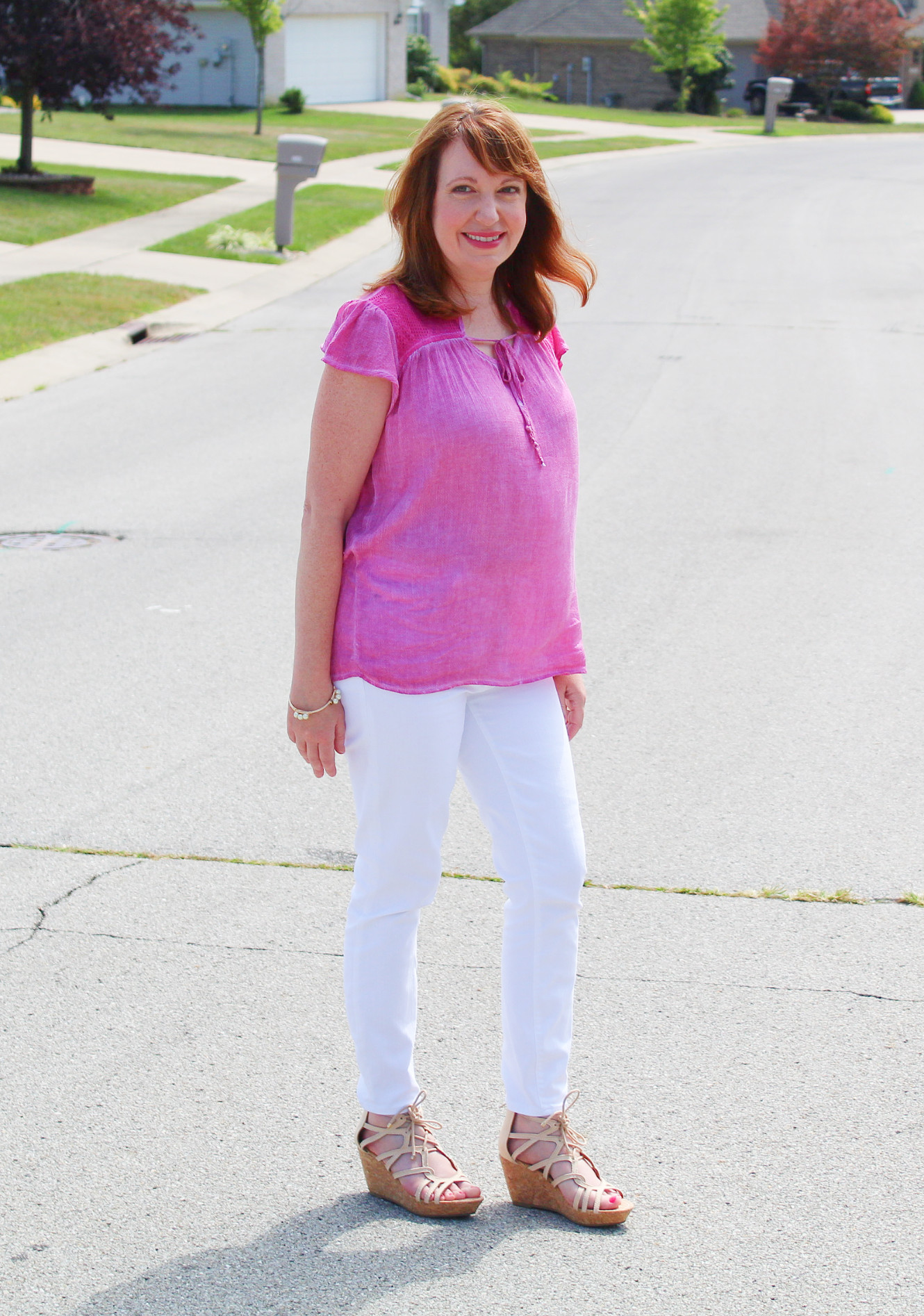 Fashion Details
Pink Top (Same Top In Different Colors Here) / White Jeans / Shoes (Similar Here)
I could not find this One World top in pink since it has been in my closet for a while.  However, I did find it in Navy Blue which would look great for Fall and is only $14!  It is available in small and medium, but the fit is loose.  This One World Top in a watermelon red is also cute.  I will continue to wear my Gap White Jeans into the fall and have been very happy with them.
I had an interesting experience yesterday.  My dog went outside as usual after his evening meal.  When my son went to bring him back inside, he called to me from the back door to say our dog smelled like it had been sprayed by a skunk!  I ran to the back door just as he decided to let our dog inside!  Skunk smell was wafting all through the house.  We immediately tied our dog out in the front yard, so he would not get sprayed again.  It was still light outside, and we figured out the skunk had taken up residence under our back deck.
Thankfully, my husband was on the way home because I really had no idea how to deal with getting rid of the stench.  When he got home, he could not smell anything on the dog.  Yet, we could still could smell it all in the house.  I finally just decided to check the pair of rubber sandals by the back door we slip on when we go fetch our dog.  They were the source of the smell.  I have no idea how my son or our dog didn't get hit, but the sandals somehow did whether through the floor of the deck or by stepping where the skunk had sprayed in the yard.  I think I will be walking our dog in the front yard for the rest of the week! LOL
Nice Guys And Gals Do Finish First
"Let us not become weary in doing good, for at the proper time we will reap a harvest if we do not give up."  Galatians 6:9
Society likes to tell us nice guys or gals finish last.  Today, I want us to train ourselves to believe otherwise.  I know sometimes this can be hard to do.  It is easy to wonder if anything good we do is noticed, makes a difference to someone else, or ever gets us ahead in life.  We have all seen good people doing good deeds get squashed by hardships, as others who are out for themselves seem to live a charmed life.  Whenever you feel as if it is all for nothing or you would be better off being selfish, remember that God sees every detail in our lives and our hearts.  He is aware of all small and big acts of kindness that human eyes miss.  He sees your love and compassion towards others.  He knows your heart.  Each of us who profess Christ's name and serve others will finish first, our good deeds will be remembered, and all will reap our rewards in heaven.