I am continuing my series from yesterday and talking about six basic clothing items I have in my closet for Fall.  These items can be paired with other current trendy pieces from year to year.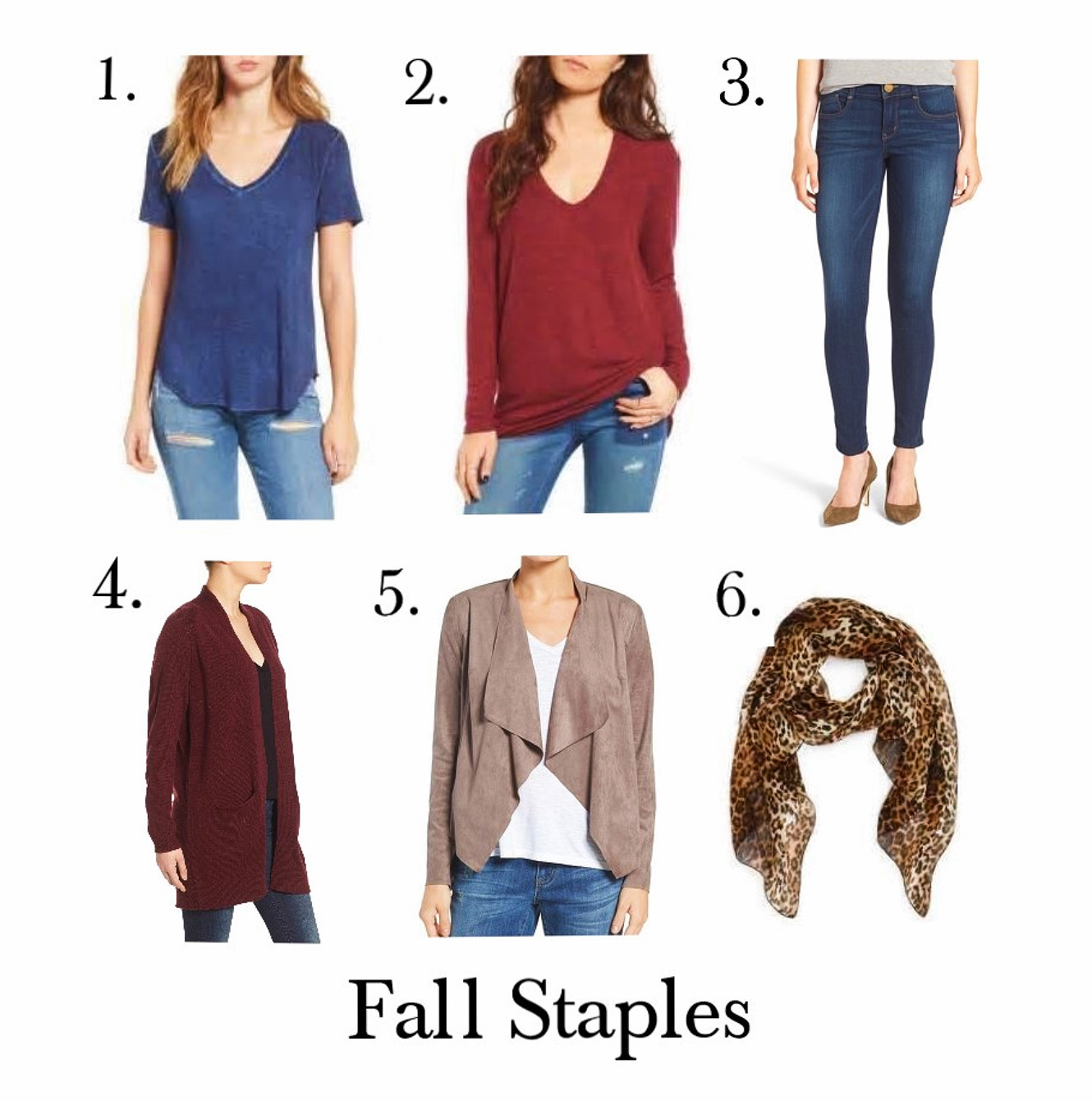 I like to have some basic t-shirts to layer with cardigans and jackets for Fall.  I usually have multiple short-sleeved tees in black, grey, and navy blue.  I also like to have a Long Sleeve Tee or two.
A cozy, soft sweater is a must have for a cool Fall day!
While ankle length and ripped jeans are trending this year, I like to have a few pairs of classic jeans tucked away in my closet.  I usually like to have a pair of Boot Cut Jeans along with straight and skinny styles.  I tend to go for a darker wash that can be dressed up more.  You can also roll the cuffs of your skinny jeans to get an ankle or cropped style look.
A cozy cardigan is one of my favorite wardrobe staples.
While I prefer to wear cardigans, you always need a good jacket in your closet for Fall weather.  I have a suede jacket I got last year and am looking for a utility jacket.  This One is cute.
You can't go wrong with a leopard print scarf.  I also like this Plaid One.
I had wanted to do another Summer outfit photo today, but didn't get pictures in time.  I may still do one more next week.  Then, I'm looking ahead to darker colored clothing and transitioning our wardrobe for Fall weather here on the blog.  While it will be fun to style some Fall clothes, I have to admit I usually keep wearing my Summer stuff into early September if it's hot!  When do you all start making the transition with your wardrobes?
Showing Love To Other Christians
"Therefore, as we have opportunity, let us do good to all people, especially to those who belong to the family of believers."  Galatians 6:10
I have another message today about how we should treat each other.  Specifically, I want to address Christians' behavior towards other Christians.  As many of you know, I grew up in church as preacher's daughter.  I was often at church with my Mom and Dad long after services, meetings, or dinners had ended.  Many times, I was around when someone had a problem or wanted to confront my Dad about something they didn't like within the church.  While most people were nice and respectful, there were times when some were not.  As a child, it was hard to understand how someone in the church could act that way.
I know now that being a Christian doesn't mean you will act perfectly, not get angry, or not be hypocritical.  But as a people living with God's Holy Spirit inside them, we should be changing, growing, and learning to be more like Christ.  We need to treat others differently than the rest of the world does.  We need to remember that our children, new Christians, and especially non believers are watching us closely.  They are watching how we treat them and each other.
Let's think before we speak, be patient, and show love to our brothers and sisters in Christ.  Let's be a good example of what a changed life in Christ looks likes to the world around us.  One day, all Christians, those we get along with and those we disagree with, will spend eternity together.