Today, I am sharing with you the three must have shoes to round out your Fall wardrobe.  Instead of focusing on the latest trends, I want to look at some basic, classic shoe types that we can wear year after year.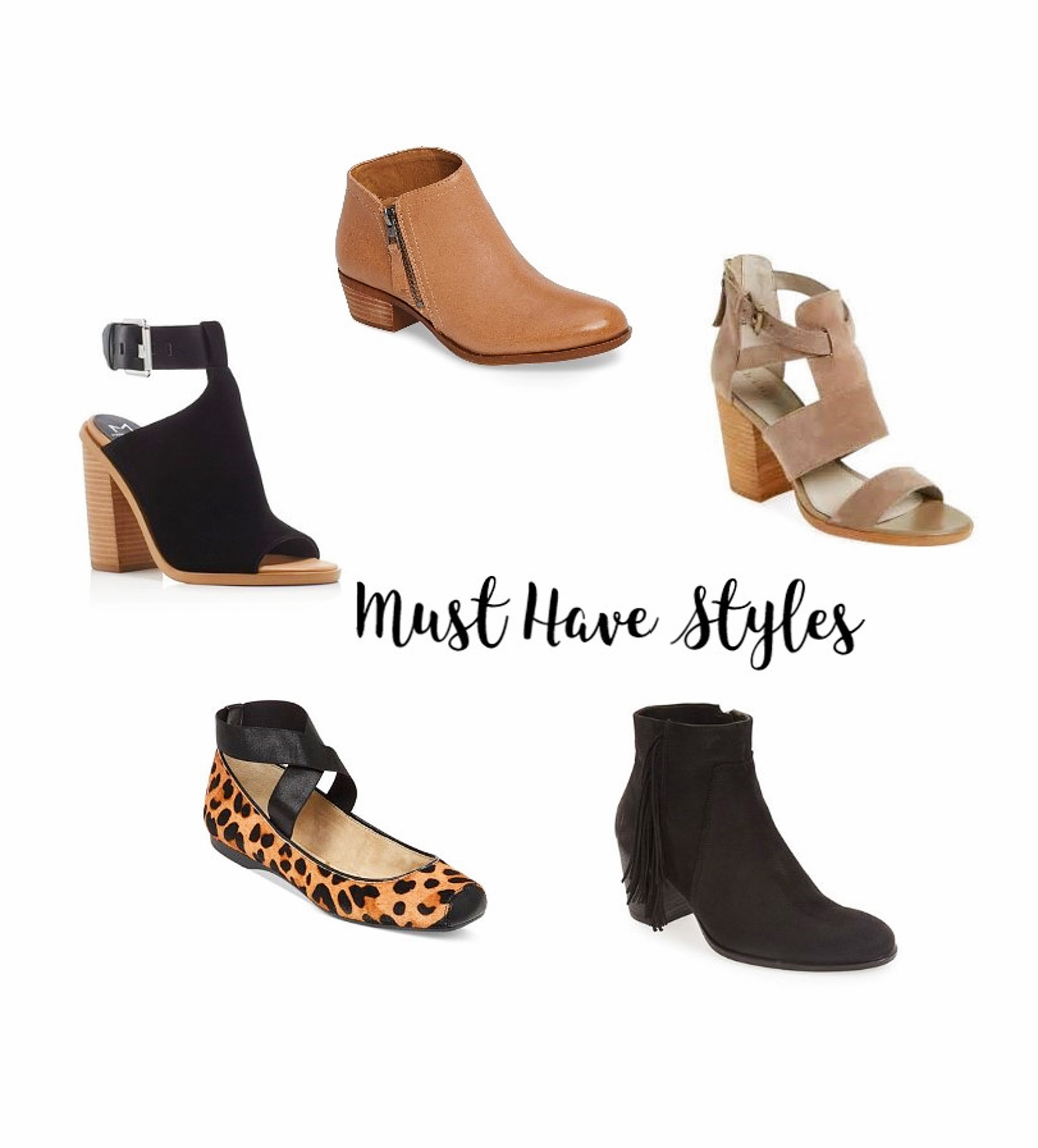 1.  Sandals
For most of us, early Fall can still be pretty warm.  So, I still wear sandals a lot.  I usually have some Summer sandals that I can continue to wear into the Fall if they are darker in color.  I also like to wear sandals that have thicker straps to give you more coverage and warmth as it gets cooler.  This Marc Fisher Wedge comes in black and has such pretty detail.  It is on sale for 25% off using code FRESH at Macy's.  Sizes are limited.  I wish my size was not sold out!  This White Mountain Sandal is cute for Fall and is under $30!  I recently bought a pair of shoes in this brand that I cannot wait to style here on the blog.  They felt really comfortable when I tried them on in the store.
2.  Flats
I like to have a classic flat or two in neutral colors.  This Jessica Simpson Flat is super cute and comes in many great neutral colors and patterns. It is also marked down 25% using code Fresh.
3.  Short Boots
A short classic boot is also a Fall must have.  This One is under $60 and is one you could wear year after year.  I also found this ECCO Boot with a fun fringe detail.
Thanks for reading today!  If you would like updates sent to your email on when I publish a new post, please Subscribe Here.  I am also on Instagram, Facebook, and Pinterest.
I appreciate so much all the recent comments.  Ironically, one of you commented the other day with a verse about turning our focus on God which is my faith topic today!
Pleasing God Instead Of People
"Am I now trying to win the approval of human beings, or of God?  Or am I trying to please people?  If I were still trying to please people, I would not be a servant of Christ.  Galatians 1:10
In my last Post, I talked about how to act around people who just don't like us for no known reason.  We all want to be liked by others, and we will often go to great lengths to get others to like us.  We sometimes become people pleasers when our true focus should be on pleasing God.  Many times when we only try to please others, our motives are more selfish than not.  Besides wanting to be liked by everyone, we want attention for ourselves or to be popular.  When we go out of our way to do something for someone else, we often want or expect something in return.  Our desire for all these things can lead us down a very dangerous path.  We may end up compromising our values, beliefs, and faith to gain others' respect.
When we live to please God, our motives become less selfish.  We do things for others not expecting something in return.  We build up others to make them shine and be noticed.  We show God's glory to others and give him the spotlight.  We stand boldly for the truth of God's Word. We live according to his will and plan for us.  Our values, beliefs, and faith are strengthened.  Let our focus today be on God and him alone.  I know I want my focus to be on pleasing him.