Hello everyone!  Today, I have a fantastic one shoulder ruffle top to style for you.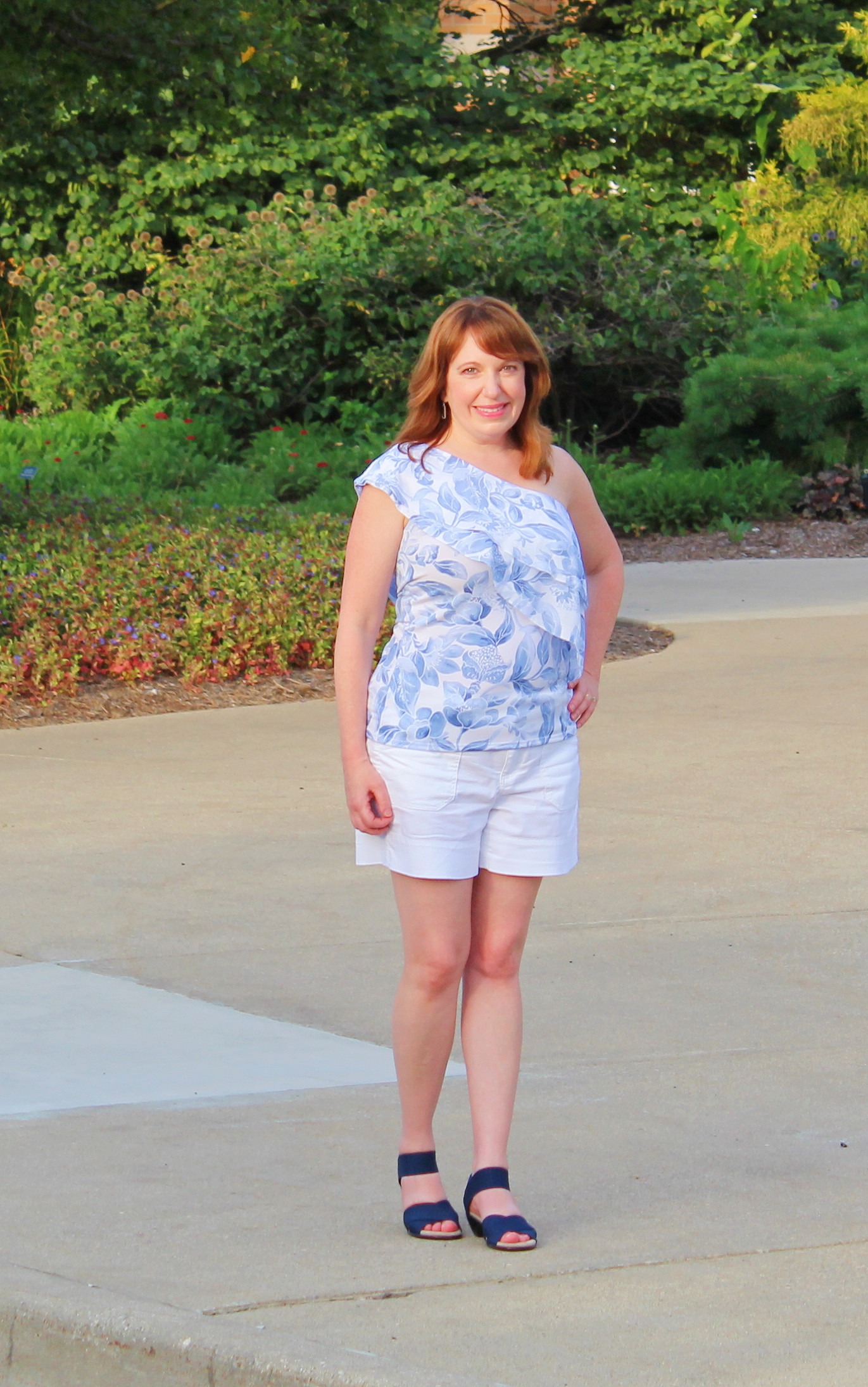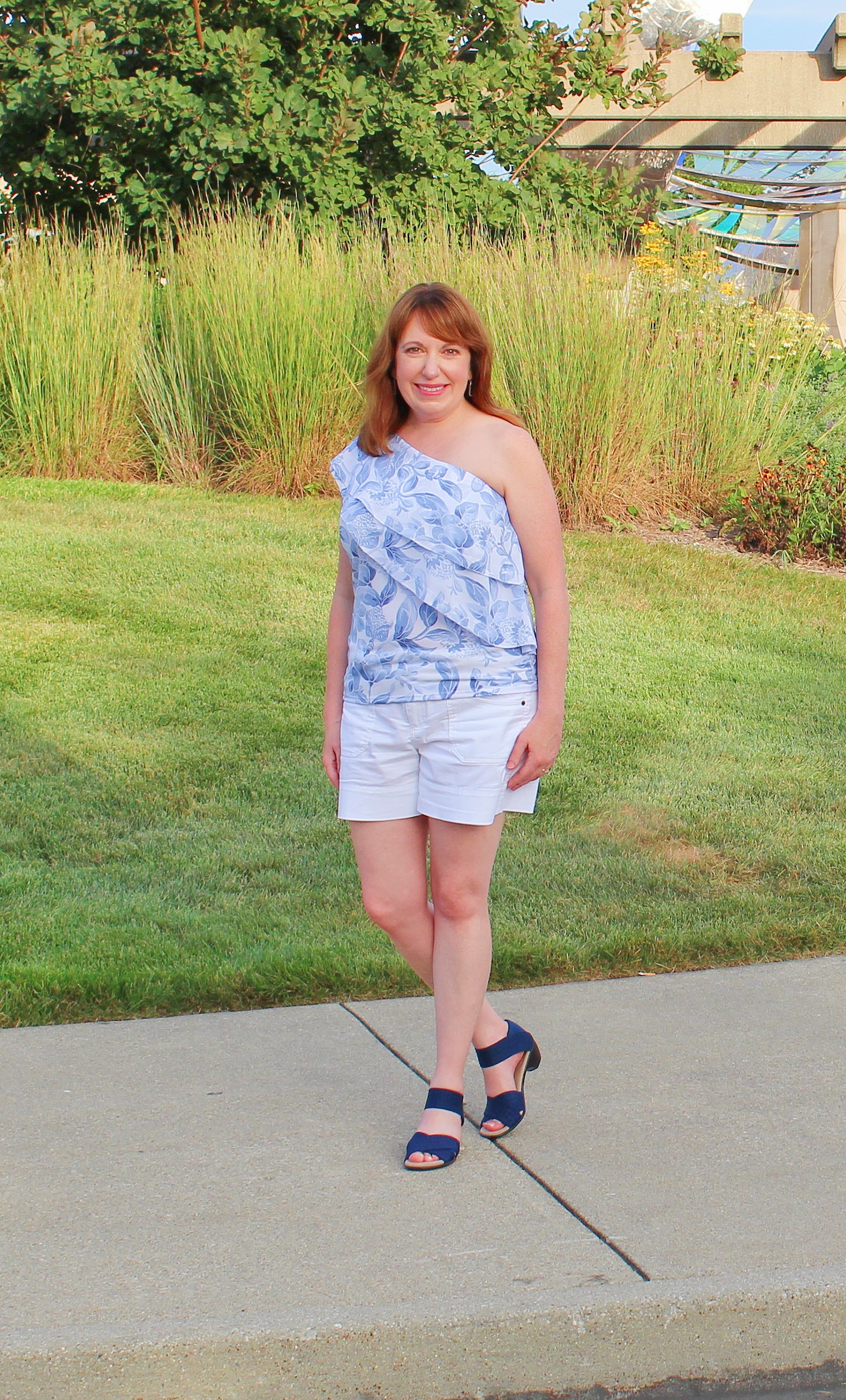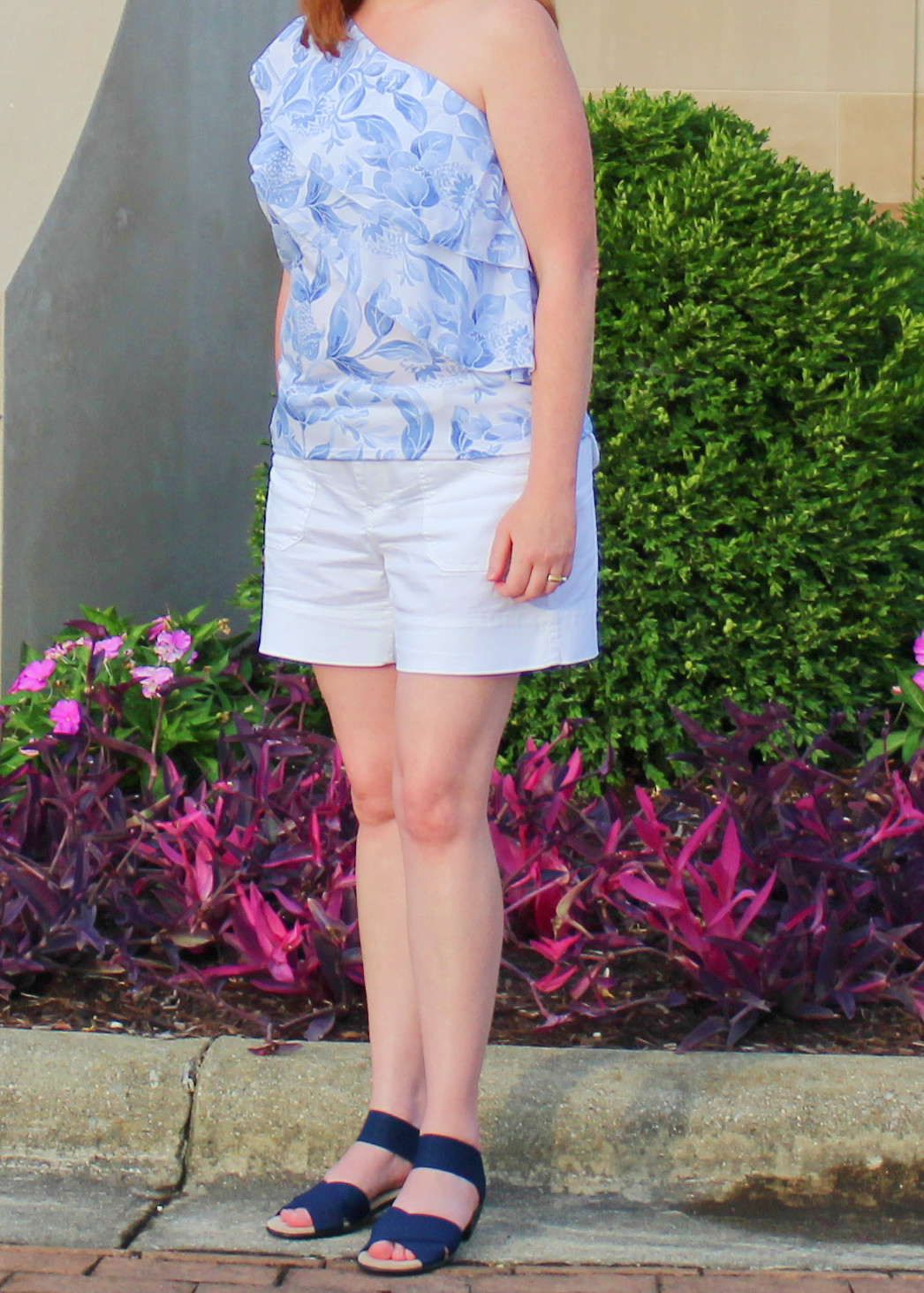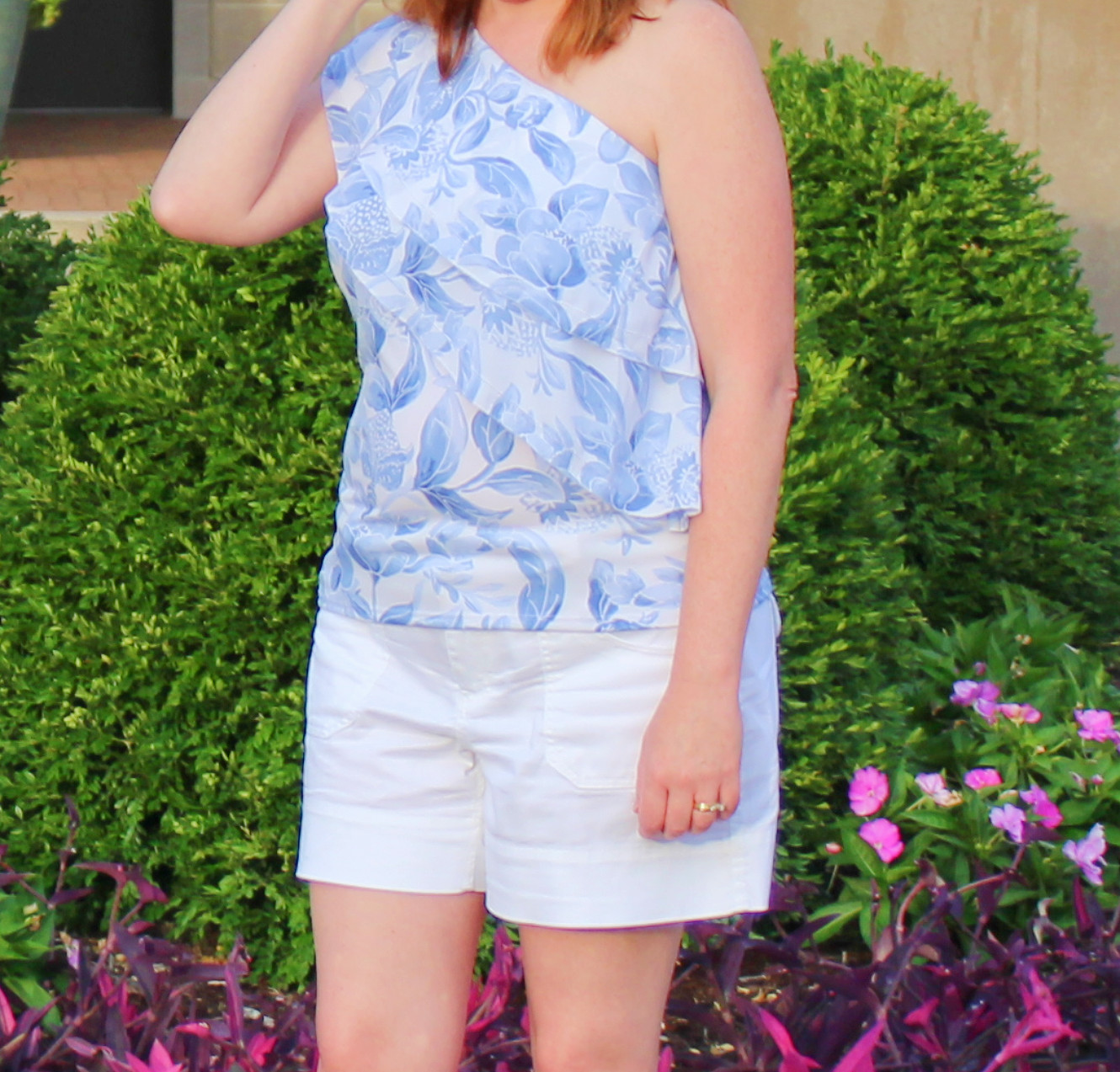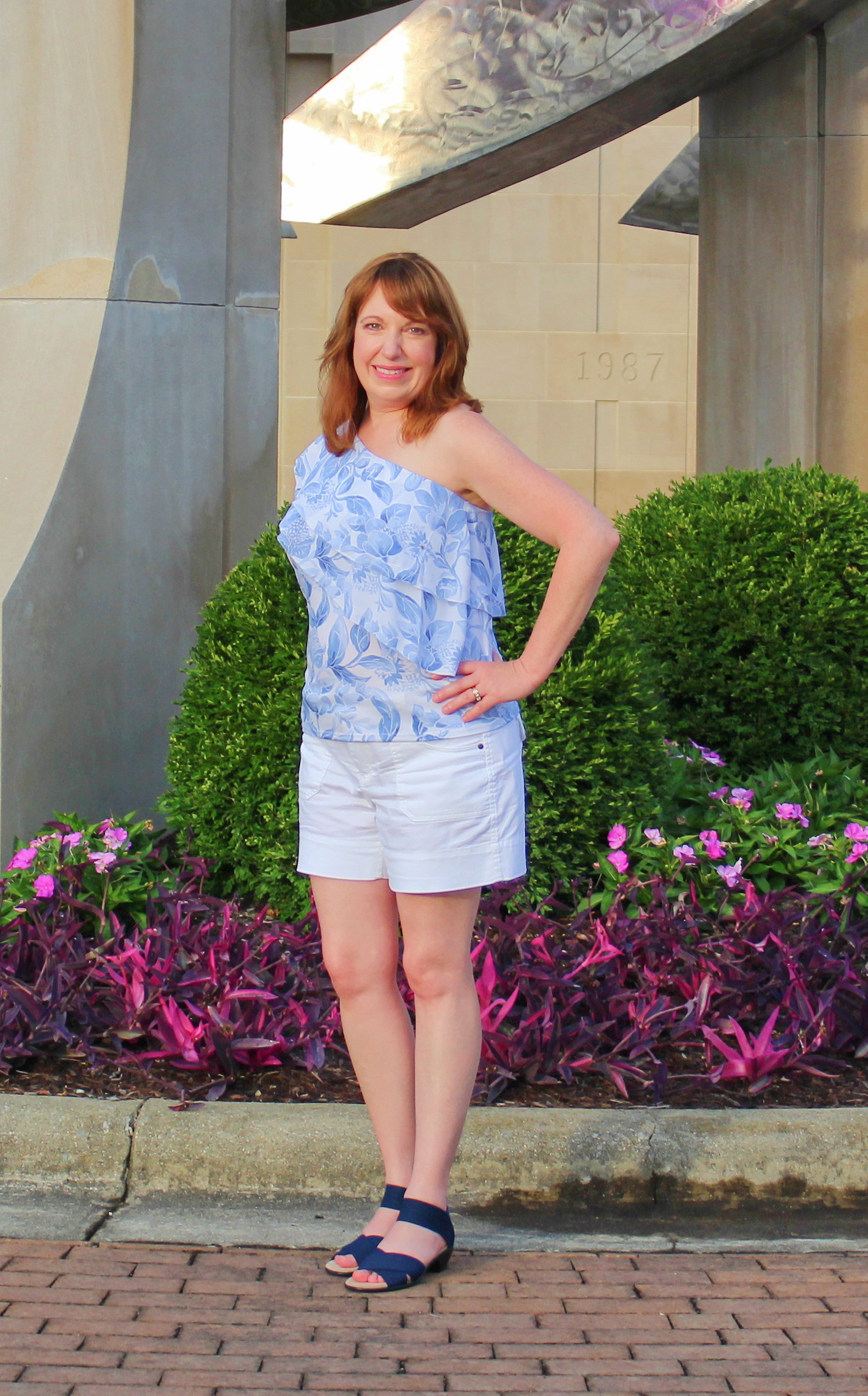 Fashion Details
This blue patterned One Shoulder Top is from White House Black Market.  It is on sale for an incredible price of around $17!  White House Black Market has great quality clothing so this top will last you for many years.  Even though the Summer season is will be gone soon, I believe you could wear this top on a warm Fall day with a navy cardigan.  This Cardigan would be cute over it and make a nice addition to your Fall wardrobe.
This Summer has been such a roller coaster ride for me.  My youngest son is back in school starting his sophomore year of high school.  We are heading to the doctor this week to find out how his arm is healing.  I want to thank all of you who have prayed for him.  Hopefully, the doctor will lift some of the restrictions he has on using it.  My oldest son is back from staying at his grandmother's house and working at the lake this Summer.  We helped him recently move into his new place where he attends college.  I can hardly believe he will be starting classes soon as a junior!
I appreciate all of you who are following along and reading my blog!  I have not gotten to post as much as I would have liked this Summer.  I hope things will settle down a bit, and I will be able to get back into somewhat of a routine!
Praying For Forgiveness
"If we confess our sins, he is faithful and just and will forgive us our sins and purify us from all unrighteousness."  1 John 1:9
Many times when I'm praying, I will add a quick please forgive me for my sins.  While I do mean it and want forgiveness, I've been thinking that maybe I am not taking my sin as seriously as God wants me to and does.  Am I just quickly broaching the subject without a lot of thought and concern?  After all, the sins in a Christian's life have a negative effect on their relationship with God just as a wrong negatively affects their relationship with other people.  God sacrificed the life of his perfect Son to suffer a punishment we deserve and restore a relationship with you and me.
Now, I do not write this to make us all feel guilty about the sins we've each committed.  In fact, the saying that confession is good for the soul is so true for a Christian's life.  While it is uncomfortable at first, taking time to face our known wrong doings while praying to God has so many wonderful benefits.
First, we can show God how much we value our relationship with him through confession.  We can express our love and appreciation to him for the great gift of salvation in Christ.
The next benefit I have already mentioned, and that is getting rid of guilt.  You hear people who don't understand Christianity say that it is just a life of always feeling guilty when you make a mistake.  Yet, Jesus didn't die to make us feel bad about ourselves.  He wiped away our sins as if they never happened so we could be united with our heavenly Father.  If you confess to Christ, he has carried your burden of guilt.  God then sees you as pure and blameless.
With freedom from guilt, we can enjoy a life of great peace.  Confession reassures us of where we are going in the future and helps us know we don't need to waste our time worrying about the past.
Confronting our sin helps us become better people.  While you and I will never be perfect, we can always try to be our best.  Spending a little time facing, pondering, and rectifying our mistakes helps us to treat others better.  It also helps us learn to treat ourselves better.  When you think about it, we all have bad habits that displease God and are hurting our own bodies, hearts, and souls.
Confessing our sin reminds us just how much Christ loves us.  He has a love for us like no other.  Never be afraid to bring up your sins in prayer to Christ.  He is there to forgive and strengthen you.  We all have struggles big and small.  We are able to conquer some, and others are harder to control.  Don't give up confessing, fighting, and asking forgiveness for sins you even tend to repeat.  Remember, Christ has already won your battle.