I thought I would share the lipsticks I am loving and wearing on a daily basis.  I often have the hardest time finding the right lipstick.  If I find a brand I like, they don't seem to have the right color.  If I find a color I like, I don't care for the brand.  The ones below I have kept in my makeup drawer the longest.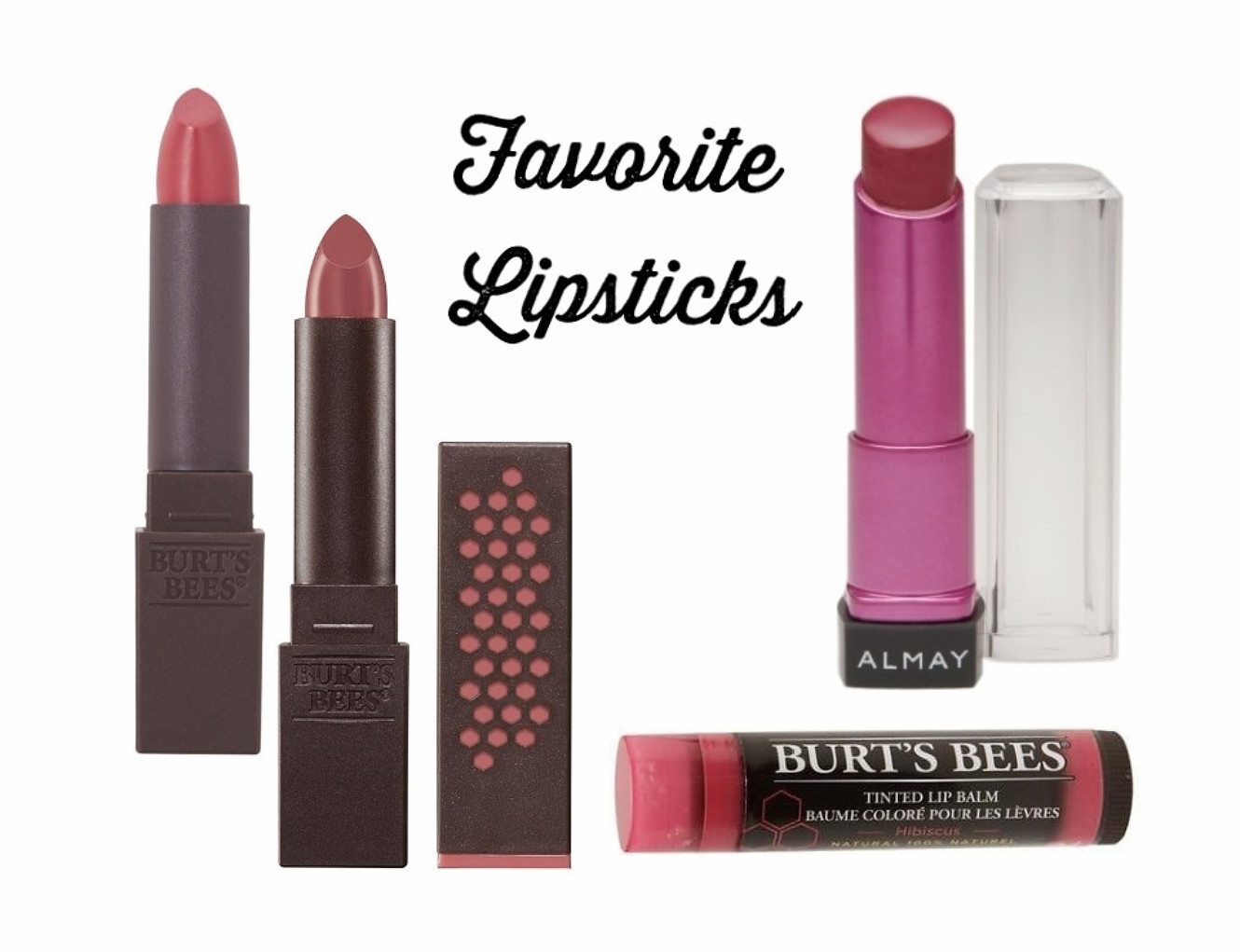 .
Beauty Details
As you read this post, keep in mind I have certainly not tried every lipstick out there (and there are many).  I'm sure there are lots of brands I don't know exist.  Also, I review a lot of drugstore makeup brands here on the blog in general.  I believe they can be just as good as some of the more expensive cosmetics, although drugstore brands have really increased in price over the years.  That being said, I do use some products within the more expensive makeup lines.  They have to work really well to justify the extra cost though!
Also, there are several different types of lipsticks that meet different needs.  For instance, some are made to stay on all day.  Maybe someday, I will test out some of these and do a review.  For now, the few long-lasting lipsticks I have tried I just don't like.  They feel so dry.  Long lasting lipstick is just not as important to me (probably because I'm at home most days).  I personally like something creamy and moisturizing.  If you all have suggestions when it comes to good long-lasting lipstick, let me know in the comments.
For now, I love the feel of Burt's Bees Lipsticks!  They are especially great for this time of year as they feel so moisturizing.  I also love when I find a good product made with natural ingredients.   I've been wearing the colors doused rose and blush basin.  Blush basin is a neutral color.  I typically do not wear neutrals because I like a darker color.  This one looks pretty good with my coloring though.  Both of these colors are lighter but they work well for everyday.  Beware that the color on the packaging looks darker than the lipstick really is.  They do have quite a few color options.  So next time, I plan to try out a bolder color.
I also like the Almay Smart Shade Butter Lipsticks.  These are moisturizing and have a lot of shine like a lip gloss.
These lipsticks have stayed in my drawer while several others I have tried recently have been tossed out.  Don't you hate investing in a new makeup product and finding it just doesn't work as expected!  That is why I started doing some makeup reviews here on the blog for products that have worked well for me.  I hope you all find them helpful!
Thanks for reading today!  If you are a new reader to the blog, I would love for you to Subscribe Here to get new post notifications.
Blogger Link Ups:  Jo-Lynne Shane
The Gift Of Freedom
"But now that you have been set free from sin and have become slaves to God, the benefit you reap leads to holiness, and the result is eternal life.  Romans 6:22
In a earlier post, I talked about remembering to celebrate the true meaning of Christmas.  We have been given so many gifts from God through the coming of Jesus Christ.  One of those is freedom.  He has given us freedom from sin's grasp when we turn to Christ in faith.  We then have a perfect master who loves us, cares for us, protects us, and gives us eternal life.  Let's celebrate our freedom as we approach this Christmas season.