I have loved the all pastel colors that have shown up in clothing so far this fall.  They just brighten up a cloudy, dreary day!  Besides blush, light blue has popped up everywhere in accessories like this baby blue scarf.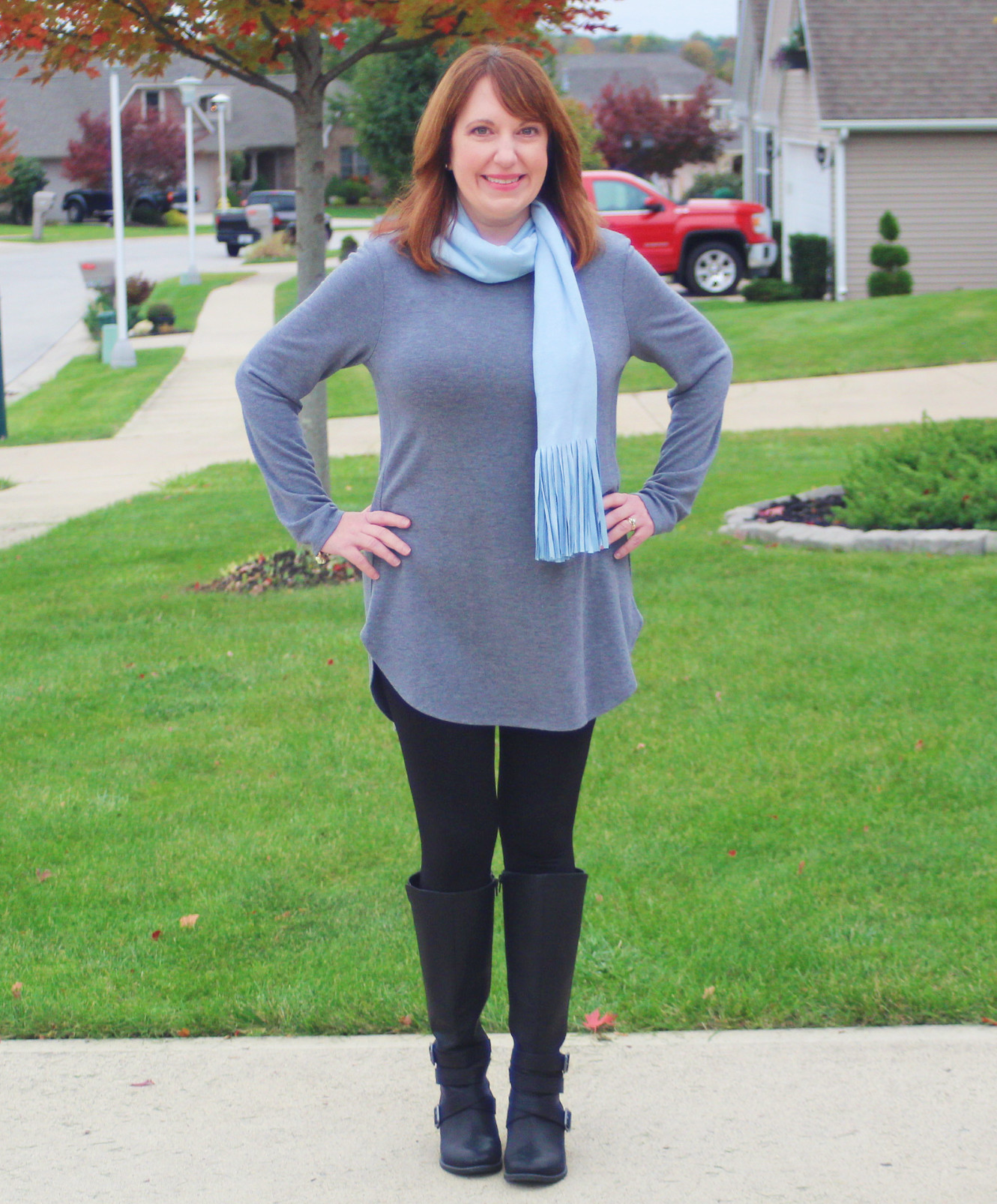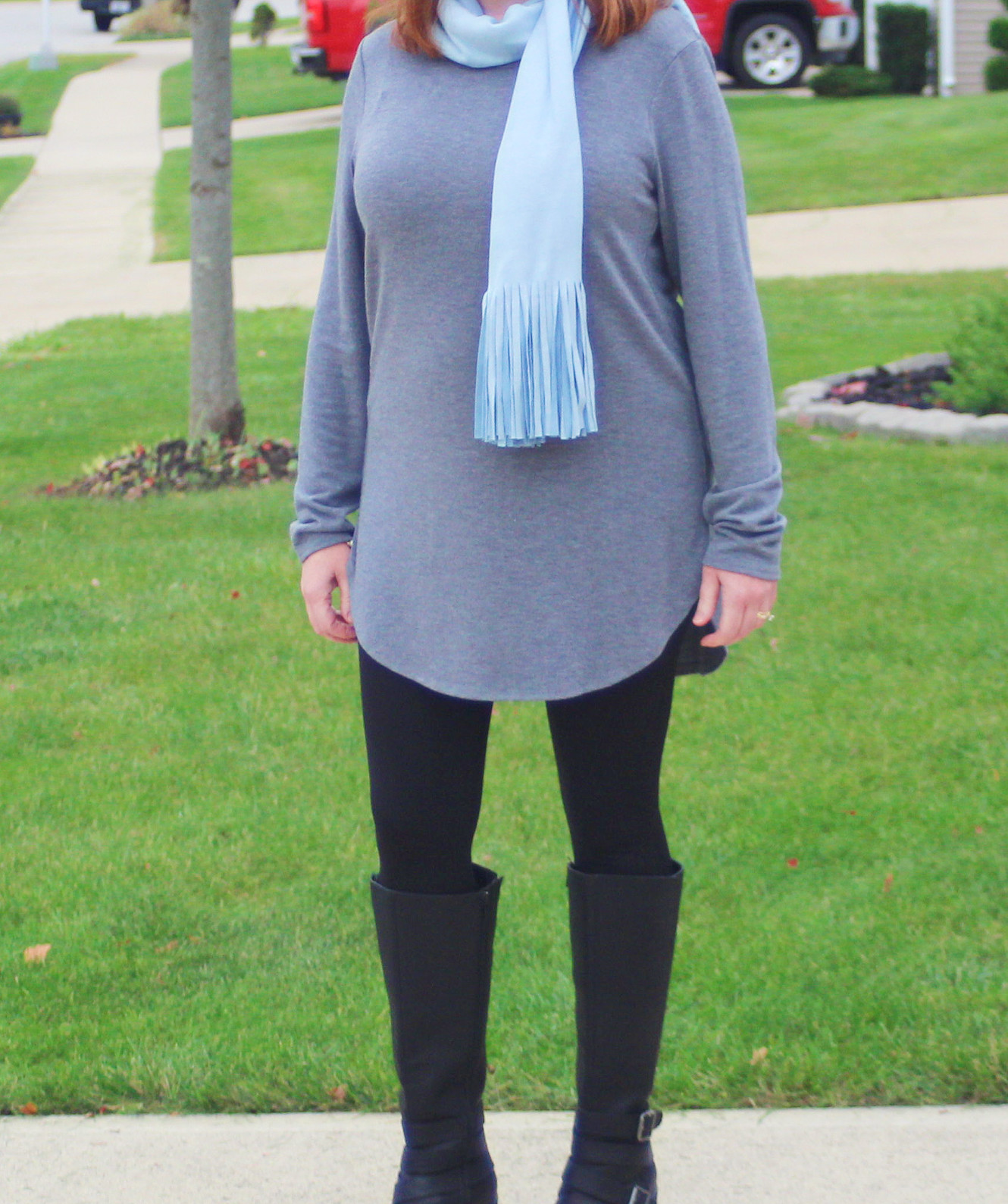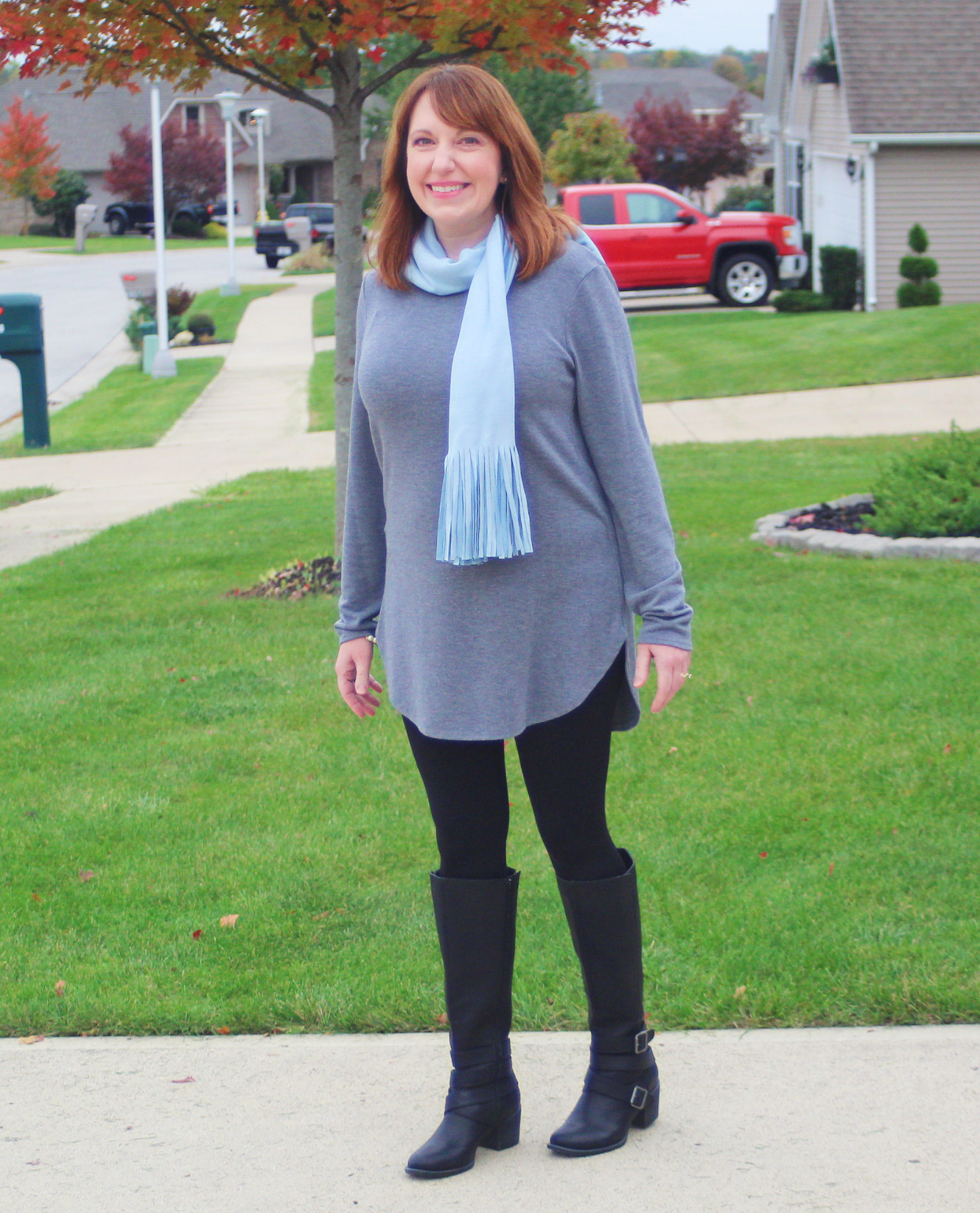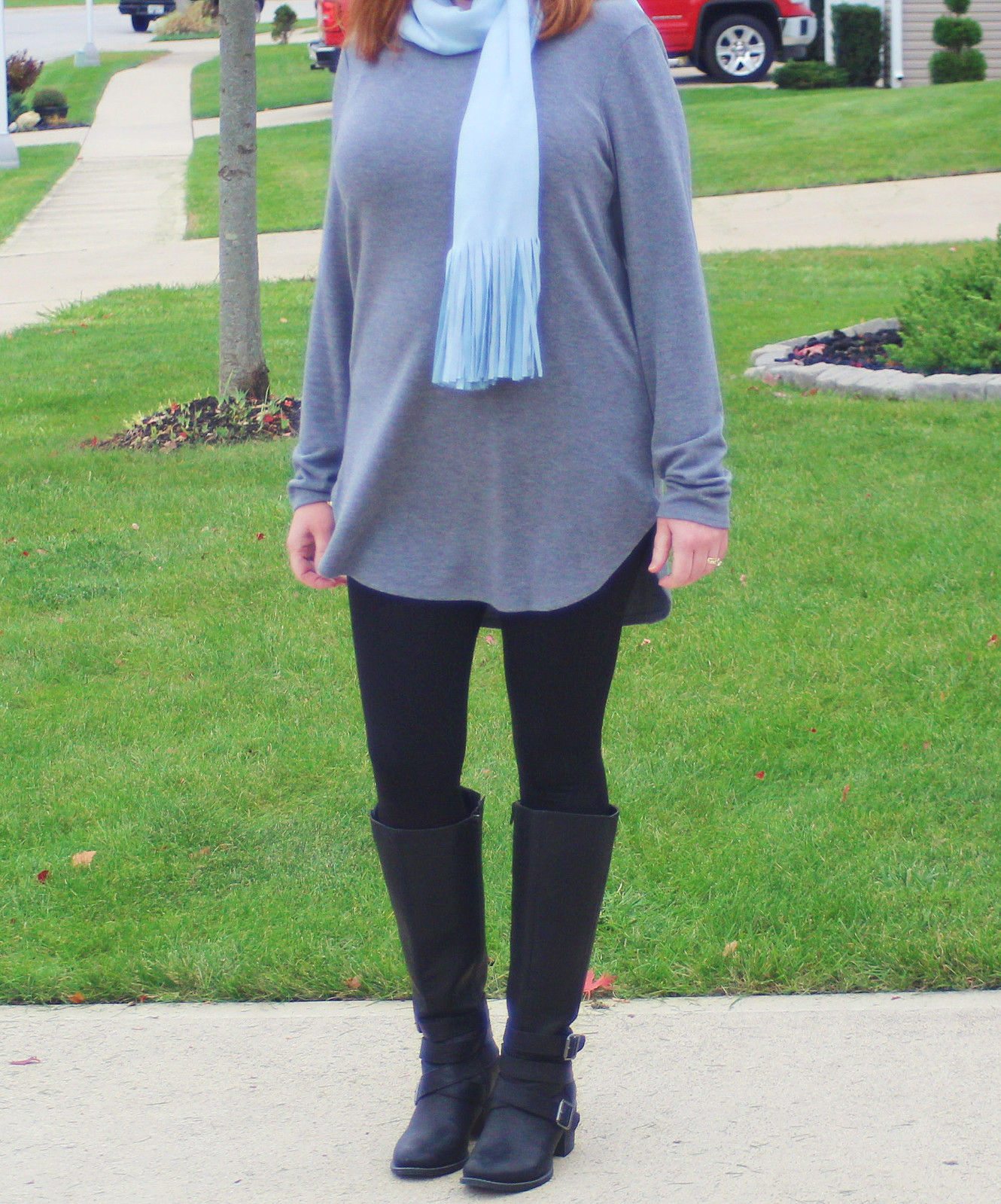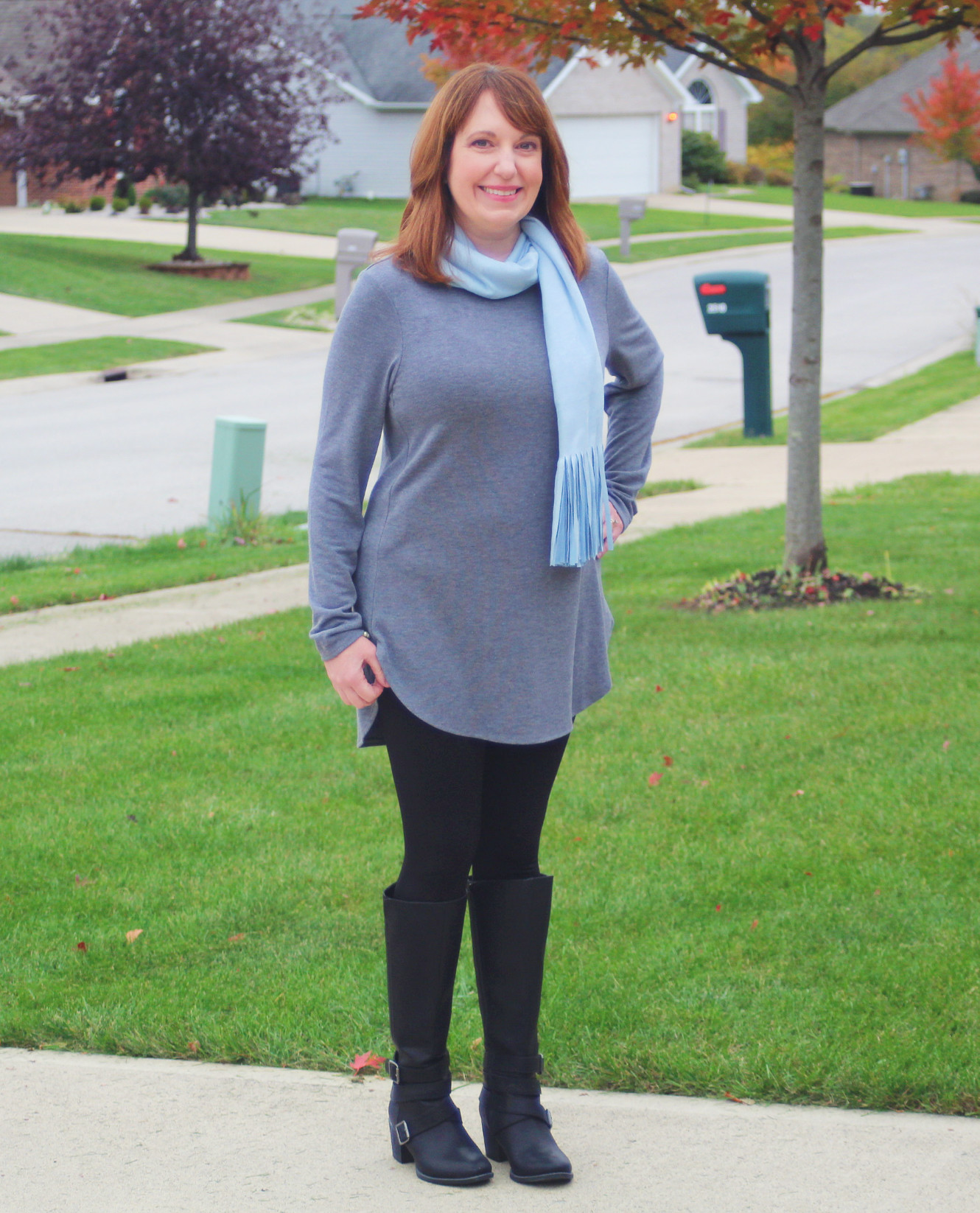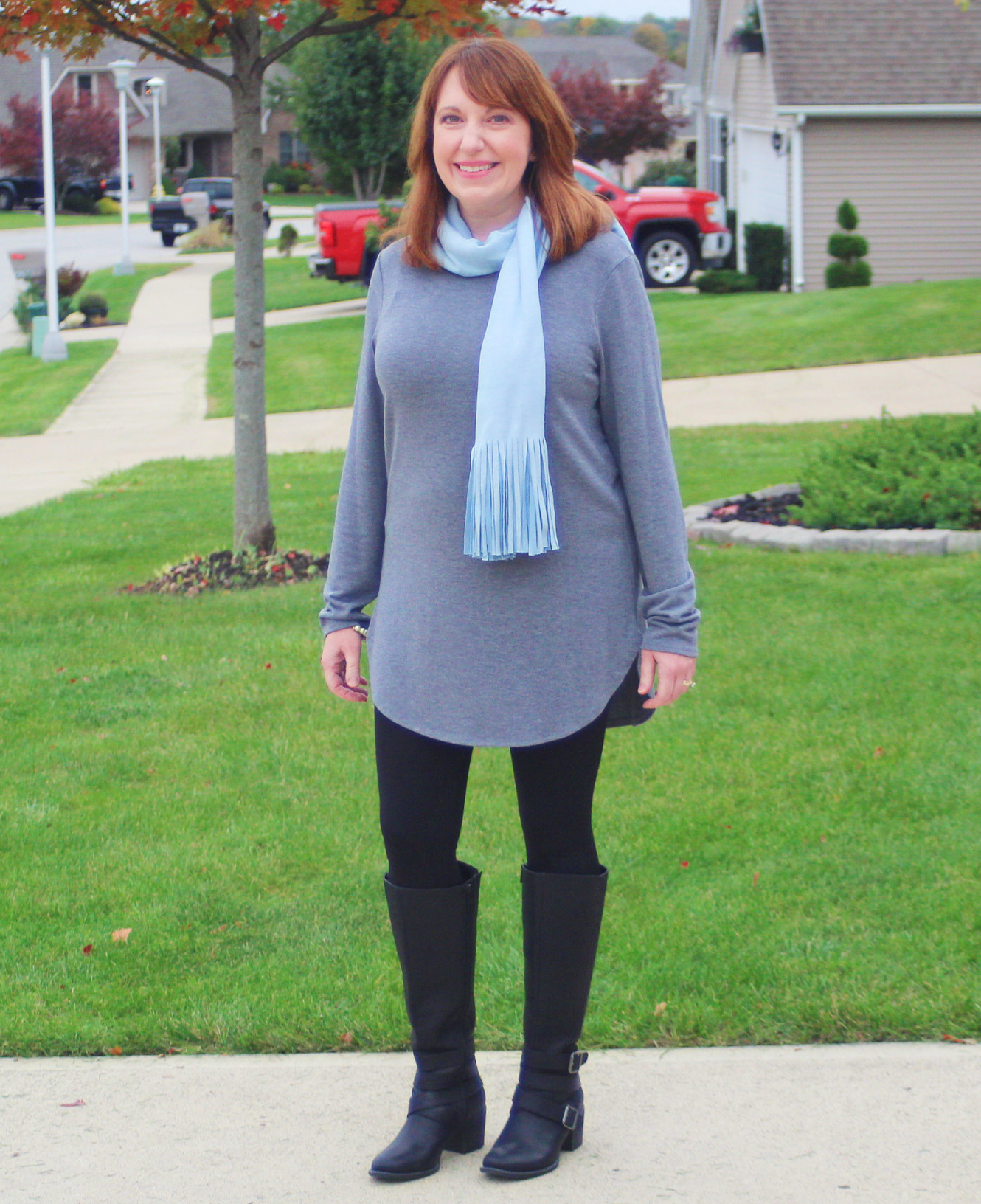 Fashion Details
Long scarves with fringe are trending for winter.  This Baby Blue Scarf and this more budget-friendly One are very similar to mine.  Either one of these scarves would also make nice holiday gifts.
My Calvin Klein Tunic is so comfortable.  This would also be ideal for a casual Thanksgiving gathering whether you are the attendee or the host.
My boots can't be linked, but These are rated well and under $100!
I've been looking at my calendar in disbelief as to where this year has gone!  If you are starting to shop for Christmas, I added a page in my menu at the top of the blog under SHOP for some Holiday Gift Ideas.  You can also check out this Guide and this One.
I hope all is well with all of you.  We keep hearing about so many tragedies happening lately.  Pray for those who are hurting and have lost loved ones this year.  In light of all this, I thought I would go ahead and share the following devotional on being thankful for what we have.
A man stop and asked me an interesting question out of the blue in the grocery store this week.  Keep reading to find out what he asked.  How's that for a cliffhanger?!
I'm Not Taking Anything For Granted
"Command those who are rich in this present world not to be arrogant nor to put their hope in wealth, which is so uncertain, but to put their hope in God, who richly provides us with everything for our enjoyment."  1 Timothy 6:17
The other day I was in a big hurry.  This is no surprise as I usually run behind in everything I do!  I had to stop in the grocery store to get something to make for supper.  It was later in the evening than I had planned when I got there.  I don't know about you, but I hate going to the grocery!  I was on a mission to get done and out as soon as I could.
I had not put the first thing in my cart when a man walking by decided to ask me a question.  I did not know him and hardly got a glimpse of him – it all happened so fast.  He asked what am I thankful for this year.  I stumbled to answer but certainly not because I'm not thankful.  I was just so focused on getting groceries, surprised, and in a hurry.  I usually see no one I know at the grocery.  So if anyone decides to ask me anything, it is do I know where a particular item might be found.  It is never what am I thankful for this year.
As I continued walking through the store, I started thinking about how I'm under appreciating what I have lately.  Maybe, I take too much for granted and don't praise God enough for it.  I have a great family.  We are all healthy.  We have more than we need.  I thought as much as I hate going to the grocery I have the energy and ability to walk through the store.  I am able to buy food for us to eat.  My dreaded chore would be delightful to people who are hungry.
The man who asked me the question disappeared as quickly as he asked it.  As I continued to shop, I thought I would try to spot him and thank him for reminding me how fortunate I am.  I might tell him he inspired me to write this post..  Maybe, I would give him a more detailed answer to his question.  What was my answer?  I am thankful for everything – everything I have and everything I don't have.