I have finally found a cute off the shoulder top that I love.  It stays in place, and you can move your arms around comfortably.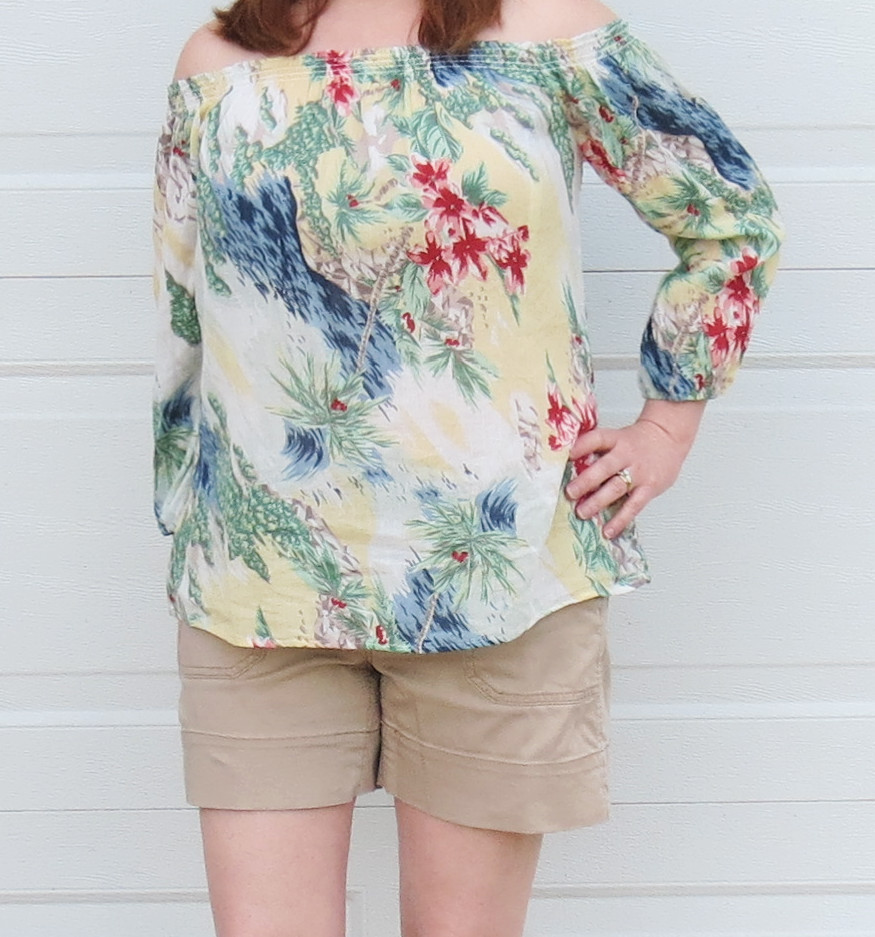 Fashion Details
This is one of the best off the shoulder tops I have tried on this season!  It is so comfortable and easy to wear.  I didn't have to worry about it moving out-of-place.  This cute Top comes in a tropical blue and white pattern too.  It includes optional shoulder straps, but I didn't really need them.  I found another Top in this same pattern if you prefer to keep your shoulders covered.  I also found this cute Dress in this pattern too.  The shorts I am wearing aren't available.  I have linked quite a few options if you are looking for some khaki shorts.  My shoes are from Charleston Shoe Company.  I just love their shoes!
Thank you for reading my post today!  I would love for you to Subscribe Here to follow my blog.
Linkups Today:  Jo-Lynne Shane
Please keep reading as I share about my faith.
Don't Let The Small Stuff Bring You Down
Rejoice always, pray continually, give thanks in all circumstances; for this is God's will for you in Christ Jesus.  1 Thessalonians 5:16-18 
Today, I was not having a good day.  First, I was running behind schedule, which is really nothing new.  I never like it, and it is as irritating to me as it is to others.  My dog decided to potty right on the doorstep to the house but at least it wasn't in the house.  My detachable vacuum decided to detach and smack my foot which will probably leave a huge bruise.  Other little things here and there kept going wrong.  Overall, I think I was just not in a good mood anyway.
Then, I started thinking about what I was going to post today.  I thought about my Post from yesterday and my prayer list.  There are so many Christians around the world who are being persecuted, and driven from their homes.  Their way of life has been totally disrupted.  Here I am complaining about silly things when I live a very comfortable life.  I live a life in a country where I am free to worship God.  I have a shelter, food, and clothing.  I have incredible opportunities.  I needed to change my attitude and way of thinking.  I needed to smile more and be more appreciative of all I do have.
I want to encourage you to count your blessings today.  Don't let the little things that go wrong each day discourage you.  Find joy in your life and always thank God for everything you do have.  Please continue to pray for those around the world struggling to live out their faith in peace and for the missionaries who are spreading the Gospel.