Hello ladies!  I hope you are having a fabulous week.  I am styling a Kate Landry Handbag today along with this cute pink sweater I got for Christmas last year.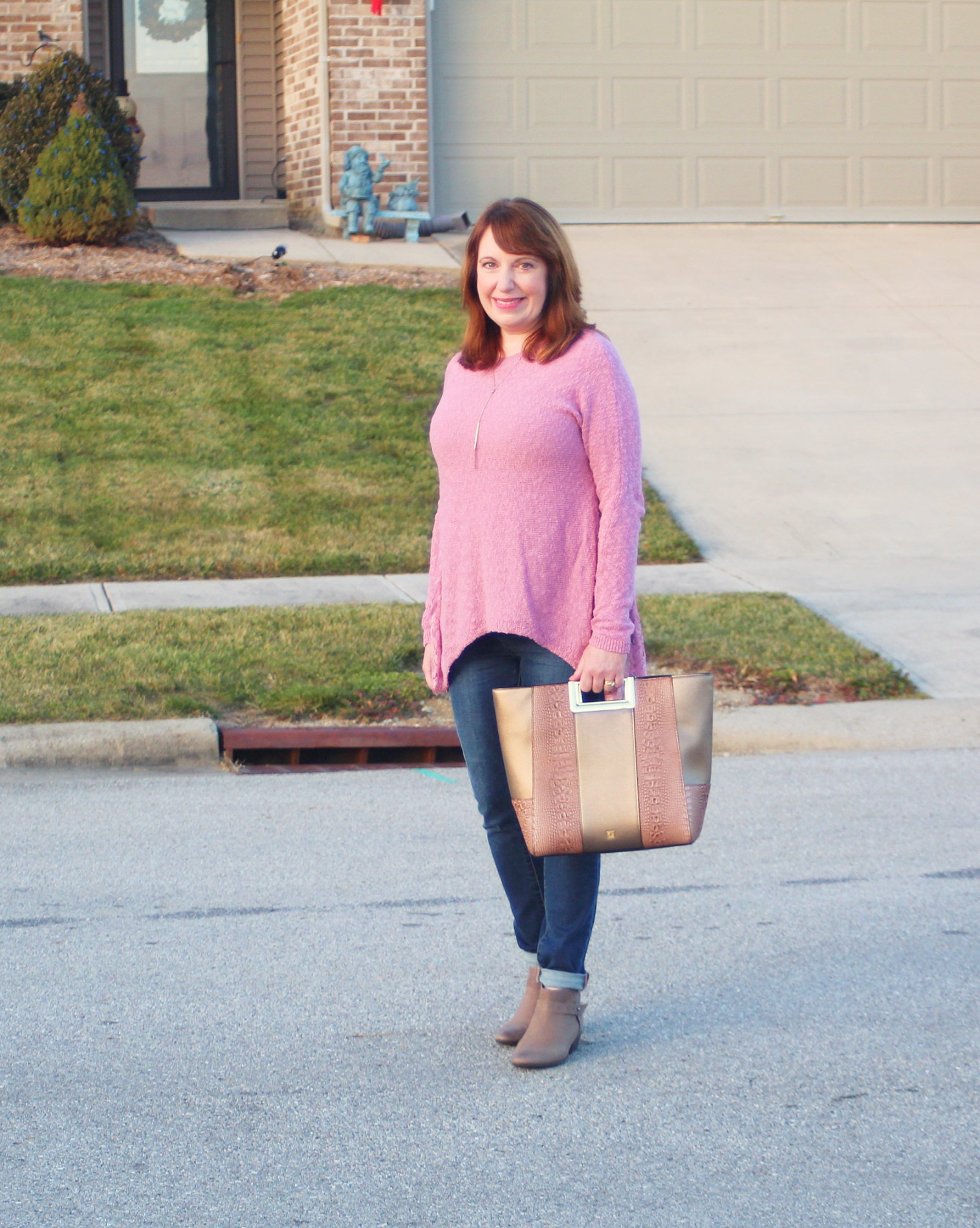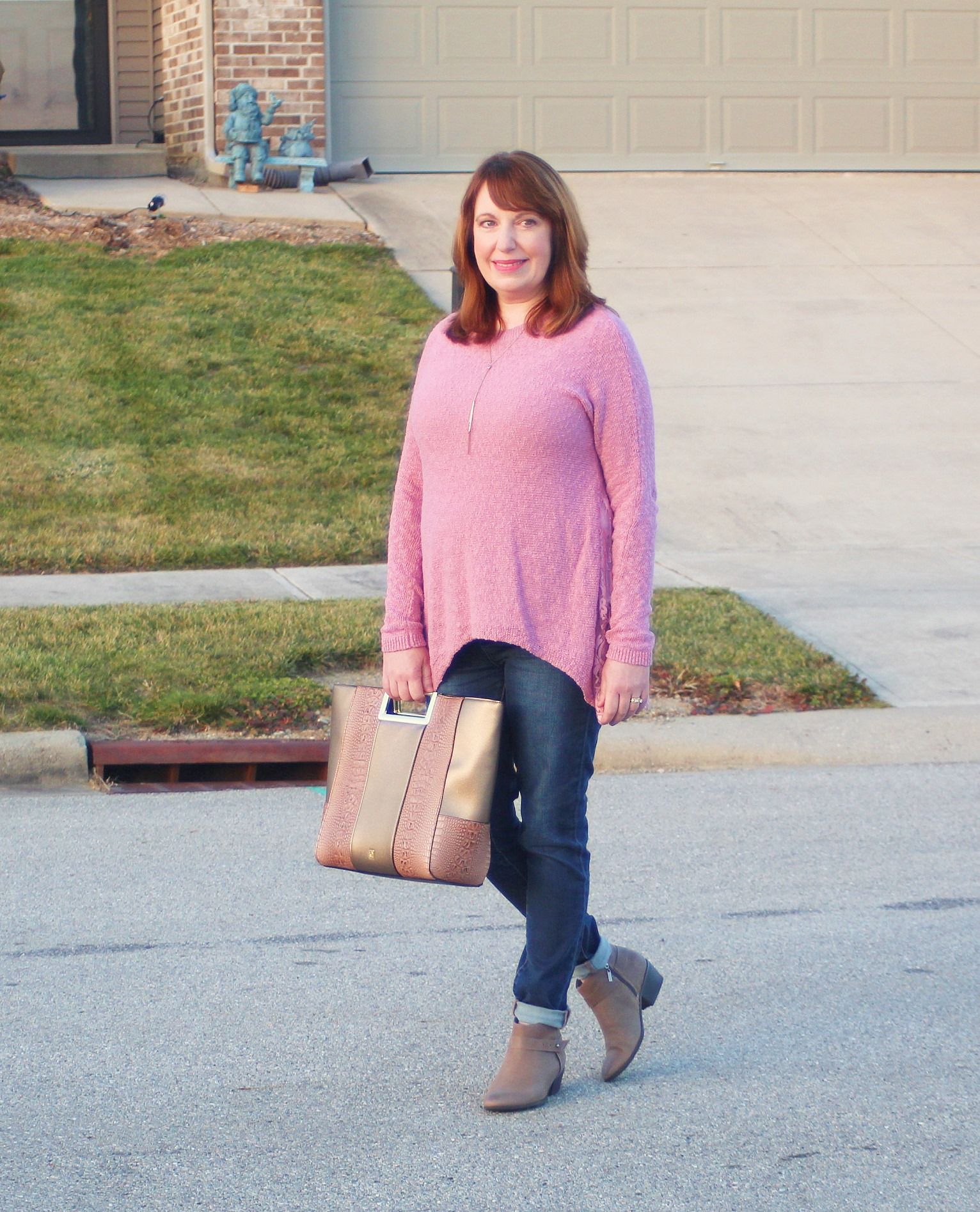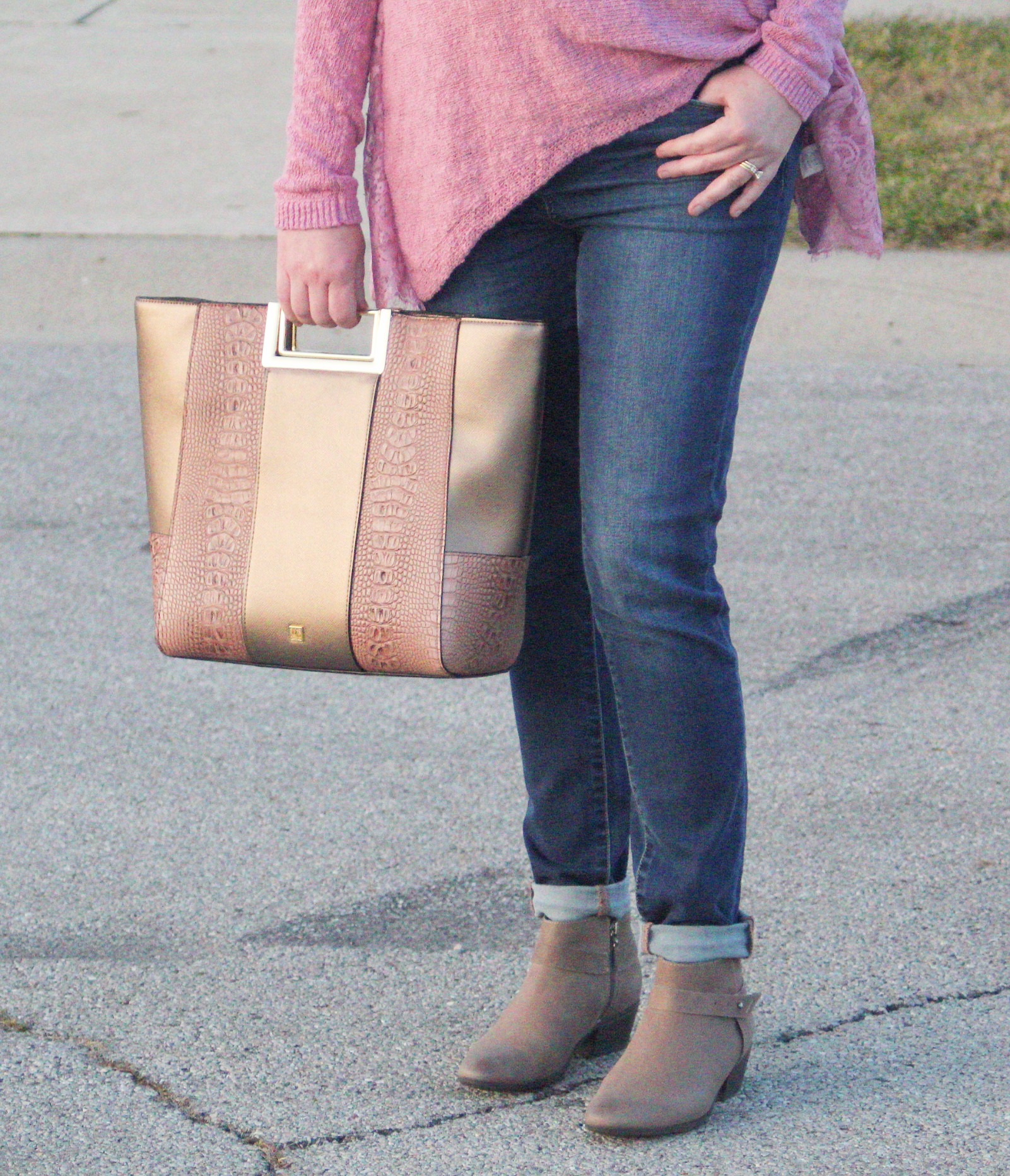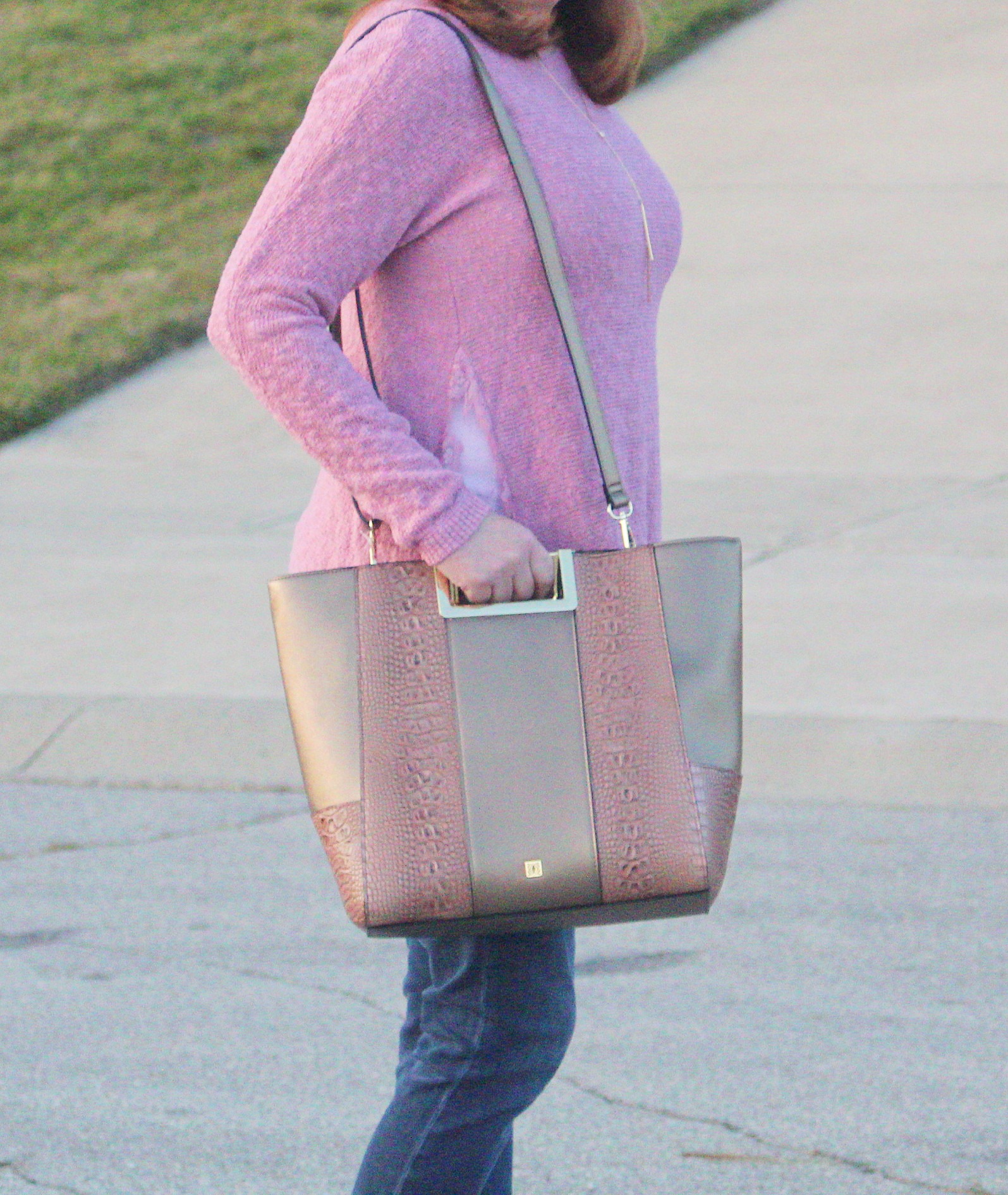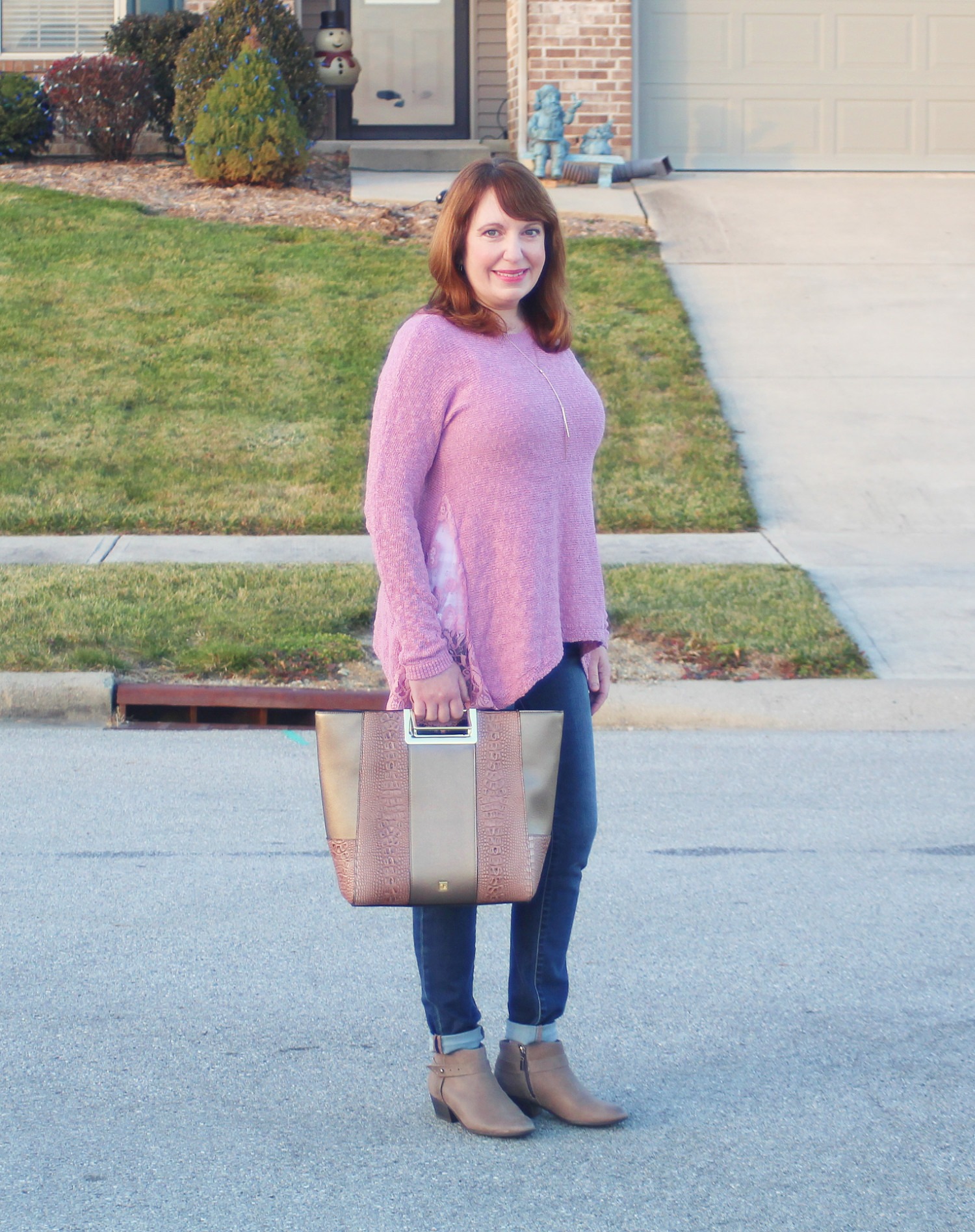 Fashion Details
I am finally styling a handbag!  Even though handbags aren't my thing, I think this is a cute one.  I got a wonderful deal on it over the Thanksgiving holiday.  Even so, Kate Landry bags seem to be a more reasonably priced alternative to designer brands when looking for a quality handbag.  The one I have can no longer be linked.  This One is very similar in color.  I love this One in the champagne color.  This Evening Clutch in red would be gorgeous for a holiday party!
My pink sweater is older but I have found some other cute pink tops.  As you all can tell, I cannot have enough blush/pink in my wardrobe!  This One with the ruffle detail on the sleeves is so cute.  I also love this Top and this Top from Ann Taylor.  Today, they have free shipping plus 50% off your purchase.
I am really liking my Articles of Society Jeans!  They are a little higher waisted and so comfortable.
Thank you so much for all your sweet comments yesterday!  I am just so passionate about this blog!  I want God to use this space to uplift and encourage women!  I love it when you leave comments!  Feel free to let me know what you would like to see more of on the blog.  Also, please share this site with anyone you know that might enjoy reading it!  Gaining more viewers for your blog can be a long and difficult process.  You all have encouraged me so much this week to keep going forward!
God Is Watching Over Us
"from his dwelling place he watches all who live on the earth – he who forms the hearts of all, who considers everything they do."  Psalm 33:14-15
I have used the verses of the day on my Bible app lately for my quiet time.  A verse from Psalm 33 popped up today.  I read the whole chapter using it to pray to God.  One thing that stuck with me is just how closely God watches us and takes into account everything we do.  I want to encourage you all to live every moment knowing God is watching closely.  He knows our seen and unseen actions.  He knows what is in our hearts better than our parents, spouses, or closest friends.  After all, he made us!  Do the things you know you should, and don't do the things you shouldn't.  Let's use our time wisely.  God built each of us with a special purpose in our hearts.   Pursue the plans, passions, and dreams he formed there.  He wants us to grow and develop these special gifts and abilities.  He wants us to live a meaningful life for him!