In today's post, I decided to change things up a bit with a flat lay featuring this cute white tee and floral flats.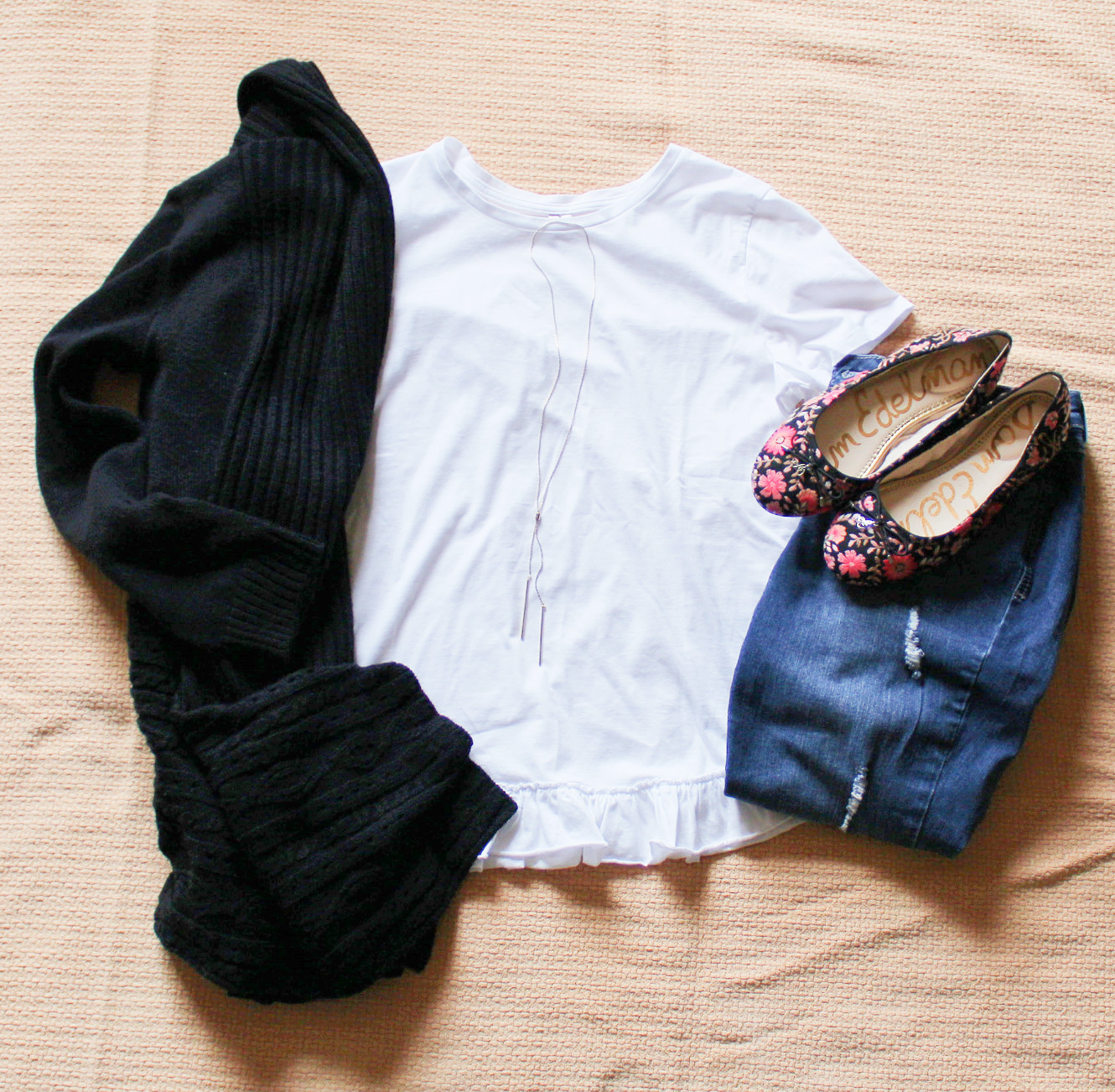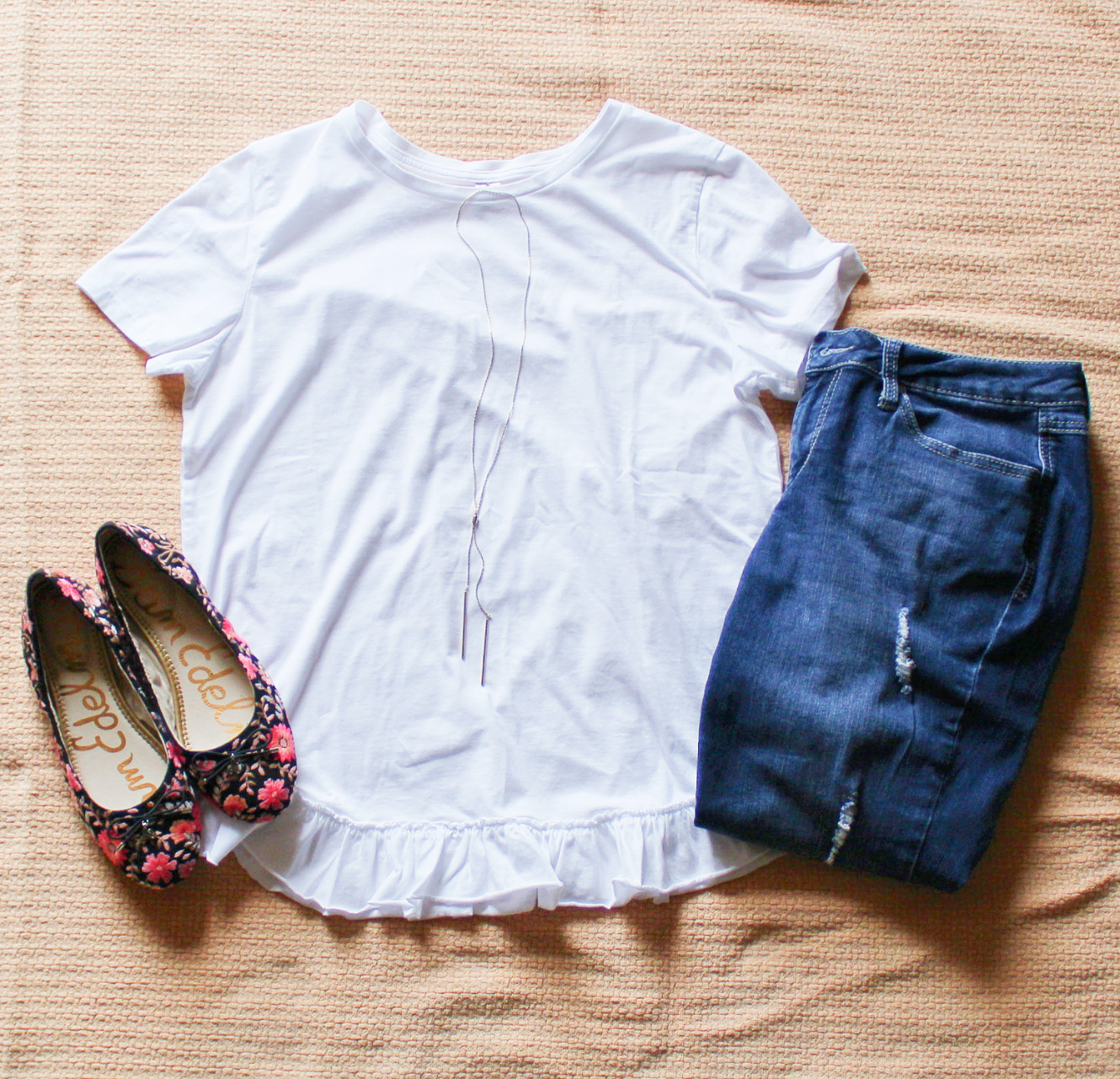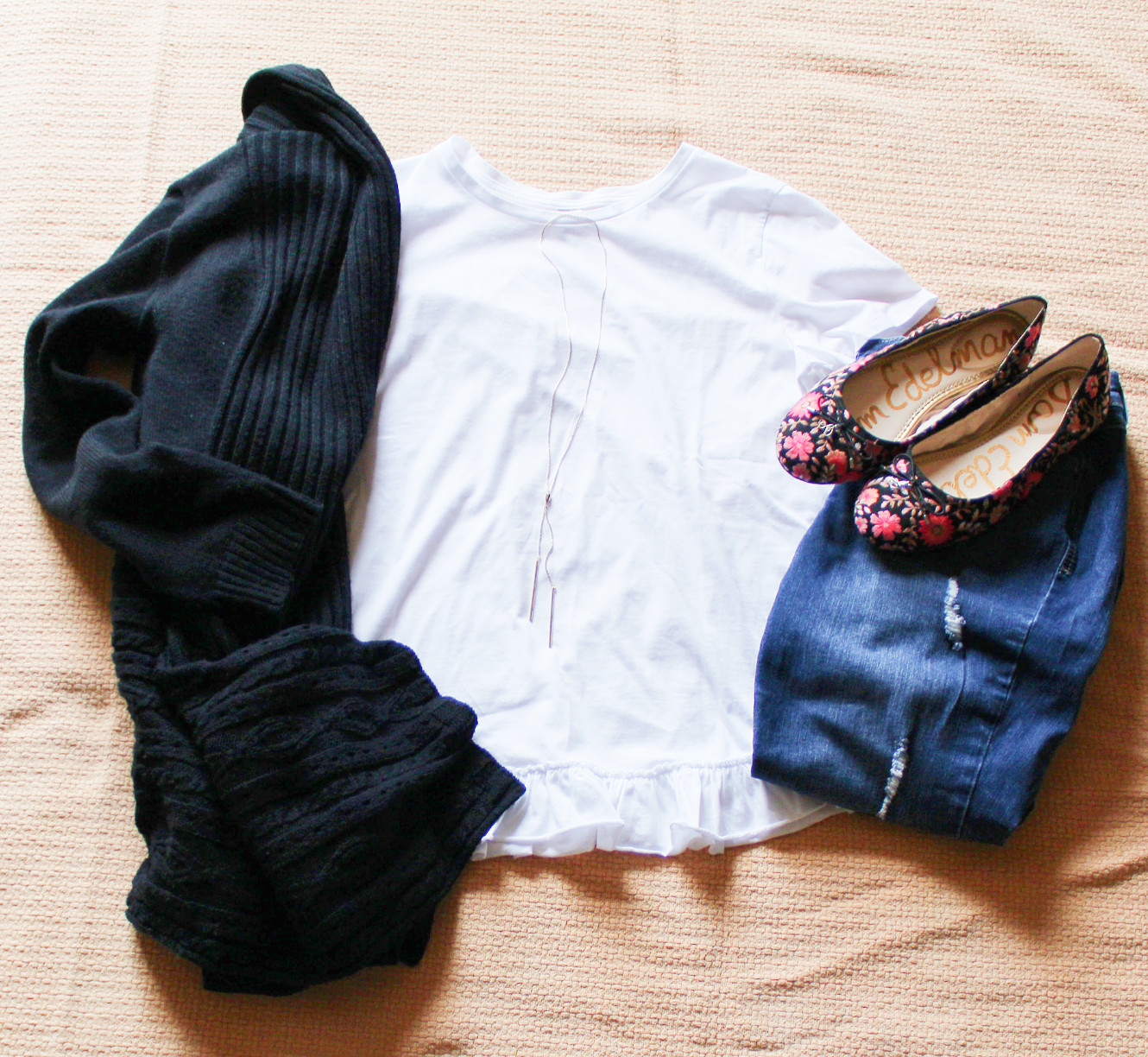 Fashion Details
I have been searching for a cute white tee and found this One with the ruffle hem at Banana Republic.  They also have this tee in black.  I was so tempted to get it but I have so much black already.  These cute Floral Flats are right on trend this season.  The floral pattern along with the blush colors are really big trends for fall.  The Necklace was a recent purchase, and I am just crazy about it.  I love the simplicity of it and that it goes with everything.  The best part is I got it for under $10!  I looked at other necklaces that were more expensive but they did not seem to be as nice as this one!  It also comes in silver too.
So yesterday, I told you I would let you all know how I am doing now.  As I tell you more about my experience, I want you to please remember that every woman is different.  Someone else who is going through breast cancer won't have the exact same story as I do or as anyone else for that matter.
My breast cancer was caught very early and was very small.  It was only in one breast and had not spread to anywhere else in my body.  My tumor was also growing at a snail's pace, so it was not very aggressive. They test for three different markers that can cause a breast tumor to grow.  Some women don't have any of these markers and are diagnosed as being triple negative.  They do not know what caused the tumor growth in these women.  My tumor was diagnosed as being estrogen/progesterone positive which means estrogen specifically was causing my tumor to grow.  If you read my Post from yesterday, you know I chose to have a mastectomy on the side that had the cancer.  Fortunately, I did not have to have any chemo.  Though there is a history of cancer in my family, no one had ever had breast cancer.  I also don't have any known genetic mutation that would have caused my cancer.  In fact, the majority of women who get breast cancer have no family history of it.
Part of my follow-up care after breast cancer is regular doctor checkups over the course of five years.  I am now in my third year and very healthy.  So, my doctor visits are slowly getting further and further apart.  Yea!!
There is a slight risk for any breast cancer survivor that it may return.  My doctors say it is most likely to return within the first five years after the first diagnoses.  Like you, I sometimes hear of women who get it again years later.  Again, a lot of this depends on the individual woman, the type of cancer she had, the aggressiveness of her cancer, and how advanced her cancer was initially.  I am very fortunate that I am on the lower end of that risk.  However, I do take a medicine that lowers my estrogen level to prevent reoccurrence over the course of these five years.  Since I am already post menopausal, this medicine can cause some very annoying side effects.  My biggest issues right now are a general lack of energy and lack of sleep due to all the hot flashes from this medicine!  I certainly don't want to complain too much though!  While it is difficult some days to do all the things I want to such as post on the blog, I am so grateful that I am alive and well.
I have had so many friends and family praying for me.  I would appreciate you all continuing to pray for me as I struggle with sleepless nights and low energy!  As you spend time with God today, please also say a prayer today for all the ladies dealing with this terrible disease!
Sometimes, I wonder if we realize just how powerful prayer can be in our lives and in the lives of others.  I want to discuss that in today's devotional.
The Power Of Prayer
"If you believe, you will receive whatever you ask for in prayer."  Matthew 21:22
It seems like the word prayer is sometimes the "church answer" we give to everything.  I think we use the line "I will pray for you or about whatever" so much that we forget or underestimate the power of it.  I know sometimes in my life I don't give prayer the credit it deserves.  Therefore, I am not really giving God the credit he so truly deserves.  Do we truly believe our prayers are effective?  Do we sometimes wonder if God cares about what we tell him or listens?  I am here to tell you today he does care when you speak with him.  We may not know his timing or his answer to our prayers, but that's okay.  We have such an awesome privilege in speaking freely to God who is all-knowing, all-powerful, and in control of all things.  Prayer is not just a "church answer" – it is "the answer" to establishing a relationship with our Father.