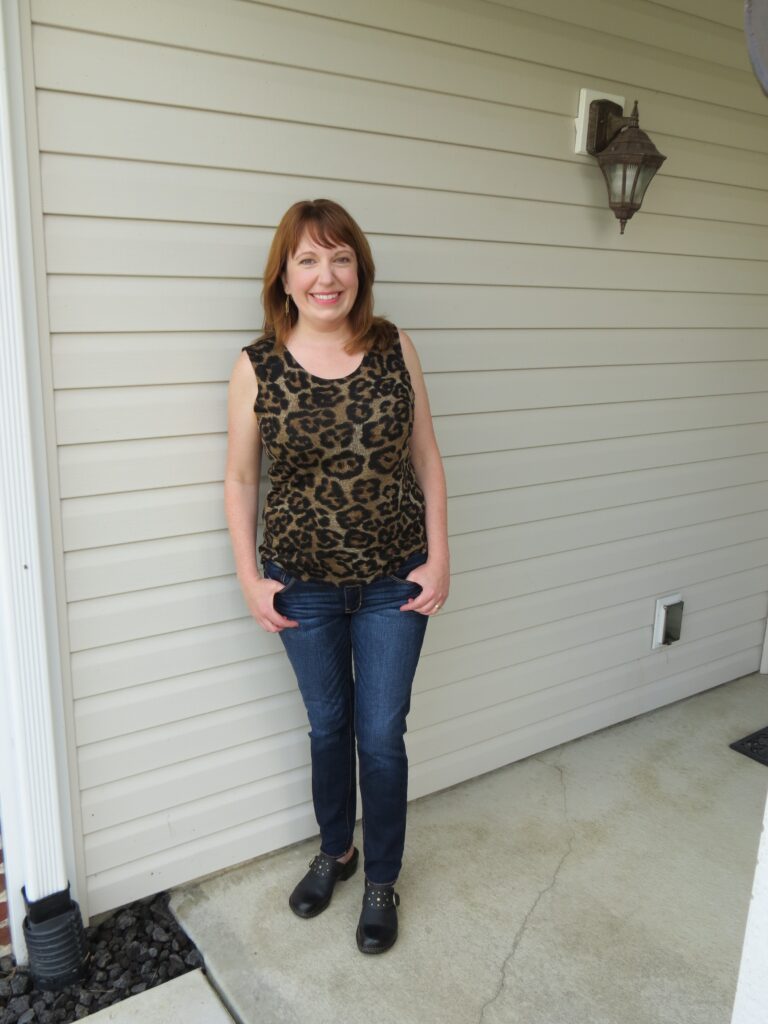 I am so excited to be sharing my very first blog post with you today!  We've had wonderful Fall weather this year, that is if you like warm weather.  My favorite season is Summer so I will hate to see the warm weather go away.  It is so hard to know how to dress this time of year.  It starts out cold in the morning, warms up in the afternoon, and is cold again by evening.  I usually wear jeans, a short sleeve shirt, and have a cardigan with me for when it is cold.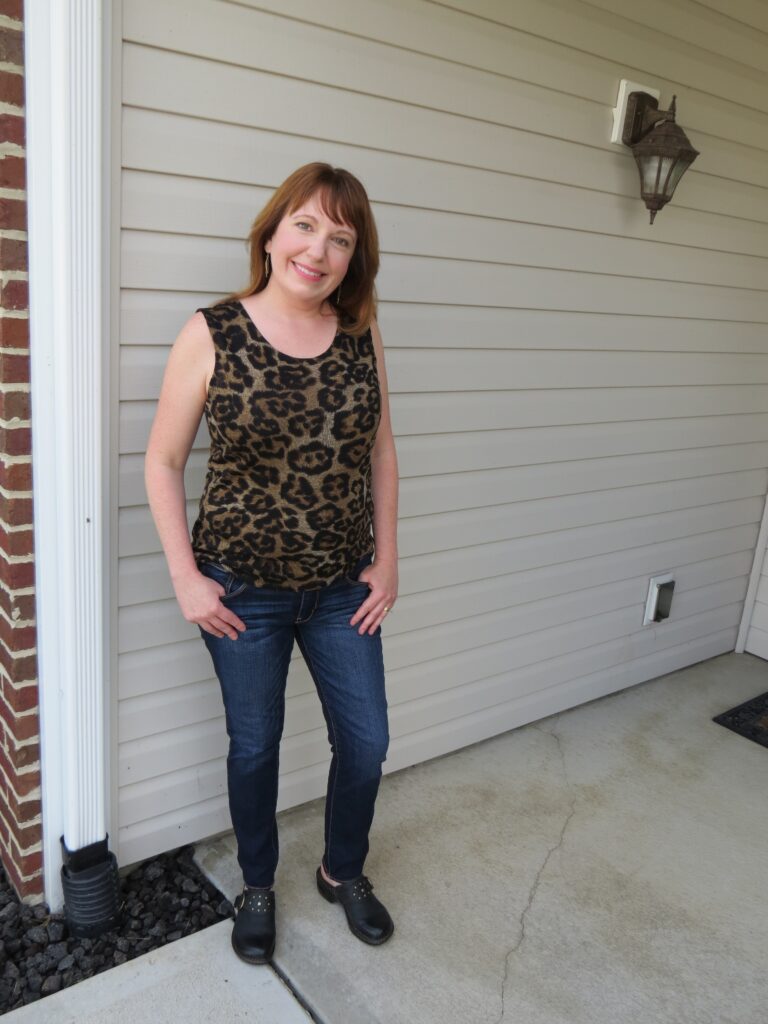 I've had this leopard print tank in my closet for some years now.  Leopard print is very popular this year!  I consider leopard print to be a neutral that can be worn with many things.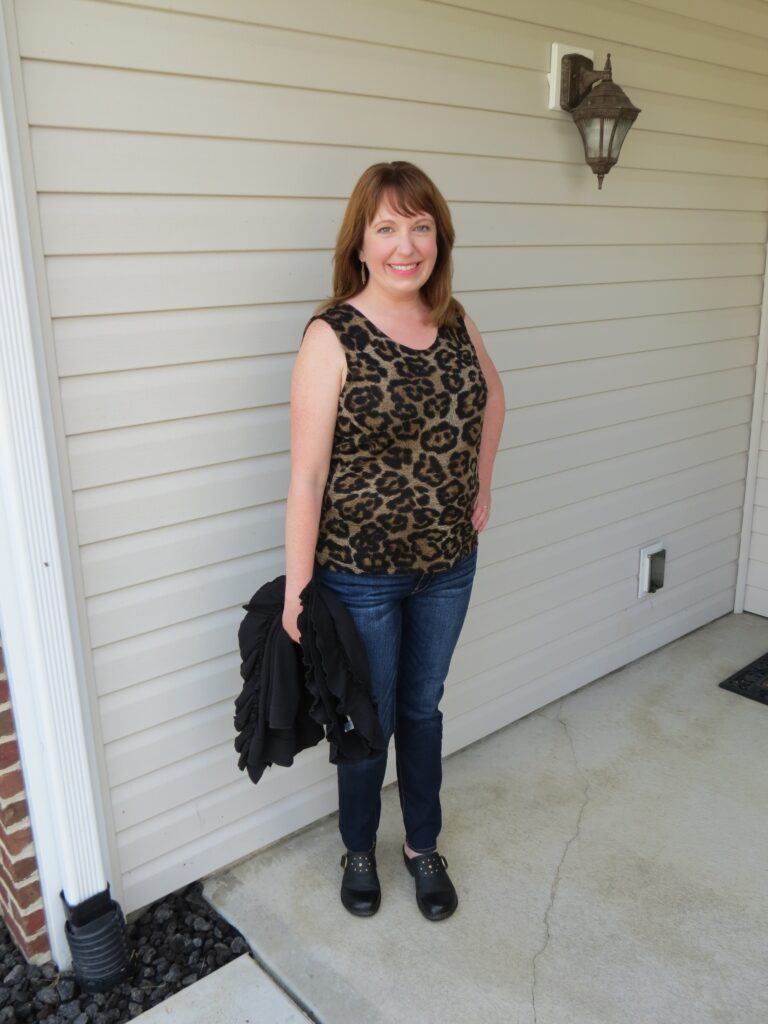 This black cardigan is one I've had forever too.  I didn't get a good photo wearing it.  I am going to have to practice my modeling skills for these posts!
At the end of each of my posts, I will be sharing with you how God is strengthening my faith as I spend time with him.  I hope you will keep reading!  Have a wonderful day!
Dressing In Faith
"Put on the full armor of God, so that you can take your stand against the devil's schemes.  For our struggle is not against flesh and blood…"
Ephesians 6:11-12 (NIV)
I'm going to be talking over the next few days about how God wants us to dress.  I love the how the last chapter of Ephesians talks about dressing in God's armor.  When we commit our lives to following him, there is nothing that can destroy us!  With God's strength, we can stand against anything.
Today, let's talk about what we are standing up against in life and our need for God's armor.  In the beginning when God created us, the devil started scheming against mankind and has never stopped.  These verses tell us our struggle is against the dark world and the forces of evil.  Yet, Satan is constantly redirecting our focus on our problems with our own self doubts and with other humans when "our struggle is not against flesh and blood."
When we look at the world around us, we can see how Satan seems to be especially targeting ladies much like when he first approached Eve in the garden.  Am I good enough?  Am I pretty enough?  Do I deserve more?  Is that fair?   Are they better than me?   Who am I going to believe?   There are so many reality shows on TV that focus on women divided, fighting against one another.  Viewers thrive on tuning in each week to see the ensuing drama that unfolds.   Other shows want to celebrate outward beauty while showing so much inward hurt.   We are surrounded by images in the media telling us we aren't good enough, because we don't fit a certain image of how a woman should look.   On the other hand, God says, I created you in my image and loved you enough to sacrifice My own Son for you.  God had a plan from the beginning to restore us.
God tells us our fight is not with each other, whether man or woman.  That is why it is so important to put on God's armor.  With God's strength, we can come together and support each other.  I try to remember when I'm struggling with a relationship, the other person is also God's beloved creation.  They are not whom I'm up against.  We are in this life together.
I've had many wonderful relationships with ladies dressed in God's armor supporting and encouraging me.  My hope is that each lady who visits my blog will find much needed encouragement and support!  While this blog may show fashion on the outside, what I really hope is that it helps you find ways to clothe your spirit to win the battles life may have for you and give glory to God in doing so.
I want all of you ladies who stop by to read my blog to know I am praying for each one of you!  I feel so humbled to share with you as I stumble along the road of life!  Thankfully, I know Christ is walking with me each step of the way.  He holds my past, my present, and my future!  Each time I read God's word, he is dressing my heart and soul in Faith!