Leopard print is a great neutral to add to your closet.  You can pair it with most any solid fall color just as you would black, grey, or beige.  I also love leopard print accessories like scarves, handbags, and shoes.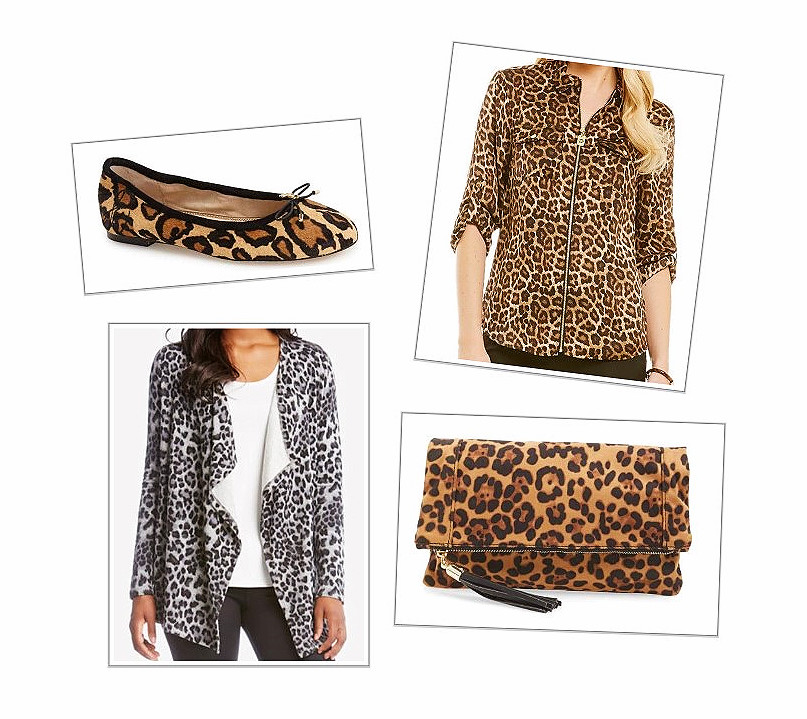 Fashion Details
Leopard print is also very classic, so you can still wear it most seasons no matter what is currently trending in fashion.  You can safely invest in a leopard print item and get years of wear from it.  I love leopard print shoes.  These Sam Edelman Flats are a splurge option while These are a little more budget friendly.  I just love this Cardigan from Macy's.  You can currently get it 25% off the sale price using code FRESH.  I also really love the olive-green leopard print on this Top from Dillard's.
I hope you all are having a wonderful week!  I cannot believe how quickly the weeks are flying by – before you know it the holidays will be here.  If you would like to get email updates of new posts, please Subscribe Here.  If any of you are on Instagram or Facebook, you can also find me there.  If you know anyone who would enjoy reading my blog, please share with friends on social media using the buttons at the end of my posts.  Thank you for supporting Dressed In Faith!
Our Never-Changing God
"'You will roll them up like a robe; like a garment they will be changed.  But you remain the same, and your years will never end.'"  Hebrews 1:12
Has your path taken an unexpected turn?  Is your future uncertain?  Are you dealing with unexpected life changes?  While some changes seem bad at first, they may turn out to be what is best for us.  On the other hand, changes that are wanted and planned can be challenging and not live up to our expectations.  I moved around a lot from small town to small town growing up.  There were some places I lived that I liked and others I didn't.  Life was always changing and unpredictable.  Now that I am older, I find it hard to adjust to any new changes even though they don't come as often.  My encouraging thought for us today is to remember that our God is never-changing.  When we are thrown into chaos and confusion, we can count on him to be the constant light in our storm.  God will never go back on his promises.  He will never abandon us.  His commands remain the same.  As the world continues to change, the scriptures of the Bible apply to us now just as they did long ago.  God is the one who will carry us through all life's changes if we let him.