I have an outfit today that would be great for date night or to take on vacation.  This black ruffle top is a favorite of mine to wear.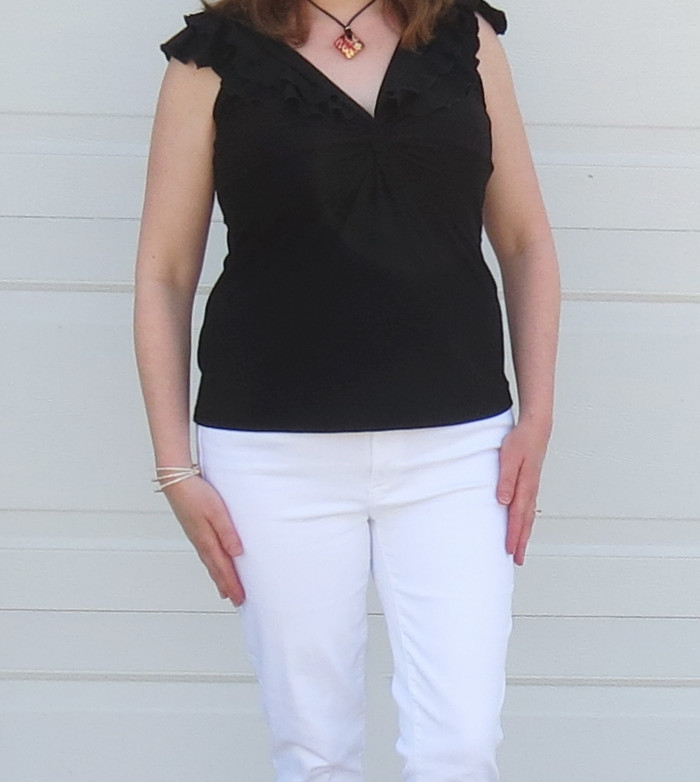 Black Ruffle Top (Similar Here) / White Jeans / Black Wedges (Similar Here) / Necklace (Similar Here) / Bracelet (Similar Here)
My cute top is vintage, so I have linked similar ones.  My bracelet adds a little bling to the outfit.  It is also vintage, but I found one very much like it.  I just love these wedges with the black flowers.  I have found some other cute ones with flowers that would easily give you the same look.
Thank you viewing my post today!  Please keep reading as I share what I am adding to my prayer list this week.
Prayers For Those Who Want Children
In her deep anguish Hannah prayed to the Lord, weeping bitterly.  1 Samuel 1:10
Since Sunday is Mother's Day, I want us to pray this week for all the ladies who are struggling to become mothers.  I know how difficult that day can be for someone who desperately wants a child.
I could not get pregnant with my children on my own.  I went through testing and much waiting.  I, along with my husband, finally made the decision to take fertility drugs.  Most importantly, I turned everything over to God and what his plan would be for us.  I knew that plan may not include children of my own, and I would need to draw on his strength to deal with that truth.  It was not easy not knowing what the future held.  His plan for me did eventually include two wonderful boys.  Even now years later, I am reminded of that time when Mother's Day comes each year.  My thoughts often go out to those who are wanting to be mothers.
So, I want us to pray for those today who are waiting to know if they will be able to have kids.  I want to pray for all those who have not been able to have children and desperately wanted them.  Pray for the husbands too who want to be fathers.  The inability to have children can result from a physical problem with the husband, wife, or both.  Pray that both know how much they are valued by their spouse, families, and friends.  I pray that they know how much God loves them.