It has been a warm Fall here in Indiana so far, and I am not complaining!  We are starting to get a few days where you need a sweater or jacket in the morning.  The afternoons are still getting pretty warm though.  For today's outfit, I thought why not still make good use of those summer off the shoulder tops!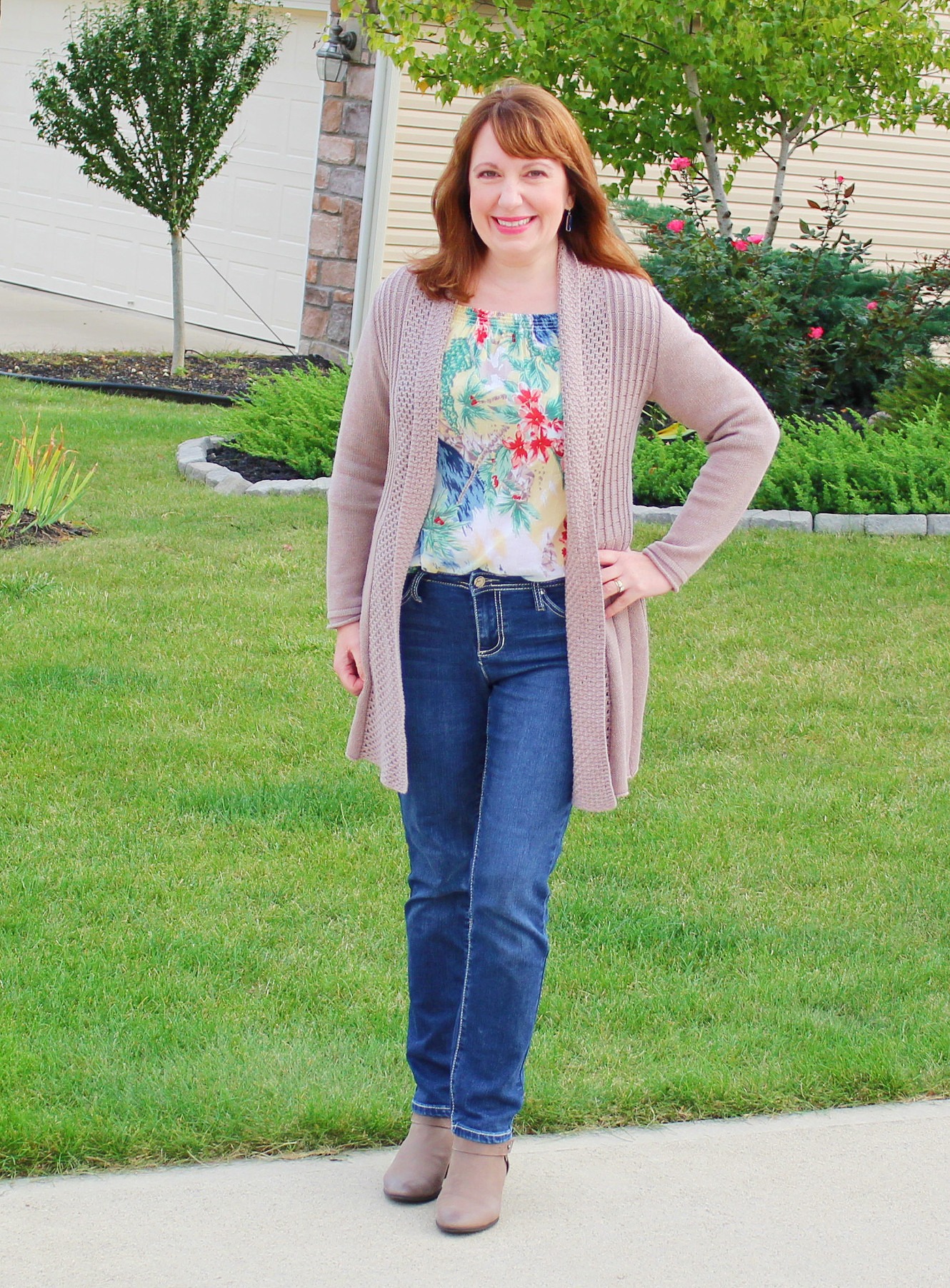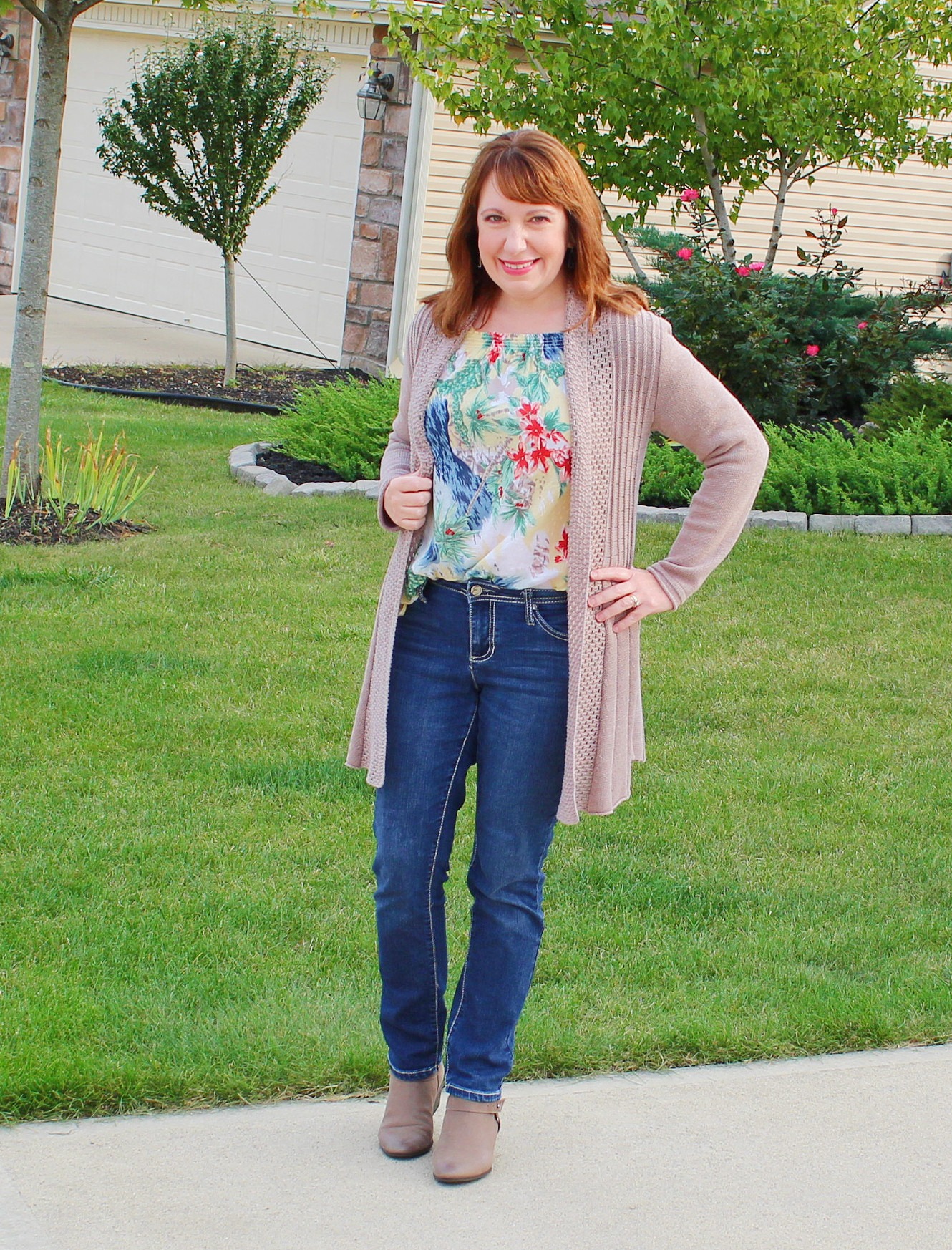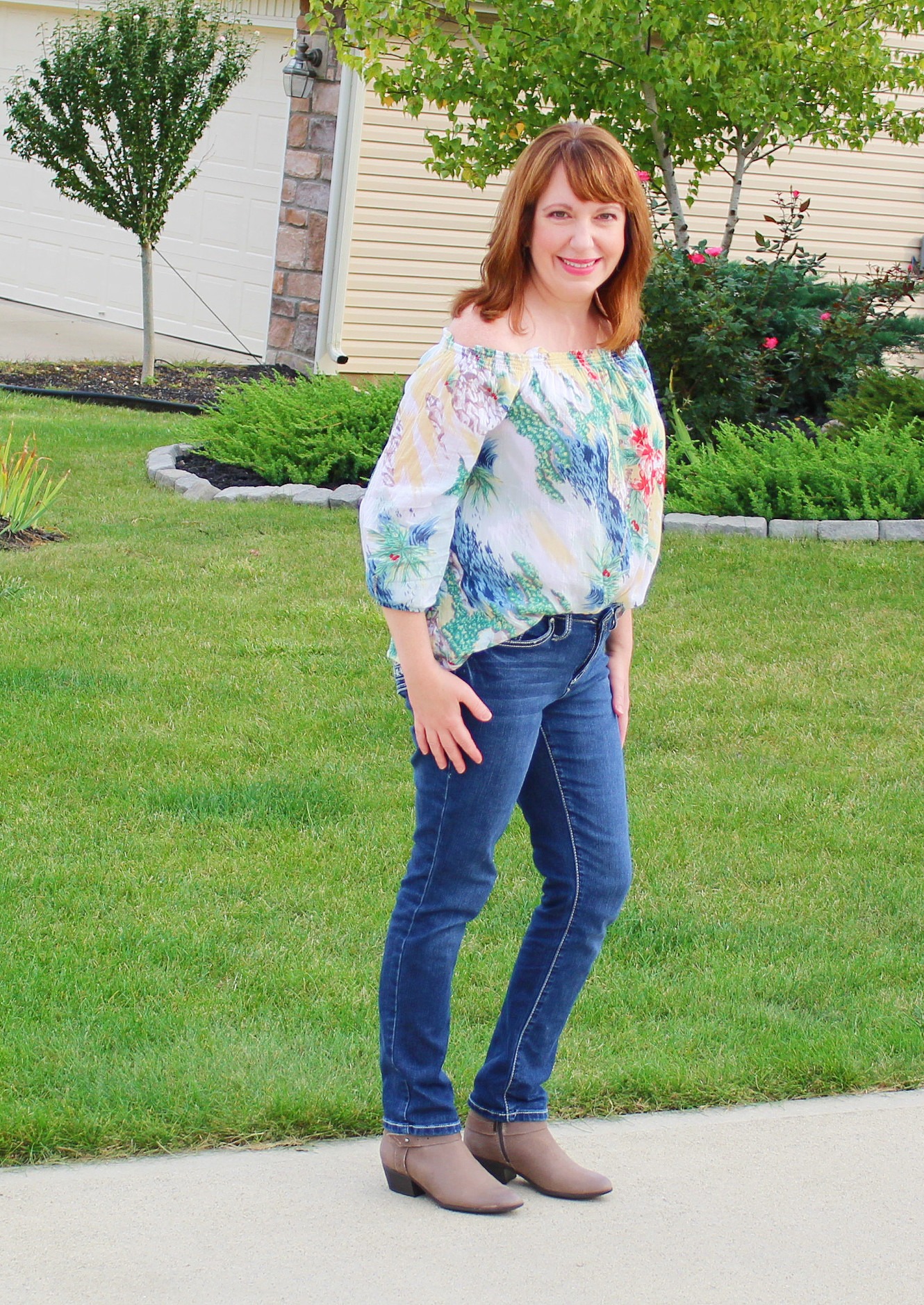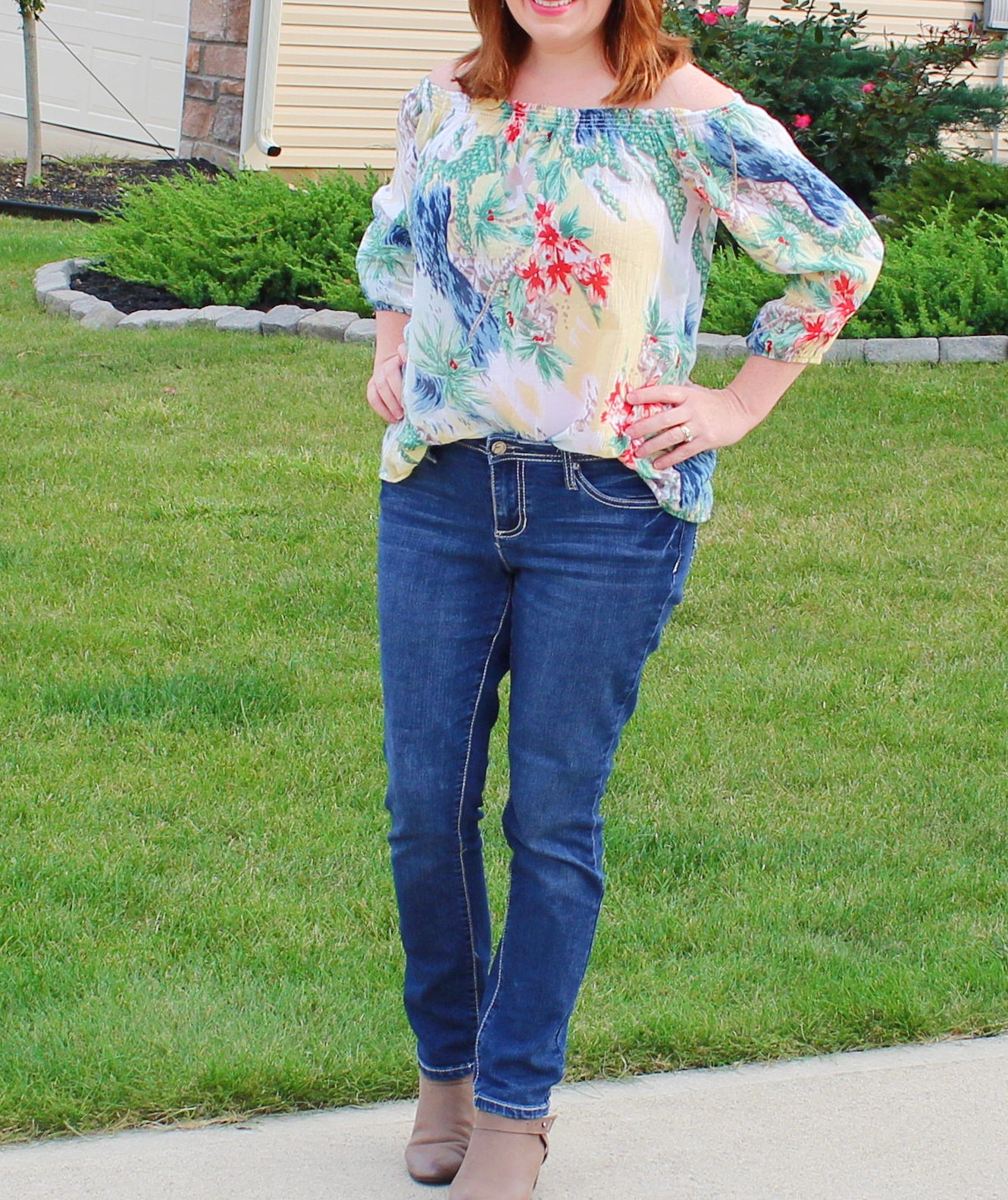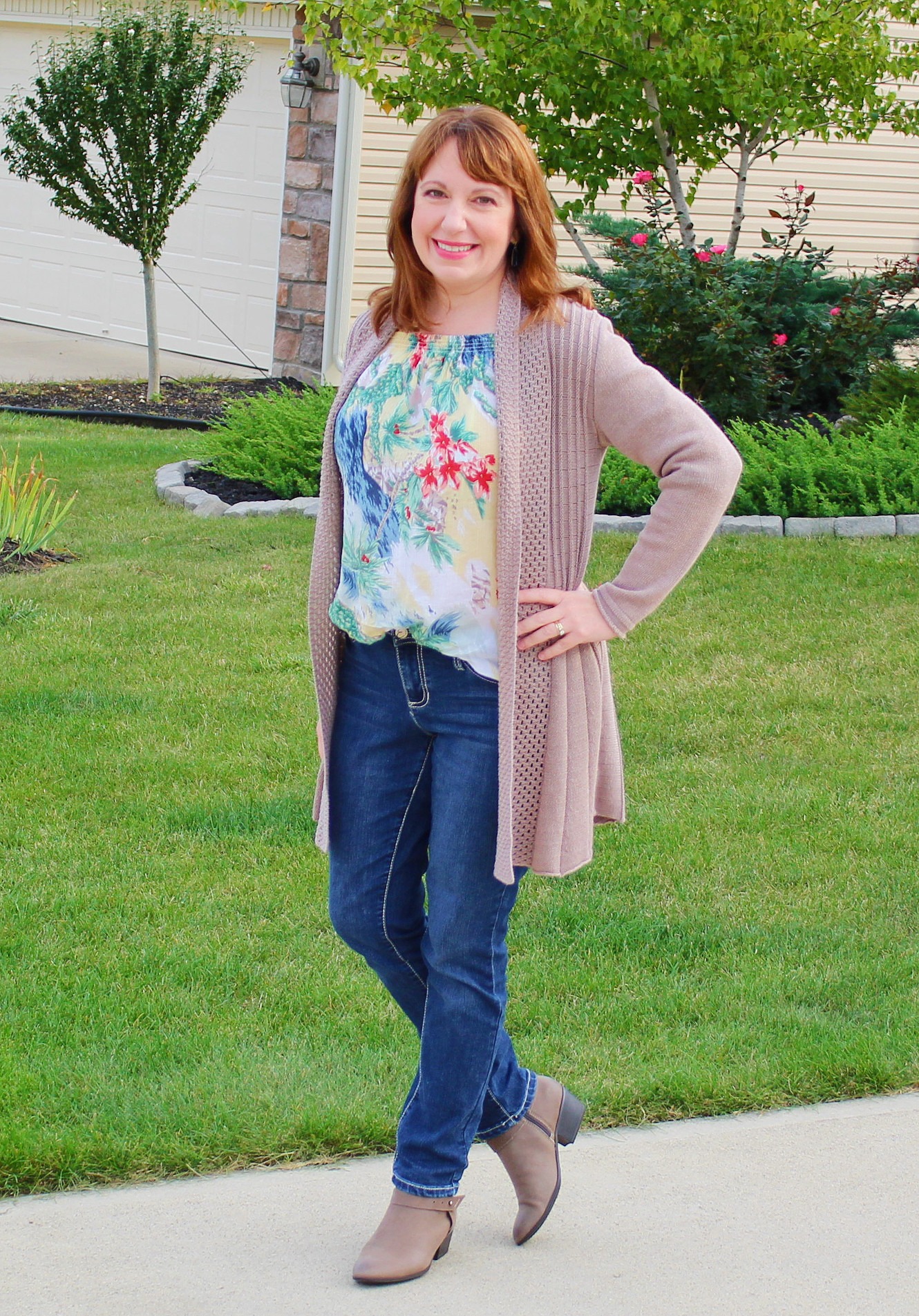 Fashion Details
Top (Similar Here)/Cardigan (Similar Here)/Jeans (Similar Here)/Boots (Similar Here)
I wear a lot of my favorite tees and short sleeve tops into the fall with a cardigan if it's chilly.  I say wear your favorite off the shoulder tops layered with your favorite sweaters and jackets too. This is a great way to take an outfit from a casual day look to a casual date night look.  If you have not invested in an off the shoulder top, you can still find this style in a lot of pretty fall colors.  This One is cute and this Top has sleeves similar to mine.
I usually wear my darker colored tops in the fall and put away the pastels.  After taking the pictures for this post, I wondered if this one looked too much like a spring ensemble.  My top does have navy blue, red, the same taupe color that is in my cardigan, and winter white.  I've also seen fall leaves the same color as the yellow in it.  I also like the fact that it has sleeves.  I guess that is my reasoning for not putting it away yet.  LOL!  What do you guys think?
Now that it is October, I want to mention that it is breast cancer awareness month and remind each of you of the importance of doing your own monthly exams.  Also if you are at least 40 years old, please get your annual mammogram!  If you haven't read my About Me Page, You may not know that I am a breast cancer survivor.  I thought I might share with you today a little more about my story.
Ironically, it was three years ago this month that I found out I had breast cancer.  I discovered a very small, subtle dimpling or place where my skin was sinking in on one of my breasts.  It was something new that seemed to come and go.  As much I wanted to believe it was nothing, I am thankful I went to have it checked out by my doctor.  While most breast cancers are detected with mammograms, mine was discovered because I noticed something different.  This is why it is so important to do monthly self breast exams along with your annual mammogram.  Also, I did not feel a lump.  I just saw the change in the way my breast looked, so it is important to visually look for changes too!  Even if they are small, mention them to your physician.  We, as women, often get so busy doing things for others that we forget to take care of ourselves.  I know it is so easy for me, even now, to get busy and forget to do my own monthly exam.  Remember, you are so important to the people who love you.  Take some time to take care of yourself!
On another note, I wanted to just say how much my heart and prayers go out to those affected by the shooting in Las Vegas.  I try to take comfort in the fact that we know how things in this world will eventually end.  God has already won the battle against evil when Jesus died on the cross!
I will share some more of my story and about how I'm doing tomorrow.  In the meantime, I am again sharing a devotional I wrote when I started this blog about my experience with breast cancer.  I've made a few changes, so please be sure to read it again.  This is a good reminder for us all when having doubts about ourselves and the way we look.
Hope you all have a blessed day!
Remembering I Am Made In His Image
"So God created mankind in his own image, in the image of God he created them; male and female he created them."  Genesis 1:27 NIV
Today, I want to talk about having a more positive body image and what the Bible says about our images.  Recently having had breast cancer has challenged me to deal with negative feelings I have had about the way I look, not just in this situation, but also during other times in my life.  I had a mastectomy followed by reconstruction to treat my breast cancer.  I don't regret the decision as it was the best thing for me to do in my situation to protect my health.  Even so, it was devastating.
Surprisingly to me, there was also a lot of guilt that I felt after surviving cancer.  One way I felt guilty was over being sad and upset about how I looked after losing my breast.  I also felt guilty over the fact that I was worried about how I would look after reconstruction was complete.  After all, I was alive when many women don't survive or have to go through even more difficult cancer treatments.  I am passed child-bearing age, so technically I didn't need my breast for it's intended purpose of nursing.  I learned, though, that I didn't need to feel guilty about these natural feelings.  It was okay to grieve the loss.  After all, God created women to be feminine.  He distinguishes us from men by that and the way we are shaped.
It is through this experience and relying on God's truth about who I am that has started a change in my attitude when I am feeling down about myself and the way I look.
Here are some truths that have helped me:
We are made in God's image.  I've known this fact all my life, but until recently I'm not sure I ever took it to heart.  I think we, as women, often compare the way we look with the way other women look but we were not made in someone else's image.  We were made in God's image.  His perfect hand created us each in his image, yet each with unique features and attributes.  The fact is that this world would be a pretty boring place if we all looked exactly the same.
A perfect God made you and his creation is a beautiful masterpiece.  Therefore, you are beautiful!  Don't let anyone else's opinion of you ever make you think otherwise.  Do you ever notice how we each have our own definition of what we consider is pretty?  There is definitely truth in the saying that beauty is in the eye of the beholder.  One person's opinion of what is pretty is often not another person's.  I would love to have seen what Adam and Eve looked like in their perfect bodies before sin entered the world.  I wonder if we would be surprised to find that they don't look like what our society and media today defines as beautiful.
We are each flawed in our bodies.  None of us are perfect in any way including how we look.  I did not look perfect before my reconstruction surgery, and I do not look perfect now.
If you are struggling with the scars breast cancer has left on your body, I encourage you to look at them as a sign of beauty and strength.  Remember our perfect Christ's body was also scarred from being beaten and crucified on the cross.  We look at his scars and see the beauty of his love, strength, and sacrifice.