Happy Friday everyone!  I have another flat lay featuring these cute Sam Edelman floral flats.  I am attempting to do a little pattern mixing by pairing them with this plaid button down shirt.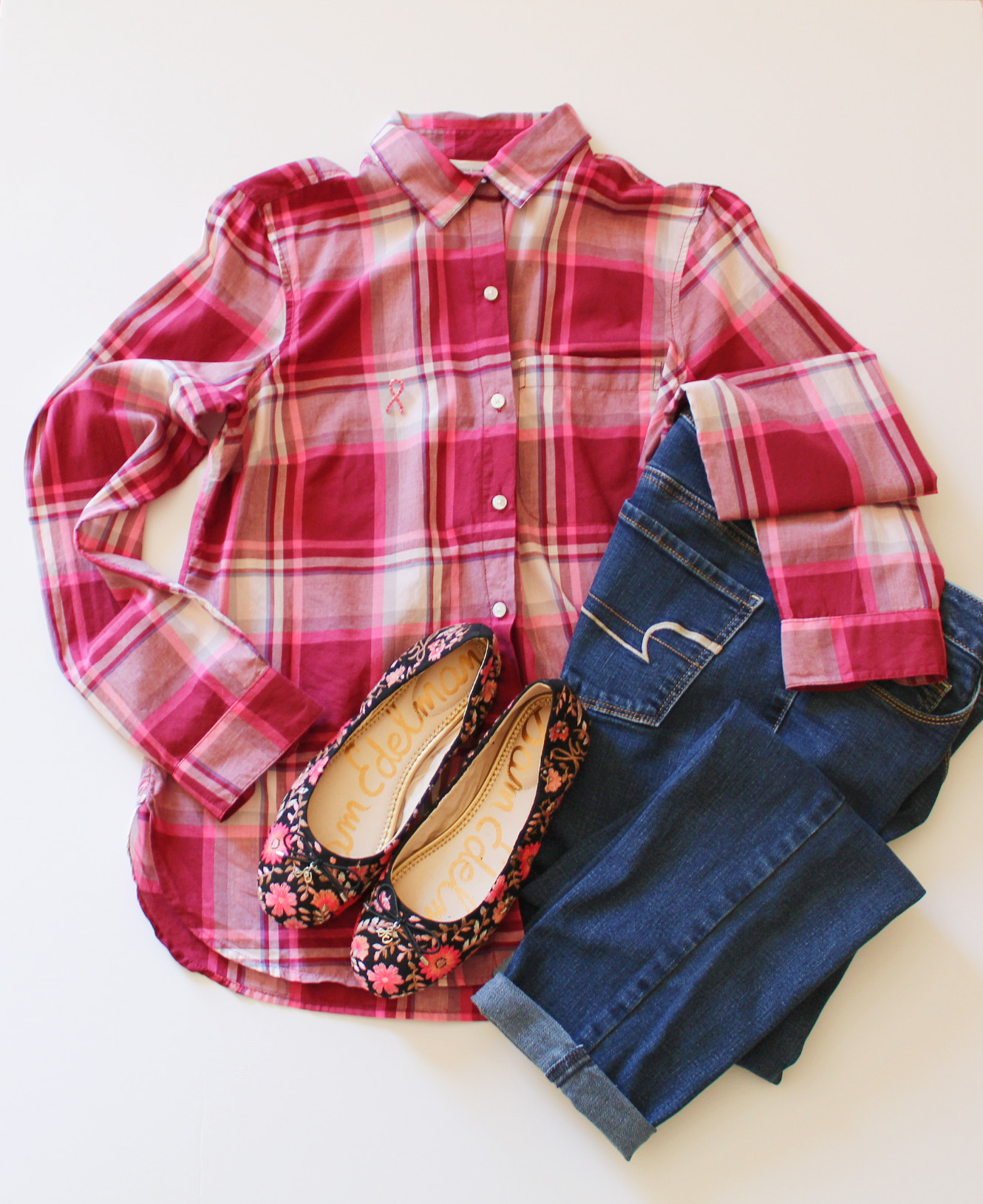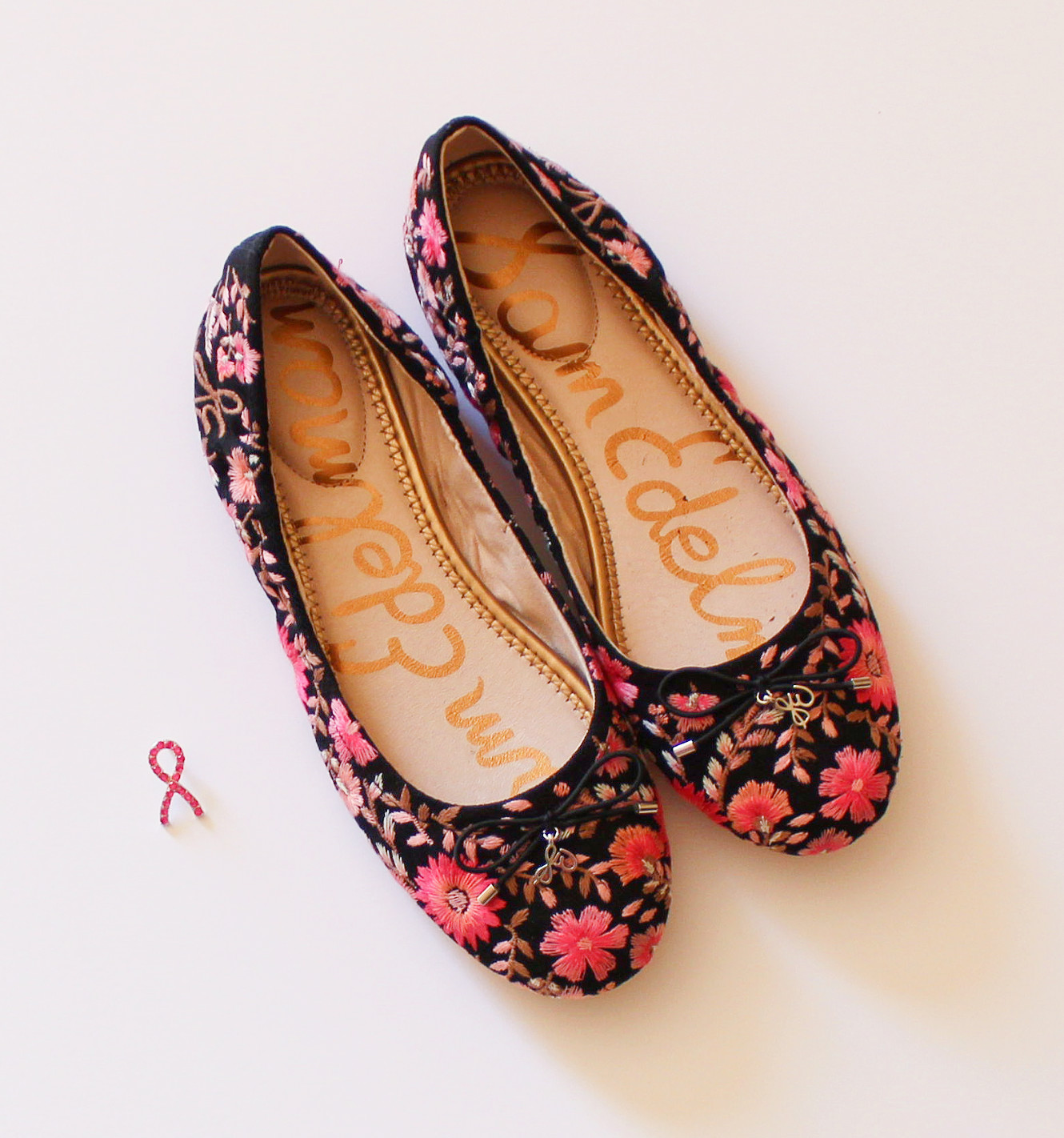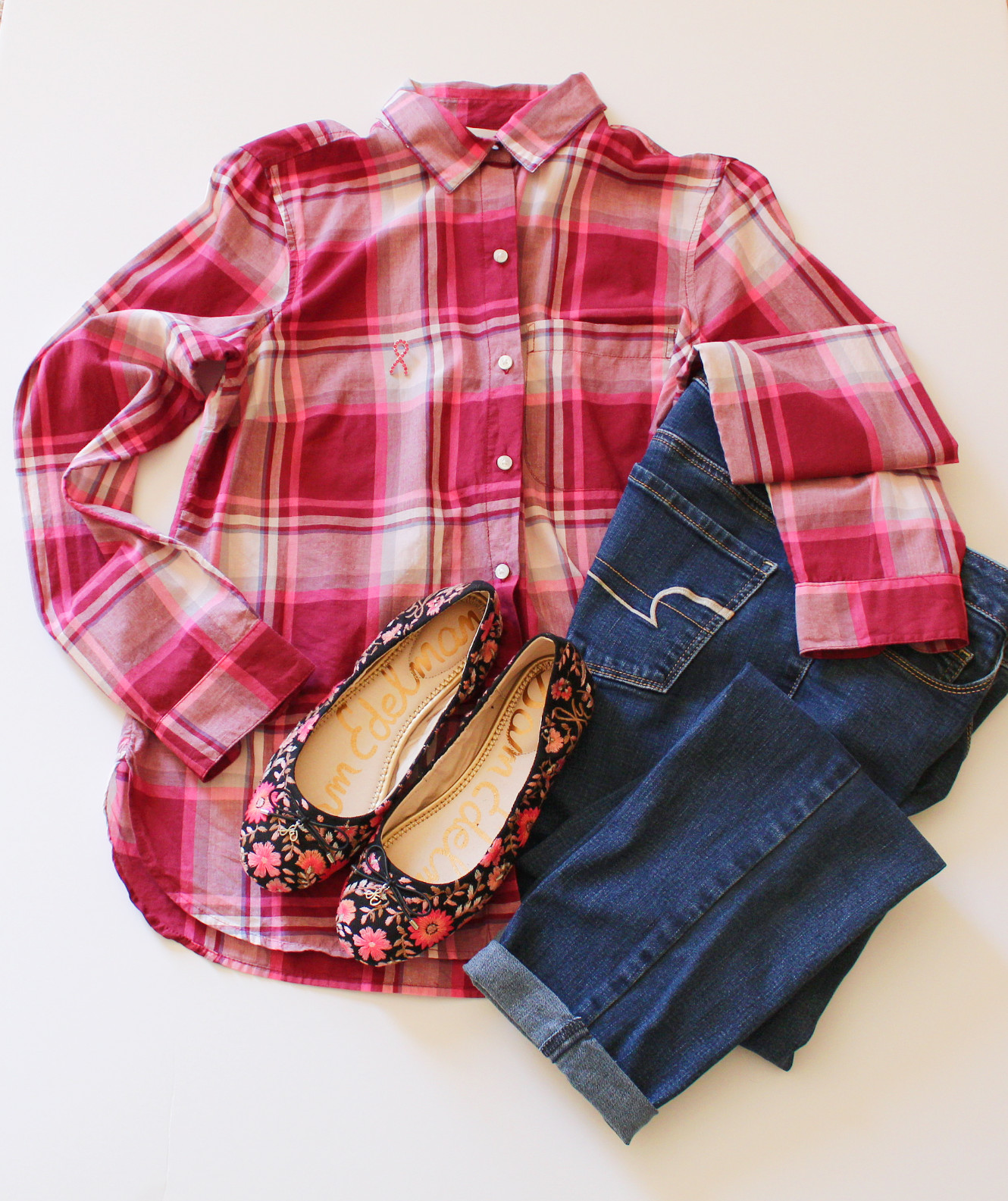 Fashion Details
Plaid Shirt (Similar Here)/Jeans (Similar Here)/Flats/Pink Ribbon Pin (Similar Here)
I got this plaid shirt last year at Old Navy, but found another One Here that comes in similar colors.  I also like this Shirt too.  I just love the blush floral pattern on these Sam Edelman Flats.  They really do go with a variety of fall outfits.  You can check out yesterday's Post to see what I styled them with there.  Floral patterns, the color blush, and embroidery are all big fall trends.  I also included this Pink Ribbon Pin that Estee Lauder is selling for Breast Cancer Awareness Month.
I was thinking today that I hope I didn't overshare too much with you all in yesterday's post!  I questioned whether to share that many details.  As I stated, every breast cancer patient's experience is different.  Doctors' opinions in care will also sometimes differ too.  On the other hand, it has always been very therapeutic for me to talk about it!  Fortunately, I have not known many women who have been through this experience.  When something like this happens, it helps so much to talk with someone who is dealing with the same thing!
My post though today will be the last one on this topic for a little while.  This month will always be very bittersweet for me but not just because it is Breast Cancer Awareness Month.  It is also the same month when I found out I had breast cancer.  I am very grateful for the awareness raised during the month of October.  I'm also thankful for all the money raised that goes towards research to fight this terrible disease!  It has saved my life and countless others!  I think it is very important to educate ourselves on the importance of early detection, mammograms, and self exams.  So with all of this in mind, please don't misunderstand what I am about to say.
I don't know if any of you who have dealt with a devastating illness and survived feel like I do.  But I am ready to just move forward and forget.  While I will never truly forget it, I ready to live my life out as normally as possible.  I just want to enjoy each healthy day I have.  I really don't want to always be reminded of the fear and pain of it.  While I hope my story is helpful to others, I don't want my life to be only defined by being that girl who had breast cancer.
My devotional today is about leaving the baggage we all have behind and moving forward.
Link Ups Today:  Jo-Lynne Shane
Stop Living In The Past
"being confident of this, that he who began a good work in you will carry it on to completion until the day of Christ Jesus."  Philippians 1:6 
After I first noticed a visual change in the way my breast looked, I was misdiagnosed and did not find out I had breast cancer until six months later.  As I have stated before, I was very fortunate since my cancerous tumor was extremely slow-growing.  The doctors who are following me now are very thorough and aggressive in treating breast cancer.  While I'm glad they are very cautious, my first MRI after my reconstruction found a tiny spot that lit up due to scar tissue.  For anyone who didn't have a history of cancer, no follow-up would likely be needed.  For someone like me who does have a cancer history, follow-up testing is mandatory.  They assured me it was nothing to be concerned about but would verify the diagnoses in six months.  Fortunately, my last MRI did not even see this dot.
During this time, I pretty much went on trying to not worrying about it.  Yet, a few times I let my fears and doubts get the best of me.  After all, I had been misdiagnosed the first time.  They did not think there was anything to be concerned about then either.  As this year is coming to a close soon, I'm realizing that I really didn't live as fully and as happily as I should have.  I let the first experience steal my joy and focus.  I let it keep me from moving forward.
How often do we let past hurts or mistakes keep us from moving forward, doing something new, interacting with new people, or living out our dreams?  God has given each of us an amazing life to live.  Draw on his strength today to help you with whatever is keeping you in the past.  Know that not everything in the future will turn out the same way.  Don't hold back.  Go forward following wherever God leads you.  Live with the joy we each have in knowing Christ!